Hmmm… it seems I'm destined to get one lesson out of this trip that, while useful, is one I would have preferred to skip. Plan B was put into action a week ago; short day hops north to Queensland, at the most with some overnight sails. Investigations of the northern NSW coastline reveal that although there are a quantity of rivers and creeks, places deep enough for us to pull in are few and far between. Yamba would seem to be the first one, so we decide on a short day-hop to give Jim a feel for the boat. I wanted to get there in daylight and before low tide, so I pushed us along with some motor sailing to ensure we could maintain over 5 knots speed over ground. We timed it to perfection, arriving at 5pm. Iluka Bay seemed like a good spot to stop for the night; not far from the entrance so we could get going again the next morning, aiming for Mooloolaba. Iluka Bay has two entrances; the first looked too shallow but we were advised by the local Marine Rescue station that we should be fine. Should be, would be, not to be… just as the boat moved over the entrance bar into supposedly deep water, the keel hit the bottom and there it stayed. We sat and waited for three hours for the tide to finish going out then rise again, somewhat embarrassed as numerous commercial fishing and tour boats made their way past us back to their moorings at the end of the day, giving us a grin and a wave. Smug they may be; they don't have a ton of lead in a bulb 2.25 metres below their boats!
We passed the time having dinner and with food in our tummies things didn't seem so bad. With high tide we started to float and picked up a free mooring in the bay for the night. The dinghy was deployed in the morning to refill the diesel jerry cans and ferry Belinda ashore to restock the pantry. We decided that Tweed Heads would be another good short stop, rather than the extra 70 miles to Mooloolaba. Our replacement bean bags are waiting for us there, but we'll get there eventually to pick them up. This was the opposite problem; I didn't want to arrive before dawn or at low tide, so we spent the night trying to slow the boat down, reefing the main, furling the jib, no motor assist… unfortunately a racing boat that loves to plane doesn't oblige by going slowly when she gets a 20 knot wind on the beam, no matter how much sail you reduce. We arrived at Tweed River just after day break, a few hours too early. It was almost low tide – still outgoing with the current meeting a south easterly swell at the river entrance, making the sea stand up in 3 to 4 metre breaking waves over the bar. It looked hairy… and it was. Richard took the helm and focussed solely on keeping the boat in line for the entrance, not letting the stern pick up and swing in the swell. I called him through watching the nav station like a hawk; the bar isn't very wide so after a few minutes of hearts in throats we were through and into calmer waters inside the river. There are shallow bits all up the river though, so we sat and anchored in a deeper part to have breakfast, waiting for the tide to rise. Once again, food in tummies made the world seem a better place.
At half tide we decide to give it a go and headed down the arm to the Ivory Marina. Once again, in a spot the chart says should have plenty of depth we strike bottom with a bump that is becoming annoyingly familiar. I manage to reverse off, and we try a few different angles of approach, including taking the outside bend which logically should be less silted up. No luck; each approach we try ends in the same bump and sudden stop. The tide is now running in fairly strongly, and on our last bump it pushes the boat solidly against a sand bank. We're stuck again, waiting for full tide. Eventually Richard and Jim decide they need to relieve my stress levels, so they deploy the dinghy to run the anchor to deeper water and kedge the boat off. The little outboard struggles to keep the dinghy manoeuvrable in the strong tide and Belinda and I watch on as a Laurel and Hardy-type scene plays out with Richard steering and Jim feeding out the chain and warp. But the boys win the day with no comic moment – anchor successfully deployed, the boat easily slips off her perch and we navigate around the shallow bar and up the dredged pathway, hugging the starboard channel markers into the marina.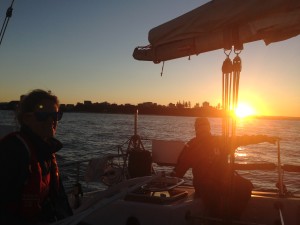 Our trip was never meant to be spent sitting at jetties in marinas – we had pictured ourselves anchored up in secluded tropical bays, fishing, snorkelling and relaxing. There's nothing endearing about the Ivory Marina itself; no lounge, poor bathroom facilities and the laundry equipment was apparently installed a few weeks ago by a yacht owner, not the marina. The staff are friendly and helpful but it's overpriced and not where we want to be.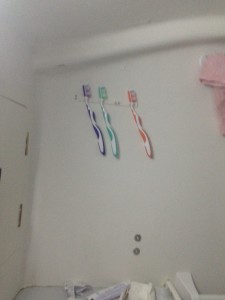 Sometimes you don't get what you want in life – and patience is a virtue. Between the weather and the tides, we're trapped here for 3 days. We can only get out at maximum high tide, and I won't go out unless the bar is flat. On a positive note, one of the things about cruising that attracts me the most is the sense of community; the 'Blue Nomads' are like a close-knit family and the willingness of total strangers to be friendly and helpful is one of the best examples of human nature's positive side you will ever come across. Meeting Pete, Cath, Steve and their friends turned the Tweed Heads stay into a taste of that cruising community. They'd just returned from a 5-week trip north and gave us plenty of local advice both about how to get out of Tweed River and how to navigate the internal waterways from Southport to Moreton Bay. The allure of internal cruising and anchoring at islands inside a bay wins out and we decide to head for Seaway Entrance then motor up to Peel Island as a starting point, before figuring out how much further north we want to try and go. Waiting for high tide means a late afternoon departure, but Seaway is only 16 miles north so it's a lovely evening sail up the Gold Coast in flat waters, despite being close-hauled rather than the reach the forecast promised. A steady 15-20 knot breeze and a reef in the main allows Children of Phoenix to find her optimum angle of heel and I'm relishing actually sailing her, hand steering with the motor off.  Downstairs, Belinda discovers a new type of inclinometer – I wonder if it will take off? The entrance to Southport Seaway is well-lit and easy to approach and it doesn't take us long to motor up the river a few miles to our anchoring spot for the night. 
I'm awakened just after midnight to a gale whistling through the rigging and spend the next 6 hours checking that we're not dragging anchor. The wind doesn't abate all day, sometimes reaching over 30 knots. To make sure we have enough depth, we've had to anchor fairly close to the channel, which means every time another boat goes past, we rock violently in its wake. Surely the tourist jet boat could have chosen another spot to do a donut, rather than 30 metres from our stern? Plans to motor through the shallowest channels at Jacobs Well are abandoned – I doubt we could hold our course against wind and tide sufficiently to avoid running aground in the dark. The anchor has held here for 24 hours, so it can hold for another 24. We'll sit it out and wait for the wind to abate tomorrow, then give it a try. It's highly likely we'll bump a few more times going through… but I'm sorry to say I'm getting somewhat used to it now. So long as we nudge and can motor off, I'm happy to give it a go – we can always turn around and come back downriver to take the outside path up the coast if needed.
One other benefit of the time at Tweed Heads was the opportunity to think through our options a bit more. It quickly became apparent that if we were going to bring the boat back to Melbourne, there'd be no cruising further north. It has taken us 5 weeks to get this far, and with only 5 weeks to go we would have to turn around now, mainly sailing into strong southerlies to get home. Not an enticing prospect to say the least. When investigating places in Moreton Bay to re-provision, the yacht clubs at Manly seem a likely option. Wynnum Manly Yacht Club has its 40th Annual Ladies Skippers race next Sunday, so that appeals for a bit of a lark, even though I had said we wouldn't be doing any racing on the trip away. An idea is also burgeoning that I could relinquish my berth in Melbourne to keep costs down, leave the boat here and use it as a holiday house to fly up to every few months to do some cruising for a weekend and over Christmas in particular. We can sail Richard's boat Ariel in the Classics in Melbourne or I can crew for various other people. Leaving the boat here would also mean it's in the right location if we ever want to attempt the crossing to Noumea down the track. If after 6 months I decide I'm missing the boat too much or not using it enough, I will look at bringing it home over the Christmas-New Year break. The crew are enthusiastic, so after a search of fees at available marinas, clubs and brokers, Plan C is formed. We just have to get through some narrow, shallow channels tonight so we can get started!