This blog is a story. Like all stories, it has a beginning. If you've only just joined us, you may want to start here. This page allows you to do that without having to work backwards through all the posts. Once you've reached the end of the story so far, you'll be able to keep up to date by following recent posts…
---
If you've ever dreamed of an improbable, or even just a different future for yourself, this is a story for you. It's going to be the story of how I make my dream real, of how the reality of my today will come to seem like a dream from a distant yesterday. I don't know how it's going to happen yet. I guess we'll find out together. I'm looking forward to watching how the story unfolds almost as much as I'm looking forward to its conclusion – if there is ever a conclusion to a story about life…
---
Monday 10 March, 2014
Exactly 17,128 days have elapsed since I made my entrance into the world. I know this to be true because Google tells me so. Most of those days have been good ones; some haven't. On the whole I can't complain; in fact, on the whole, I've been very fortunate.
Today is a very important day. It's the first day of the rest of my life. I know what I want to do, when I want to do it and who I want to do it with. All of which is highly unlikely. Unlikely that I should want any such things in the first place and on the face of it, even more unlikely that it can happen. But today I made a decision. I decided I'm going to make it happen. Which now means that it's highly unlikely that it won't. I already have the what, when, who and why. The only unknown is the how.
I grew up in a family that was associated with the water from before I was born. My grandparents had a boat shed on the beach at McRae, between the yacht club and Safety Beach. My cousins had two Sailfishes that I think my uncle had made. At some point my parents bought a Heron; not sure if it was before or after I was born but certainly I don't remember us not having it and there are photos of me on the beach as a toddler with it in the background. My grandfather had also built a fishing boat with an inboard motor that was kept in the boat shed, and there were many summer expeditions with the cousins catching flathead that my Aunt and Mum would fry up when we got home.
At some point my Dad and brother decided it would be nice to race and join the yacht club, so they got us a Flying Ant and Mum and Dad got the first 125 to ever hit the water, number 6 (the other five hulls must have met early demises). I spent my teens racing and learning to sail, and dreaming of cruising the world. Thirty years later, I've reconnected with sailing after the common gap caused by travelling and having a family and am now sailing my own yacht, an Elliott 10.5. The purchase was all about reconnecting with the cruising dream, but it was also about hedging my bets. The Elliott isn't the ideal cruising boat, but it's quite capable of ocean sailing and is comfortable enough to take away for weekends. It's also an affordable racing yacht that steers like a dinghy; basically a skiff-shaped planing hull on steroids and is hugely fun to sail, albeit somewhat challenging to sail well. As much as teaching me to helm and having fun in the mean time, the purchase was designed to teach me about boat ownership, as a preparation for cruising when I can eventually retire.
Today we were coming back from the Wooden Boat Festival in Geelong on my partner's 1950's Alan Payne design Terra Novae. I'd spent a memorable weekend on the boat with some great friends. As we left Point Richards channel the wind was perfect and the choice to head slightly to port and home to Melbourne seemed all wrong. The Heads were to starboard, and the ocean beyond was beckoning more strongly than ever. Today I decided to make it happen.
If you're reading this and you've ever dared to dream of an improbable future for yourself, this story is for you. It's going to be the story of how I make my dream real, of how the reality of my today will come to seem like a dream from a distant yesterday. I don't know how it's going to happen yet. I guess we'll find out together. I'm looking forward to watching how the story unfolds almost as much as I'm looking forward to its conclusion – if there is ever a conclusion to a story about life.
Sunday 16th March, 2014
How much things can change in a week. And yet, not change. My decision still stands. I have started thinking about the how. The fact that my world has turned upside down doesn't change that. The number of times in my life that my world has turned upside down, I'm getting pretty used to hanging on by my ankles. But to see my father, the rock of my life, lying paralysed in an acute stroke ward has created a bubble that I exist in, removed from everything that happens around me. And in some ways my decision is inside that bubble, but in some ways it's outside as well.
Dad was agitated when I saw him today. He was trying to watch the Melbourne Grand Prix, and he kept pulling himself down the bed rail. I thought he was trying to sit up, but he eventually managed to tell me he was trying to get to the end of the bed, to stand up. Paralysed completely on his left side, tubes coming out of him everywhere, barely able to open his eyes and speech a struggle. But determined to stand up. We thought he wanted his socks and slippers because his feet were cold (as usual). But no, he wanted them to stand up. Stubborn old man. But determined. Reminds me of our family emblem; the Macfarlane warrior, bare-chested, brandishing a sword and vowing 'This I'll defend'. Have I inherited any of that? One can only hope…
Mum and I went to the cinema together before we went in to see Dad. Some long overdue Mum-daughter bonding time. Pity it's taken Dad being in hospital for us to do it.
Thursday 27th March, 2014
Two weeks and no real improvement for Dad. The way the family has come together reminds me of how much I've got to be grateful for. Every time I feel a twang of sadness for Dad I remember to what extent the family is what it is because of him, and I can't help but feel blessed. He knows us; he's mostly very lucid, although not often awake for more than 20-30 seconds at a time. We have some amazing conversations (mostly monologues, with some very pertinent comments thrown in on his part, but it's a struggle). Sometimes he seems aware of where he is and what's happened, and other times not. It might be the stroke; I suspect a lot of it is the morphine.
I sat with him for a few hours after Mum left this evening. I know she wants me to sit on his left side, to stimulate that and help him remember it exists. But tonight I just wanted him to know I was there, to let him feel me holding his hand, so I moved the chair around to the right side of his bed. He wanted his false teeth in, so I did that for him; I've got the hang of it now. We talked about him needing to be able to hold them up so the nurses wouldn't be worried about him choking on them, and about him needing to remember a swallow reflex so the feeding tube could come out and he could start eating. He did some practice swallows, but it was hard. We watched some tele together – Richmond was playing (and winning). He tried hard to be interested, especially when they kicked a goal. The morphine was wearing off and he was more awake, for about half an hour. But he was also more aware and mostly just seemed sad.
When the nurse came round to inject the antibiotics into his drip he looked askance at me, and I explained that she was giving him antibiotics for the pneumonia. He looked away; his eyes were red and watering and his hand shook. His back was hurting, so I sat rubbing it for a few hours with one hand while he held the other one. When visiting hours were over I stayed a little longer, then when I went to leave he gave my hand a squeeze. When I leant in to kiss him goodbye, his eyes were again becoming teary and he said 'Thank you for everything'. I was a bit stunned; after everything he's done for me and my children; after everything he's been for me throughout my life, everything he's forgiven me for, he was thanking me. Maybe I should have told him that; maybe I should have let him know that he'd been everything anyone could ever want a father to be and then so much more. Let him know that no thank you from me could ever be enough. What came out was 'I love you Dad, I'd do anything for you.'
As I walked to the lifts I couldn't help feeling that we'd said goodbye.
Saturday 29th March 2014
The final race of the Range series today; we were leading the PHS points board but only because they hadn't taken drops into account – with drops we were coming second and Redline was untouchable in first place. We didn't have a great race; quite late for the start (again), chose the wrong side of the course a few times (again), a few tactical errors. We ended up slipping back to 3rd place but it was still the first podium finish in a series for me on my own boat. Ian just got me on line honours – it's been fun lining up to compete against my brother and I've been pleased with two beating him twice out of four of the races he's sailed. He was going straight down to see Dad after the race and I could have gone with him but opted to stay for the presentation with the crew. I hope Dad would understand and would be proud of the achievement, however small. Mum said he'd pulled his feeding tube out again last night but that they were starting to feed him some yoghurt and the swallow reflex seems to be there, so it sounds like there's some small improvement.
Sunday 30th March 2014
Good to have the girls back on board today for the 3rd heat of the Port Phillip Women's Championship Series; Day 2 of the Women in Sailing Challenge at Sandringham Yacht Club. A lot of me just wanted to go and be with Dad, to give the helm to Alex and let her and the crew take the boat without me. But I think he'd want me to sail; to honour the commitment to crew. It turned out that we would have been short without me anyway with two others not available, so I was needed. It'll be OK; I'll see Dad on Wednesday.
Alex helmed and I did bow; fun to get back up the front of a boat instead of being stuck holding the tiller for a change. Three short windward-leewards certainly gave me a workout. Our best result for the day was 5th in race 1 after a great start; I think we finished mid-fleet for the day overall. I enjoyed being competitive, and I still get a real buzz out of having the opportunity to bring a team of women together, teach them about sailing and watch everyone's confidence and skills grow, including my own. But more and more I just want to enjoy being on the water without racing. I just want to enjoy sailing for the love of sailing.
Tuesday 1st April, 2014
In Sydney for work yesterday; a missed call from Mum in the afternoon. I went to call her back from the taxi as I was leaving but the phone rang before I could dial – it was Ian. Dad had gone downhill suddenly; fluid on the lungs, not getting enough oxygen, heart starting to fail. Mum had made the hard decision to ask for palliative care with no intervention and Ian was on his way to the hospital. At the airport I managed to get a flight 15 minutes earlier, but not early enough. By the time I got back to Tullamarine, home to pick up the car and drove down to Frankston it was after 8:30pm. He hadn't regained consciousness since earlier in the afternoon and clearly wasn't going to again. Mum had gone home for some much-needed rest. He'd been squeezing Ian's hand and rubbing his thumb for a few hours afterwards but that had stopped too. His breathing was laboured despite the oxygen being delivered through tubes. Ian decided to stay with me at his bedside through the night. Jean-Marc and Sam came down for a few hours; the nursing staff were great in allowing us all to be there after visiting hours. Hospitals are an eerie place after midnight; quiet but never silent.
At 2:00am I pulled three chairs together and put my head down to close my eyes for a bit, but didn't sleep. Ian was on the other side of the bed – he had his laptop out and was doing some work. The nurses had turned Dad on his side – he was facing me with his back to Ian. Ten minutes later I heard Dad's laboured breathing slowing down and then heard Ian put his laptop down on the trolley. I sat up and knew straight away from the colour of his face that he was going. I wondered briefly if we should call Mum but knew immediately it was too late; she wouldn't get there. I looked at my brother and said 'He's going, Ian'. He came round and put his arm round my shoulder, leant in and kissed Dad and said goodbye. I did the same, belatedly saying thank you. I knew he couldn't hear me, but I said it anyway.
'It's alright to rest now Dad, you've done everything you needed to do, been more than everything you needed to be for all of us. Thank you for everything you've given us. We'll miss you. I promise we'll take care of Mum.'
He took two more breaths, then he was gone.
Wednesday 2nd April, 2014
MACFARLANE, William Robin
Robin Macfarlane passed away peacefully in his sleep on 1/4/2014. Beloved and loving husband of Alison, cherished father of Heather, Joan, Ian and Kathryn, treasured father-in-law of Chris, Paul and Louise and adored grandfather of Jean-Marc, Jeremie, Bastien, Alastair and Rachel. You were a tower of strength in all our lives; your love and wisdom the mast that held our sails aloft in calm and storm alike.
Wednesday 9th April, 2014
We farewelled Dad at the South Melbourne Uniting Church on a grey, rainy day.
As I've been helping Mum prepare for today over the past week, I've been thinking about what memories I could share with you.
Dad didn't have many shortcomings, but there were a few which made him human like the rest of us. One notable one, shared by many of the family, is a lack of ability to sing in tune. Nevertheless, he enjoyed singing hymns at church with gusto and happily led every rendition of Happy Birthday at countless family gatherings. I'm sure he would have cheerfully joined us in belting out some of his favourite hymns that we chose for today. 
In looking through hundreds of photographs of his travels with Mum to find one for the cover of the order of service, it also became apparent that he was a very 'happy snapper', if not a very accomplished one. Amongst many blurred shots there are some gems though, with a particular interest in photographing his own hand holding a note of foreign currency. He clearly enjoyed capturing memories of those trips, and didn't hand over the camera very often, because for every hundred pictures on the SD cards there might have been two or three at most of him. The lesson I'll remember from Dad's singing and photography is that if you enjoy doing something, do it and enjoy it; you don't have to be good at it. 
The very earliest memory I have is one of Dad; it's of looking up into his smiling face as he sat on one of Grandma's chairs in her flat at Stoke Avenue, surrounded by family watching tele. He was bouncing me on the ankle of his right leg which he'd crossed over his left, holding my hands to keep me balanced as he gave me a horsey-ride. The overwhelming emotion associated with that memory is of being loved and being safe. 
Other memories of Dad include the garage at the house in Stoke Avenue Kew, where I grew up. He would often be found in there in his grey dust coat, tinkering with tools or with a boat in the winter off-season. In addition to Dad's workbench and tools, that garage was a treasure trove of literature; there were old books in cardboard boxes up on dusty shelves and when I asked Dad which ones were his favourites he pulled out the Adventures of Biggles and Treasure Island. He also showed me collections of poetry by Keats as well as his favourite, Robert Louis Stevenson. I spent many hours in the garage poring over these, dreaming of sailing the high seas and developing a love of writing; two passions that have stayed with me all my life.
One word that has come up again and again to describe Dad in the cards Mum has received over the past week is 'gentleman', and anyone who knew Dad would agree he was certainly that. I've been thinking about what it actually means to be a gentleman and why so many of us would use that word to describe Dad. The concept of a 'gentleman' has often been described as being elusive but in 1869, J.R. Vernon defined it like this and I think it's as good a description of Dad as any:
The Gentleman is always truthful and sincere; will not agree for the sake of complaisance or out of weakness; will not pass over that of which he disapproves. He has a clear soul, and a fearless, straightforward tongue. On the other hand he is not blunt and rude. His truth is courteous; his courtesy, truthful; never a humbug, yet, where he truthfully can, he prefers to say pleasant things.  
Dad was a quiet man, but behind his gentleness there was a strength that was the backbone of our family. His is an inspiring example of remaining true to his values and applying them in his every-day life. By his words and actions he taught us honesty, sincerity, tolerance, respect and courtesy, compassion and forgiveness not just for those close to us but for all people. Most of all, he showed us that he loved us and that he was proud of us, and for that I thank him.
Mum and Dad had 58 wonderful years of married life together; they built our family together; they've agreed and disagreed, laughed together and cried together and I know that she will miss him terribly, as will we all. Mum has told me over this last week how grateful she is for the life they shared. She chose these words of Robert Louis Stevenson's to use today:
SO live, so love, so use that fragile hour,
That when the dark hand of the shining power
Shall one from other, wife or husband, take,
The poor survivor may not weep and wake.
Mum I hope you take some comfort from knowing that you and Dad did indeed use each and every fragile hour, and that you lived your lives together to the fullest.
As Ian piped the hearse out of the driveway with Amazing Grace, I hugged my six-foot son as he stood sobbing silently.
Goodbye Dad, I'll miss you.
Sunday 13th April, 2014
Ifiele'ele Plantation – Fasitoo Uta, Samoa.
What a paradise Joan and Paul have built here. What a perfect place to let go of the tension of the last month (months? years?) and unwind. Although I should have done this years ago, what perfect timing this holiday turned out to be. What a perfect place to contemplate what I want the future to look like and the how and when of making it happen.
Sitting on the upstairs deck, looking out over the lawn and palm trees to the sparkling, calm waters of the Pacific Ocean beyond, I know more than ever that is where I want to be. The ripples across the flat water suggest a north-westerly breeze of about 10 knots and if I close my eyes, I can imagine the sound of water streaming gently against a hull as the wind pressure around sails pulls a boat forward. The sense of peace I get from that mental image is almost as real and tangible as if I was actually out there. What a pity to spend a week contemplating such beautiful waters without getting to know them!
Sunday 20th April, 2014
I may not have had the chance to get to know the waters of Samoa, but I've had a week with my sister and a chance to get to know her. The age difference meant Joan had moved out by the time I was eleven or twelve. With all the travelling she's done in the intervening years I don't think we've spent more than two or three weeks in total under the same roof, and I've been appalling at staying in touch. Strange in a way, because even though I couldn't say we've been close, I somehow feel the most affinity with her.
I guess neither of us have followed the traditionally-expected trajectory of our family; although I'm not sure there really is one anymore. Dad's Scottish/Presbyterian heritage ensured a hard work ethic and commitment to family would inevitably be core values for all of us. Education was also important, with Mum and Dad making the sacrifices required to put all four of us through private secondary schools. Early on, as a teenager, I would have said my perceptions of my parents expectations of me were that I would get a University degree, work a bit, maybe travel a bit, then get married, have a family, keep working hard to pay off a mortgage and give to the next generation what our parents had given to me.  If I was lucky and had worked hard enough, hopefully I'd be able to enjoy a comfortable retirement.
These days, I'm not so sure Mum and Dad's expectations were ever really that defined. Certainly I think now they are part of a background that will always be there, but that life has unfolded in different ways for all of us and that there is an acceptance of that. In many ways, Joan and I have deviated from that path the most and at this point, when I'm contemplating deviating again, I really wanted to reconnect with her. Maybe what I really wanted was to be reassured, or to reassure myself, that what I'm contemplating is OK. In the end we didn't even talk about it; maybe I realised that the only person who can decide that for me is me.
I had an interesting conversation with one of her guests this morning though; he runs a fishing charter business in Samoa. There's only one yacht here for charter and it's a tired old catamaran that is now capable of doing only short snorkelling trips inside the reef; no inter-island hops. So there's a business opportunity waiting to be seized here, if someone could bring a survey-standard yacht here to run charters more effectively and in more luxury. But it would mean limiting the cruising to Samoa for the dry season, 3-4 months a year, and that would mean not enough time to really cruise anywhere else other than take the boat back to New Zealand or Australia for the hurricane season. It would require a catamaran rather than a monohull, which would mean substantially more initial outlay, and higher berthing costs when docking at marinas due to the wider beam. Plus I'd be so busy running charters that I wouldn't have time to write or do the other things I want to do. Using the boat to run a business, earn the cruising budget and get the tax advantages sounds attractive, but it would limit the cruising. It's not the plan and I think I need to stay true to the what and the why.
Tuesday 22nd April, 2014
Bay of Islands is every bit as beautiful as Richard described it. I could happily cruise around here forever; it seems like there's a decent sized cruising fraternity that is doing just that. We've both unwound in Samoa and recovered from our respective bugs, so now we can really just enjoy our time here.
So… what would need to happen?
I'd need to sell my boat; it's not the right boat to go cruising on.
I'd need to sell at least one investment property, maybe two. I'm too heavily negatively geared, which is OK if I'm earning decent dollars but doesn't work if I'm changing lifestyle.
I'd need to find a way to generate enough annual income to cover outgoings and continue to contribute to my Superannuation as if I was still here earning corporate dollars. The remaining properties would need to pay themselves off, not just cover the interest. If I can achieve that, I'd be in a better position financially by cruising around the world than if I stay here in a full time corporate job. I might be able to live on a boat for a fraction of my current outgoings, but I also need to plan for what will happen when I no longer want to, or am physically capable of living on a boat.
One step at a time; the Elliott will go on the market after the last women's regatta in June. That's a scary thought; letting go of the passion in my life for the short term. Not owning a boat. But it's a short term sacrifice for a longer term gain. Property (or properties) will go on the market in Spring/Summer. If and when all of that happens, it will be time to decide if I'm going to Europe or staying around the Pacific, close to family. That will determine whether I buy a boat here or there. In the mean time I need to figure out how much I would need to cover outgoings, and how I'm going to generate that as smart/passive income from the back of a boat. Anyone got any ideas?
Tuesday 29th April, 2014, 5:00am
One day back at work and slept like a log last night for six and a half hours! Yay 🙂
OK, time to start figuring out with a bit more confidence how much I would need to budget. I have been working with a vague memory of someone telling me $30KAUS per year for a couple on a 38 foot Bavaria, with some marina docking and at least one flight home per year. But how long ago was that? Have costs gone up? Was that really what they told me or is that just wishful thinking/remembering on my part? Google to the rescue again…
Most recent result I found with a quick search (2013) … http://www.cruisingworld.com/how-to/living-aboard/jimmy-cornell-what-it-costs-to-cruise
Dated from 2006, but with a good spreadsheet of detailed costs… http://thesailingpodcast.com/costsofcruising/
All in all, it seems like the $30KAUS estimate isn't too far off, provided:
the boat is fully equipped, stocked with spares and ready to go,
anchor to avoid marina fees as much as possible,
minimise expenses on eating out and doing expensive shore visits
maintain and do all minor repairs myself.
Particularly if I stick to a boat under 40 foot, perhaps a little more if I go up to the 44 footers I've been thinking about. Definitely monohull not a cat. Will need to do a more accurate budget as plans get more concrete. Need to investigate cost of internet access if that is essential for generating income.
Ideas for generating income:
Freelance writing
Translations
School of the Air for children of cruising families
Teaching/tutoring when we pull into port
Remote instructional design/project work
Flying home to contract for 2-3 months a year (not the first preference)
Friday 20th June, 2014 – The season in review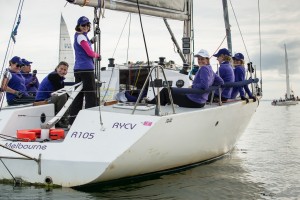 Well that's it for another year, and I could't be happier with the outcomes. It was a fairly typical season in many ways; starting with a large group of crew (in fact, larger than ever), some of whom became regulars and others dropping off as the season progressed. Difficult to train a crew up when circumstances mean you can't schedule practice days and you have a different combination from one week to the next. But although I love to be competitive, it's never been about winning. The point of buying a boat this size was to be able to give as many people the opportunities that I've had; introduce them to the joys that sailing has brought me, the confidence that it's helped me develop. The sense of grounding it's given me that has seen me through some tough times. So in that sense, the season was a huge success, right from the beginning.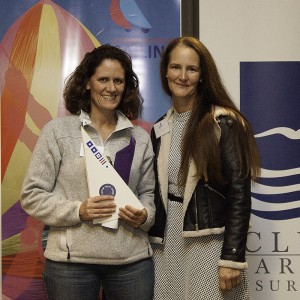 All things considered, I was really happy with our results throughout the season. With a new mainsail for the BLISS regatta in May, I was hoping for good results. But not having the hull cleaned beforehand proved to be a regatta-ending decision with 0-5knot winds on Saturday. The friction created by seaweed growth is like dragging an anchor in light winds and it showed in our results. Lining up for a good start in 10-15knots on Sunday looked more promising but with the jib halyard breaking on the start line we were out of the race within the first 10 seconds. That we managed to finish mid-fleet by the end of the race showed we could sail the boat well given a decent breeze, dirty bottom not withstanding. No podium finish for us, but I was thrilled with the recognition of the 'Beyond the Call of Duty' award in the Port Phillip Women's Championship Series for introducing new women to sailing.
Two weeks later, with a freshly anti-fouled hull, new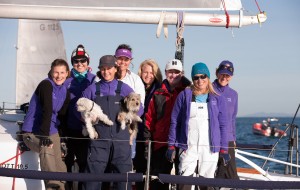 rigging and a boat owner with a very empty pocket, we lined up for the major regatta of our season, the Australian Women's Keelboat Regatta. For us, this is what we work for all season. It's why I stick to my policy of sailing all women's events with only women on board, even when men are allowed. It means the girls go into this regatta with the confidence that they can do it themselves. The rest of the regattas are the training sessions I didn't get time to schedule during the season. This is the one that counts for me – it's the opportunity for the girls to compete on a level playing field in a very male-dominated sport. It was also the first time this season that every crew member had sailed on the boat at least once before.
There's nothing wrong with mixed sailing; I love it and will always want to do that as well. I've learnt so much from so many guys I've sailed with. It's kind of weird for me because growing up dinghy sailing at family-oriented clubs, I never came across the gender divide in sailing. I was completely unaware and would have been horrified to learn that when I was finishing high school, encouraged by family and educators alike to be a strong young woman, there were yacht clubs around the top end of the bay that still didn't allow women to be members. It was only when I started sailing keelboats that I came to recognise the need for women's regattas, to understand how much the gender divide still exists.
We had a good day on Saturday, finishing 1st, 4th and 1st in the 3 races despite the light winds. It was clear the boat was
sailing well and the girls did a great job, improving every race. Sunday was a mixed day, with a major error on the bottom mark rounding destroying what had been shaping up to be another good result in race 4. We came back to finish 8th in that race, and 2nd in the last race for the day. We were still leading Division 2 going into Monday, thrilled with our line honours in 4 out of 5 races. Monday's forecast of 0-5 knots turned out to be accurate and we knew that we were in a good but by no means unbeatable position.
The girls did an amazing job again, sailing better than ever. Kite hoists were completed within a boat length of the top mark and a repeat of Saturday's situation at the bottom mark was handled beautifully, picking up 3 places instead of dropping 10 as we had done the day before. I pushed them to leave the drop until the last possible second, often going for a float without the pole as we approached and a windward drop as we rounded the mark. The headsail was trimmed in without ever needing a skirt and in the light winds the movement of crew weight trimmed the boat beautifully. Despite taking line honours again, we knew that the smaller boats were close behind us and that the building breeze would favour them. But we also knew we'd sailed as well as we possibly could. We had to wait for the final results, which were inglorious to say the least on that last day; but good enough to take out the series with the drop.

So; to my amazing team – Sam, Paige, Sue, Cathy, Silke, Alex and Alex… you should be proud of yourselves! Thank you for helping me sail to the best of my ability… my first ever win in a series, and in a national regatta. To all the crew who sailed with me this season and over the last few years as I learnt to helm… you're all a part of this too. To Richard, for all your hard work on the boat leading up to the regatta, helping us get every possible ounce of speed out of her. Most of all for your support and encouragement and for believing in me. For me, the result in itself is truly a dream converted… and I couldn't have done it without you all. Achieving it reinforces my confidence that the bigger dream, the one that's yet to come, is no less achievable… one step after another.
It's time now… time to take the next step.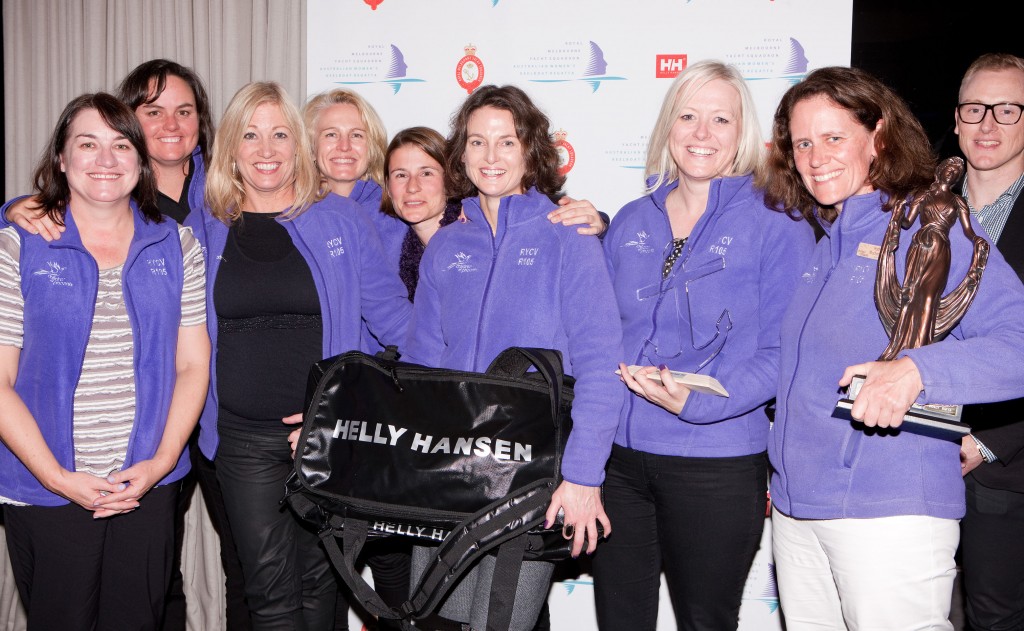 Monday 7th July, 2014 – Launching a community of dream converters
It's been a few months now since I began working on this blog and refining its purpose and content. I've run it past a few trusted and loyal friends so far, but the time has come to launch it more broadly and convert it from an idea into a community.
When I first started writing the content, it wasn't a blog; it was more of a diary saved in my Documents folder. I was thinking more along the lines of publishing it (all of it) at some later stage as an e-book once I'd actually done what I'm setting out to do; safe in the knowledge that I'd succeeded. With confidence that because I'd succeeded it would be a story that people might be interested in reading. The original motivation was to produce something that could be revenue-producing (and in particular to generate revenue from my own writing – another long-held dream). The main point being that writing as a revenue stream meets the criteria of being something that is eminently do-able from the back of a boat. Hence the ads on the site, for which I make no apology but which I also promise to monitor and ensure they are not spam-type annoying pop-up rubbish. Hence also the OziYoti shop section of the site – again, it's about creating revenue streams which can function either from the back of a boat or without my physical input once they are up and running. The clothing line is very much a work in progress – the current pics are just mock ups but there are various garments being screen printed as I type so there'll be actual stock available within a week or two.
But as I transformed the content of my diary into an online blog and thought more carefully about what I wanted to achieve, I realised that my aims for the main section of the site (my story) don't have anything to do with producing revenue at all. The main aim now is to create a community; a community of people who are on similar, albeit probably very different paths. The similarity lies in our collective desire to be living a different lifestyle… the differences lie in the multitude of forms those lifestyles could take. It's not about living a dream. Nor is it about opting out (of the rat-race). It's about opting in… opting in to converting our dreams into reality… making the reality that we live on a daily basis reflect as closely as possible the dreams we once thought were just that; dreams. What I'd like to build is a community of people who support each other in their endeavours… and who knows? Maybe you'll find someone here who shares the same dream and you can work together, or simply someone who can help you convert yours. At the very least, being part of a supportive community can be a huge help in overcoming what at first might seem like insurmountable obstacles.
The other thing I'm hoping this blog will offer is an account of how I went about converting my dream. I haven't done it yet, so it could all go pear-shaped and not end up happening. Even if that ends up being the story, maybe there'll be lessons in it that will help others. I also don't pretend to have all the answers; I'm not aiming to write a Dream Converter's 101 syllabus. What I will do is share my insights along the way and as a member of the community, be grateful for any insights the rest of you have to offer.
So here's my first insight: for me, the first step towards converting my dream has been to decide I'm serious about trying to do it. Of course deciding and actually doing are two very different things; if they weren't, there wouldn't be whole industries devoted to helping us hold fast to our numerous and often ill-fated resolutions. So maybe deciding doesn't count as a first step. Let's try again. Ok – here's another thought…
For me, the first step has been to say that I'm serious about doing it; not just internally, to myself, but to those around me. Once I started talking about it rather than just thinking about it, I automatically started thinking more creatively about how it could happen. It immediately became more real; I became more committed, more determined. Because I'm not only sharing by talking but also by writing, and because I've always been someone who thinks more clearly on paper than in conversation or inside my own head, it's also helping me to crystallise exactly what I want my new reality to be like. Which parts of it are non-negotiable and critical, versus parts that I'm willing to compromise on and still feel that I've converted my dream. So here's the invitation:
Share your story – reply to this post and start converting your dream by telling us what it is
Get involved – find at least one other person's reply that appeals to you and post a comment to them
Spread the word – if you know someone who you think would be interested in joining or following a community of dream converters, send them the link for oziyoti.com
I'm a firm believer in leading by example, so I'll try to be the first to reply to my own post and give you an update on where things are at. Feel free to beat me to it and get in first! It will come as no surprise to those who know me that my dream is about sailing. Despite the OziYoti title, this community isn't designed to be solely for a bunch of yachties. It's a forum for sharing any dream; to borrow a well-worn cliche it's about the journey, not the destination. I'm looking forward to hearing about lots of different destinations!
Saturday 12th July – Figuring out what matters
Part of getting serious about converting a dream is figuring out which parts of it matter. It's great to have a specific goal in mind, to have a definite picture of what it is you're trying to achieve. Knowing exactly what you want gives you something very concrete to strive for. But to make it an 'all or nothing' deal is severely limiting; you either make it or you don't. There are some things you can control and it's those things that you can actively work towards putting in place. But there will always be things which will be beyond your control which will influence the outcome; being flexible about what success looks like gives you options and choices. For me, there's a lot of parts to what I want the future to look like… not all of them are essential. Ideally, I'd like to sell up in Melbourne, buy a boat (about 40 foot) somewhere in the Mediterranean (preferably Greece), spend the next 5 to 10 years cruising around Greece, France, Spain, Italy, Turkey, Croatia… then end up back in the Pacific sailing between Samoa, New Zealand, Vanuatu, New Caledonia and Australia. At some stage I suppose I'll be physically past living on a boat, so it will be important to have land-based options available for then. When I break that down into what's really important to me, these are the key points:
Experience living the cruising lifestyle
Be somewhere warm/avoid being anywhere cold
See new places/meet new people
There's a lot of options which meet those essential criteria; anything from the ideal scenario above to continuing to work in Melbourne during the  8 -9 warmer months of the year and heading north on my current boat for Melbourne's winter. The things I can't entirely control which will influence the end outcome include:
If/when my boat sells and for how much
Rental income derived from investment properties
The cost of purchasing a boat more suitable for living aboard
My ability to earn a minimal income remotely
Getting serious about heading off has also forced me to figure out what else matters to me… what I'm not prepared to compromise on in order to convert my dream. For me, there are 3 key things that I won't jeopardise, even if it means not achieving what I'm hoping to do:
Family and friends
My health and well-being
Financial security
My family have been the rock-solid foundations who have allowed me to navigate through life's ups and downs with more or sometimes less success. They have been there for me through thick and thin, even when they haven't agreed with decisions I've made or paths I've taken. Whatever the future holds, it will need to include ways of staying in touch with and continuing to be close to my family and friends.
I hope to enjoy a cruising lifestyle for many years to come… but more fundamentally I hope to enjoy life  for many years to come. This means doing everything I can to look after my own health and well-being. In the context of a cruising lifestyle, there are particular considerations regarding safety and security at sea and when visiting other countries. That includes developing the necessary skills and gaining the relevant experience, but above all making sensible and cautious decisions.
Financial security is probably the biggest reason I would have always thought a cruising lifestyle was beyond my reach. Like many people my age who've had children and been divorced (in my case twice), asset-building and superannuation growth has been a very stop-start affair. I've still got nearly twenty years before I reach my 'preservation age' (what a macabre term – reminds me of Egyptian mummies!) so in theory there's still time for me to build financial security for my future. My Scottish-presbyterian heritage has always made me think along the lines of full-time work until at least that age if not beyond, in order to be mortgage-free with substantial funds in superannuation when I eventually retire (to a cruising lifestyle in warm climates). The difficulty with that line of thinking is that when I look around me, I see more people whose health doesn't allow them to enjoy that retirement lifestyle when they finally get there than people who do. I might be one of the lucky ones, but then again I might not… so it's important to me to include some aspects of that lifestyle in the here and now. Admittedly I have an expensive hobby and I could build financial security far more quickly if I gave it up. But that hobby is also what keeps me physically active and mentally healthy, not to mention providing my own social outlet as well as for all those who crew for me. When I look at the trajectory I'm currently on, it would hopefully end up looking something like this by the time I'm 70 years of age:
Mortgage-free on a small property
Increased equity through capital growth in 3 other properties – probably sell one to positively gear the others and provide additional retirement income
Sufficient superannuation funds to retire
When I started researching the annual budget required for a cruising lifestyle and comparing it to my current incomings and outgoings, I realised that I could achieve the lifestyle change now and still end up in a situation like this by the time I'm 65 years of age:
Mortgage-free on 3 properties; choice of which one to live in and which ones to retain as investments
Same accumulated superannuation funds as if I continue working full-time
That was when I realised that by reorganising things, I could actually be setting myself up not only to enjoy a cruising lifestyle many years earlier than anticipated, but also to be better off financially in the long term than if I continue living in Melbourne working a full-time corporate job for the next 20+ years. Now that's exciting!  Is it just me, or does that strike anyone else as a no-brainer?
Sunday 17th August – For Sale!
Finally! The decks are freshly painted, the new boom bag is on, the boat is clean and Children of Phoenix is up on the broker's site for sale. Now the waiting game begins… it could take 5 weeks or it could take 5 years… this is one of those elements I will have very little control over. Richard has sold Terra Novae, so he's been busy giving some attention to Ariel (which is also up for sale). Ariel's a sweet little boat… the opposite to mine (which my crew have nicknamed the 'twitchy bitch'). Children of Phoenix will give you thrills (easily reaching 15+ knots boat speed when she's up and planing), but also some spills if you're not careful. Sail her too close to the wind on a reach when you're on the wrong point of a wave and she'll quickly have you laying over in a broach. With Ariel on the other hand, you need to not be in a hurry to get to your destination but she'll get you there with as much comfort as sitting sedately in a rocking chair with an afternoon cup of tea. Both boats are solid, capable of going offshore; but neither are ideal. So the options are:
neither boat sells; we wait but get out of Melbourne for winter or we go on Phoenix and Richard puts Ariel into storage in his factory
one boat sells but not both; we go on the one that doesn't but we're limited to the east coast of Australia and possibly the Pacific
both boats sell, allowing us to choose a more suitable boat in the location of our choice
We can't control the outcome, so in the mean time we're exploring what it would be like on each boat. I've spent a few nights on Phoenix in Docklands over the past two weeks, getting used to docking and berthing her on my own with the added bonus of being 10 mins walk from the office. The only other time I've taken her out on my own was just after the Boxing Day Dash earlier this year, when I decided to bring her back across from Brighton to Williamstown on my own. Murphy's law was in full flight or my first solo outing – the prop decided to fall off just as I was hoisting the main… leaving me to dock the boat single-handed under sail in a northerly that was building to 20 knots. It was a character-defining moment, but not one I'm keen to repeat. I'm pleased to say the new prop has remained in place for these more recent solo outings! We're also starting to think about how to convert the bow to an anchor locker with a deployment system. Last night we slept on Ariel for the first time and took her out this morning to watch the Classic Yachts racing. Despite being 6 foot shorter than Phoenix, her bunk is surprisingly more roomy. Spacious would be too much of an exaggeration but it's a little longer than my V-berth and has a consistent width, so more room for knees, hips and shoulders. More importantly, she's easy to handle for one or two – in fact there's no room for more than that.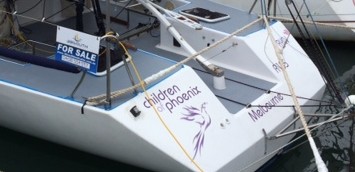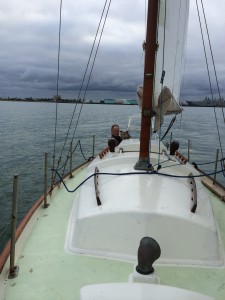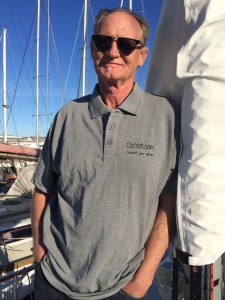 While we wait to see what happens, I'm staying focussed on the other things that needs to fall into place to join the list of successful dream converters; mainly developing alternative revenue streams. I've joined Freelancer.com and have been looking at the projects posted there. Mostly I'm looking at freelancewriting projects and the project budgets and bids you see there are a striking indication of the new global economy and just what the next generation are going to be up against. I'm not interested in earning $1 or $2 per hour to write thousands of words per day, and yet many people in India, Columbia and other places are bidding competitively for those types of projects. Possibly for them having a regular stream of those types of jobs actually produces a reasonable income… their English is good enough and they   can do it from anywhere in the world with an internet connection. So I set my slider to only look at projects with a better return, but of course they're fewer and farther between and the bidding is even more competitive. I'm yet to place a winning bid for a project – I must admit, given the type of projects that I keep seeing, I've been keener to focus on other possibilities. First and foremost would be to explore how far NAB's flexible working arrangements can be pushed; I love my job and the people I work with and the ideal situation would be able to continue with it remotely in some shape or form. Given that's unlikely, another possibility is the clothing line… the trial run of screen printing is done and there's now a range of garments available in the Ozi Yoti shop. Check out the Clothing page – let me know if you can think of a catchy slogan! Richard and I have both become walking bill boards in our casual gear on the weekends – apart from having fun making up cheeky slogans my non-negotiable is that the clothing items must be good quality and comfortable.
I'm also structuring a model for delivering French lessons on-line via Skype or Facetime or Google Hangouts, although for the moment there'll be a face to face component as well. I'm hoping to get the first group up and running before the end of September. Other to-do list items are to renew my listing as a NAATI translator and my VIT registration. All of which has to take a back seat to making sure I'm giving the required focus to my full-time day job as an Organisational Change Manager at NAB. A familiar dilemma for any aspiring Dream Converter… how to work on changing your lifestyle when your life is taken up with working to maintain the current one? I'd love to hear your tips…?
 August 27th, 2014 – How did you get to work this morning?
This was the view of my office building as I came in to Victoria Harbour under the Bolte Bridge yesterday morning … Cheaper and more relaxing than catching the train!
My work clothes are in the gym locker, the boat is stocked with muesli, dog food and sauv blanc and I'm getting used to living aboard (and so are the pooches).
I've decided I'd rather spend 45 minutes motoring up the river on my boat than 25 minutes in the train jam-packed with other commuters… so here begins a bit of an experiment. How lucky am I? I get to test out whether I really want to live on a boat (this boat in particular, if that's the choice I have) before I make any life-changing decisions…
The people at Victoria Harbour – Melbourne City Marina are great; turn up, grab a free berth, let them know… thanks guys. Curling up with a book last night, I decided a cruising boat must have bookshelves!
I slept well, woke up early-ish… loving that Melbourne's winter is finally coming to an end and the days are getting a bit longer. I don't cope well with starting and finishing the day in the dark. Up to my locker at 700B to shower and change into 'corporate mode' – I've also decided I like being able to walk to work in my Ozi Yoti track pants and runners…
Coming home tonight was a character-defining moment I'd rather not repeat. Sailing safely is all about preparation and motoring is no different. Sailing or motoring single-handed is all about preparation, preparation, preparation and still more preparation. Springers off – check. Motor started – reluctantly but check. Dogs below – check. Dusk is falling so nav lights on – check. I check the wind strength and decide the half boom tent can stay on – it will protect me from the drizzle that is threatening and it's not windy enough for it to be an issue. A quick chat to the family in the neighboring berth on Dionysius, cast off and I'm away. It's foggy; very foggy. There are rowers out, but I can just make out their lights, so I think I can avoid them. I'll go slowly just in case. I momentarily wonder if I would be better to stay here the night and avoid going home in the fog, but quickly decide that I'll save the $50 berthing fee tonight and go home. Going under the Bolte the fog is thickening, so I put the autohelm on so I can stand at the companionway to steer using the control head, rather than sitting at the stern steering by tiller. From the stern I can only see a little way in front of the bow; from the companionway I can see further. No problem; follow the channel markers. They're well-lit; I just have to hug the right hand side, following the red ones. I glance up and realise my masthead light is on, as is the stern light, but the tricolour running light isn't… mustn't have re-wired it properly after the mast was put back in the boat in June. Damn… shouldn't really be navigating at night without it. Not far to go; it'll be ok. There are no other boats on the river. Approaching the Westgate the fog gets worse and I'm trying to remember if there are pylons in the middle of the river like the Bolte or if the bridge spans the river with pylons on each side. Under and through and the fog starts to lift; I breathe a sigh of relief… it will be easier to put the boat away in the pen without it.
But I sighed too soon; coming to the end of the channel the fog sets in so thickly I can only see one foot each side of the boat and can only just see the bow. I'm steering by Navionics on my iPhone but the GPS keeps cutting out so I'm not confident in it. Added to that I've got low battery warning on the phone. Every so often the GPS kicks in again so I think I know where I am, approaching the end of the jetty at Royals, but then I notice I've got 0.1 metres under the keel; I'm somewhere really shallow and that means I'm definitely not in the vicinity of the jetty at Royals. I cut the motor right back; I don't want to run aground or head-butt anything with any speed up. I can see channel markers, so I can tell I'm not in the Channel. I must be in the middle of Hobsons Bay, near Parsons, which means I'm in the middle of a bunch of boats on moorings that I can't see. There are a few nervous minutes as I make my way back to the Channel to head further down to Royals and the dark shadows of moored boats appear in the blackness right beside me. The GPS decides to kick in properly again, I take a compass bearing while I can see that I'm pointing straight at the entrance to the marina in case it drops out again (which it does) and I keep nudging my way forwards. A police boat is waiting at the entrance flashing a light at me, which confuses me until I'm close enough to see what it is, as I know there's no light like that where I'm supposed to be. They yell at me as I approach, asking where my running lights are – I shamefully admit they're not working but that I hadn't known that when I'd set off in daylight. Not a good excuse.
I eventually manage to get the boat back in the pen. A 45 minute trip has taken an hour and a half and I've put my boat at risk with poor preparation. The $50 mooring fee for the night is looking like the cheaper of many potential scenarios that could have occurred… I feel lucky to have learnt that lesson without the expense.
So Phoenix will stay in her pen tomorrow… day trips only until the running lights are fixed. I managed to re-wire the radio and get it working again last night, so hopefully my electronics skills are improving and I'll be able to fix the running lights as well.
Preparation, preparation, preparation and more preparation… and making cautious, sensible decisions. I hope I've learnt my lesson!
Thursday 16th October, 2014 – Re-writing Murphy's Law
Spoiler Alert!!!! Graphic images of post-op foot below… don't read if looking at bruises and stitches makes you queasy!
How many sayings could apply to this past week? Let me come up with a few…
It never rains, it pours.
What is it that comes in threes?
If something can go wrong it will…
Monday started out well enough… day 7 after foot surgery for bunion correction which will hopefully see me back to going for long walks along the beach with the dogs this summer and moving around the boat and between buildings at work without being crippled by evening. Recovery is going well, I've been a good patient and followed doctor's orders for bed rest and elevation. Then things started to unravel. Actually all hell broke loose. The major project at work that I'm responsible for had already started going pear-shaped last week; I was still working through issues and determined to find a resolution. Liaising with stakeholders remotely by phone to understand the issues and options for a way forwards, very quickly becoming an expert in organisational hierarchy databases. As newly appointed secretary for the Owners Corp Committee of one of my investment properties, multi-tasking and organising a Special General Meeting to appoint the new OC Manager. Also attempting to use the enforced rest to remotely organise a fundraiser for Children of Phoenix.  Only 3 balls to juggle… can't do much else with my time at the moment, so should be do-able, right? Enter my friend Murphy….
First the power goes out. No modem, no internet connection, no remote desktop for work. Work-around; I have my blackberry. Emails are painful on the mini keyboard (and I don't even have fat fingers), but I can receive them and make calls. Then the blackberry starts going flat; no power to recharge. It dies at the end of a conference call meaning I appear to very rudely hang up just as a key stakeholder is advising she can't make a meeting the next day.
A comedy of mis-communication and the decision at the OCC SGM has to be deferred… meaning another meeting needs to be called with a new 14-day notice period, leaving us 2 days for hand-over from previous OC Manager to new one.
A key sponsor pulls out of the fundraiser (my fault – juggling too many balls, used the wrong logo on the flyer); back to the drawing board.
A real estate agent phones to say a potential buyer wants to look through one of my properties on Wednesday, can I arrange access… haven't been able to get hold of the tenants for two months.
Maybe Tuesday will be a better day?
Tuesday arrives, pow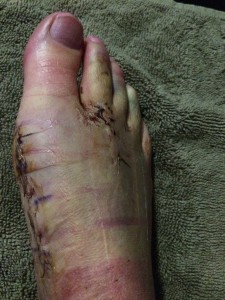 er is back on, all devices charged, remote access issue of incompatibility between MacBook and Citrix finally sorted out after 2 months of issues every time I logged in. Phone meetings with stakeholders confirm that the project delivery cannot go ahead as planned in November; earliest possible deployment will be Feb next year. Major setback – unable to deliver to expected outcomes.
Follow up appointment for foot in the afternoon; surgeon is happy, haven't really had any pain for a few days. Bandages come off, arrghhh…. without the protective cushioning, each step is a nightmare. When I see my foot, I realise I've got a little way to go before I'll be doing those long walks on the beach with the dogs. At least the X-Ray looks straight!
Stop! Rewind…. let's change perspective for a second.
How could I think and feel about this week differently?
I'm working with fantastic stakeholders; who, despite being disappointed, are very supportive
I have a job that allows me to work remotely much of the time, meaning I can continue to be productive whilst recovering from surgery
I have a job
I have a job which is challenging and interesting, working with people I enjoy
I live in a developed country with a good level of medical expertise and health support (compared to many other places in the world) and I have private health insurance, which has allowed me to select the surgeon of my choice
I have a number of investment properties which are (for the most part) appreciating in value and helping secure my financial future
I have a loving, caring partner who has been waiting on me hand and foot (I feel like the Queen of Sheba!)
I have fantastic, generous friends and neighbours who have been walking my dogs every day
I have an awesome crew who have taken my boat out to race without me and finished 2nd on PHS in the Wednesday twilight; go girls! So proud of you!
I haven't felt this physically rested in a long time
As I haven't been able to go sailing and I haven't needed to spend time commuting, I've been able to churn through the initial units of the Cert IV I've enrolled in and am ready to start the practical component
How lucky am I? Murphy, take a hike!
Thursday 13th November, 2014 – Phoenix gets a facelift!
One of the keys to converting dreams is to focus on the things you can control and be aware of the options available to you…
When I first decided that my long term goal was to go cruising, it was exactly that; a long (very long) term goal. The decision pre-dates this blog by many years, although this story records the beginning of a concrete effort to make it happen. The purchase of my boat three years ago was meant to be my 'training wheels'. I thought I'd learn to handle a keelboat, get some more ocean racing experience, learn about boat ownership and maintenance, and worst case scenario, if I could never afford a different boat, this one is capable of being taken offshore and doing coastal cruising. My time frames were along the lines of 'when I retire'… the training wheels were going to stay on for a good many years to come.
When I decided earlier this year that I didn't want to wait that long, a number of obstacles immediately presented themselves. Finance was the most obvious one, and imagining creative ways to address it probably took mental energy away from dealing effectively with some of the others. Somehow selling the boat became another critical element, in order to allow me to save the money to buy something more suitable for cruising. Most people in the boating industry would agree that if there ever is a good time to sell a boat, this is not it. So as long as it depended on selling boats, the departure date could have been 5 months  or 5 years away, depending on potential buyers. With three boats to sell between us, the issue was only amplified.
Come June, one boat was sold and things were looking up, but having two still on the market didn't really get us any closer. At some point, I remembered that part of the reason for buying this one in the first place was that she's seaworthy offshore. She may not be ideal (no shower, for example), but it would be possible to take her away. The ice-box can always be converted to a fridge, there's plenty of storage and adequate living space, an anchor locker and windlass can be added as can the extra batteries required to power all the new equipment. If we're heading north, a stern shower is enough for a tropical climate. She may not give as comfortable a ride as a cruising boat, but she'd get us to our destination quickly so the discomfort wouldn't last as long.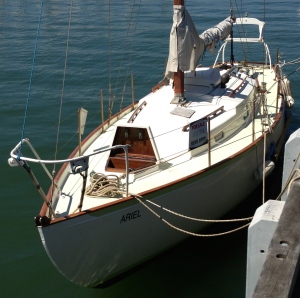 Enter numerous options… if both boats sell we could buy a cruising yacht with the proceeds, anywhere in the world where cheap yachts can be found (Greece, Spain and Croatia all come to mind). If one boat sells but not the other, both Children of Phoenix and Ariel are sound and seaworthy for coastal cruising. Ariel is tiny (28 foot) and slow (she'll do 6-7 knots on a fast reach) but comfortable, easy to sail and cheap to maintain. She could also be left on a mooring, entrusted to keen friends to maintain and use while we're gone, with minimal expense involved.
Children of Phoenix has more room and is fast, but can be twitchy to sail (particularly in a breeze) and requires deeper pockets to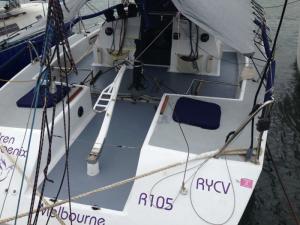 replace sails, winches and other essential working parts. Neither boat is ideal, but either is possible. All of a sudden, if the boats don't sell, we can still go… so we're starting to get them both ready. Ariel has a lovely new boom bag to contain the brand spanking new mainsail, a spinnaker and pole, nav lights in working order and is increasingly uncluttered downstairs. Children of Phoenix also has a new boom bag with new, stronger lazy jacks, nav lights are working again, and there are cupboard doors and shelves which have improved storage space. A TV and stereo gives more entertainment options and a new fold-out kitchen bench and drying up rack means the galley is every bit as big as at home.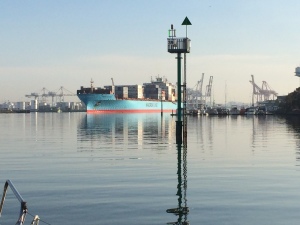 My foot is finally recovering enough to allow me back on the boat at last, with an enjoyable twilight sail last night in which we managed a 2nd place in Div 1. A pleasing result for my first race for the season. I slept on board afterwards in my new-found comfort and was joined by S & R this morning for a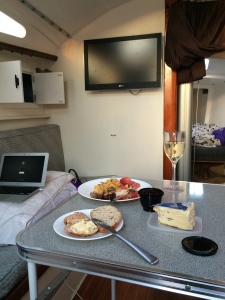 glorious trip up the river to work. If this is as bad as peak hour traffic gets on the water, I know how I'd rather get to work! Dinner on the boat tonight, feeling very civilised and apart from the lack of air conditioning in 30 degree celsius heat (did I say we are going to the tropics?), I could certainly contemplate tolerating this as a lifestyle.
So… options, options, options!
Tuesday 2nd December 2014 – Queenscliff Music Festival
Thursday 27th November
The queen of last minute organisation strikes again… Queenscliff Harbour phoned today to say they have found us a berth against the jetty at the entrance to the cut. Forecast looks ok for going down, even better for coming home on Sunday. A hasty annual leave day application for Friday is approved, the dogs are at my son's for the weekend and I've submitted an early vote this morning – we're off!
Friday 28th November
I log on to work remotely and set up my 'out of office' email. Pack bags – i.e. phone, laptop, clothes for three days – time taken: 5 minutes. Despite the early hour, I jigsaw the crockery rack I've been making for the boat and wanting to install for weeks with a silent mental apology to my neighbour for the noise. Next; throw some wine and cheese and bickies in a chilly bag – all the essential foodstuffs. We pick up diesel, milk and apples on the way. Arrive at RYCV – yay, the bar is open! I grab two coffees to go and we load our bags onto the boat. A quick stop off to pick up a barge board from Richard's boat, Ariel, out at her mooring in Hobson's Bay. Then it's head to wind to hoist the main… Let's go!
The wind doesn't quite match our enthusiasm – it's dropping under 5 knots a lot of the time.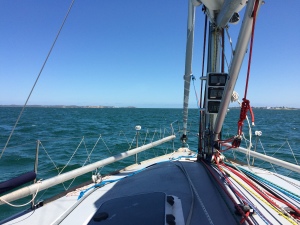 The motor goes back on and assists our progress for the next 5 hours, averaging 6-7 knots. Coming down the Western Channel it's picking up and is on the nose – we drop the main to avoid having to tack our way down the channel. Approaching the Heads my thoughts drift to May next year – will we be heading out? I'm hoping to take the boat up to New Caledonia for the Great Lagoon Regatta in June; I've negotiated a flexible arrangement with work, I just need to get finances in place and the boat set up for some longish passages.
We arrive at Queenscliff Harbour at 1:50pm. I'd been a little worried about arriving at the fastest point of the ingoing tide and navigating the cut in a strong current but all is fine and we dock up at the jetty in amongst the fishermen without any drama. Except that I forgot to buy tickets for the festival on the way down; damn! They'll be $10 more each now. We check out the line up on the QMF iPhone app and I decide I must be getting old; the only band I've heard of is The Church.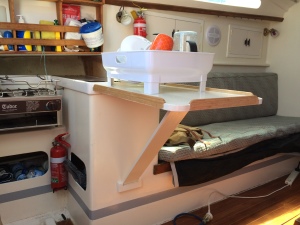 We've got a couple of hours to kill so we get busy and install the new galley bench – tripling the available working area. The crockery rack goes in next (sorry again to my neighbor); it fits and seems fairly functional. An ex-neighbour from Williamstown is living in St Leonards and she comes to meet us on the boat for drinks and nibbles. We decide not to buy tickets for tonight, just to go for a wander into town. No venues in town have any music on tonight – everything is very quiet, lots of car parking spaces everywhere. The festival organisers will be hoping it picks up tomorrow. I wonder if the election will keep people away? Fish and chips for dinner – best I've had for a while.
Saturday 29th November
Being in the cut has it's disadvantages – every time a boat goes past, its wake knocks us up against the jetty. The fishing boat exodus starts at about 4:30am, so from then on the best we manage is lots of disgruntled dozing. The boat is protected by the barge board, but there's nothing to protect my sleep. Mental note – make an earlier berth reservation for next year! There are lots of spare berths inside the arms, but with my 2.25 draft I don't get in to most of them at low tide. We eventually decide there's nothing to be gained by staying in bed, so the token bloke makes tea, I wander up to the Harbour office for a shower, then spend a relaxing morning doing some writing and pottering on the boat waiting for the festival to start at 11:00am.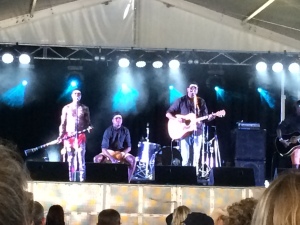 Happily the first band we stumble across is Yirrmal & the Yolngu Boys – a group of 5 young indigenous Aussie artists from north-east Arnhem Land and the one band I really wanted to see. Most of them are in Melbourne pursuing studies and to hear Yirrmal speak with passion about the knowledge and skills they're hoping to take home to help their communities is as inspiring as the group's lyrics and vocal harmonies. We also catch Hayward Williams, The Little Stevies, Marlon Wiliams, Sagamore, Tijuana Cartel, The Imprints, Dyson Stringer Cloher, and five minutes of The Church. Getting old doesn't stop me enjoying most of the music on offer… especially the Blues and Folk genres. 'Home' in the evening to the boat and hopefully a less eventful night as the harbour office has found us a new berth – still in the cut but against a floating arm rather than the jetty. We've had a great time, thoroughly enjoying the QMF weekend for the second year in a row.
Sunday 30th November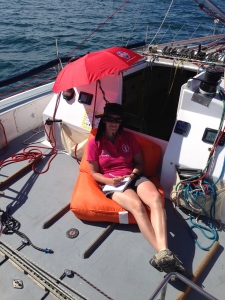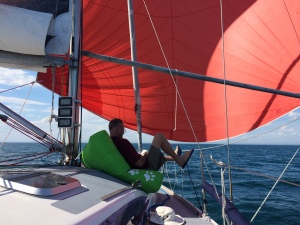 We've checked the forecast and the tides and decided to wait until the afternoon for the southerly shift, which will also have us going up the Western Channel with an incoming tide. As we turn left up the channel coming out of Queenscliff, I can't help looking back at the Heads, wishing we were turning right instead, heading out and off on a bigger adventure. The forecast lives up to everything it promised – a relaxed, sunny sail home under masthead spinnaker; the autopilot doing all the work while the two of us relax, one reading a book and the other writing one. We make good time to Gellibrand, heading up the Bay with Blue Chip for distant company.  For the last hour the breeze swings south-east and picks up to 20+ knots, still with a flat sea.  We're surfing along doing 10-12 knots boat speed, putting the autopilot away and enjoying some manual steering in a fantastic breeze. We arrive at Gellibrand almost at the same time as Blue Chip. Back in the pen, packing up takes considerably longer with only two of us compared to after twilight racing with the full crew. Tucking into a bed that doesn't rock feels a bit strange, even though we've only been away 2 nights. Three days of couldn't-be-better cruising… both of us convinced more than ever that this is a lifestyle we could easily adopt, actively plotting the next adventure.
Sunday 31st May 2015 – It's happening!
It feels like the past 6 months have gone by in a blur of frenzied intensity with no down time between work, study and boat preparation. Staying focussed on the end goal has helped with juggling the multitude of balls, hopefully without dropping too many. And now that end goal is in sight, or at least a road test of it. Although a sea-trial would be a more accurate description…
The things that were really important:
Experience a cruising lifestyle
Head for warm climates
Stay in touch with family and friends
Stay financially secure (or at least financially sensible)
There have been a million small steps involved, but we're now 10 days away from our departure on a 3 month cruise up the East coast of Australia and across to Noumea. The boat has been transformed from spartan racer to spartan cruiser (I won't exaggerate – with no hot water, a two burner stove and an Engel fridge it will pretty much be like camping on water). There have been numerous steep learning curves – I've gone from not knowing which colour wire was positive or negative to re-wiring the boat, installing a new circuit-breaker panel and trouble shooting the installation of the tow-generator. With a little help from friends I've found and replaced a fuse in the HF radio to get it up and working again and wired the VHF into the chart plotter to give us DSC capability. Very handy to have a radio that can emit distress signals to all surrounding vessels indicating our position without needing someone to operate it if things go very pear-shaped. Richard has installed an anchor locker and windlass, designed and produced a boom tent, wind scoop and new pushpit, complete with transom pad and covers for the outboard and generator cable. He's also finished all the cupboard doors, plumbed in bigger gas bottles and manufactured tie-downs for the extra jerry cans. We've added an extra 100L of water bladder capacity and 2 new house batteries, which now have the autopilot functioning without a constant low battery alarm. The multiplexor is finally hooked up and all the instruments on board are talking to each other. There's even a transom ladder for when we go snorkelling in the lagoon around New Caledonia and need to climb back on board. We've found a place to stow wine bottles, books, a tent and flippers and snorkels – all the things a racing yacht is not designed to carry. The YB satellite tracker is merrily emitting position signals every 12 hours and emergency contacts have been programmed in to receive the updates by sms. The YB Tracker link will take you to the page where you can see where we are – for the moment you'll see I've made it from North Williamstown train station to the marina at RYCV! Hopefully there'll be a lot more progress to show soon…
My unit is rented out and Richard has people coming to look at his tomorrow. Financially it's a big outlay for a 3-month trip, but the boat is now modified to do this sort of sailing and we could do it again much more cheaply if we're not disillusioned with the idea by the time we get back. For me, what has really made it possible is NAB's flexible working policies and the focus on not simply allowing, but actually encouraging people to pursue whatever work-life balance means for them. Support from my management team has been unfaltering. I can't imagine too many other working environments approving 12 weeks' absence over the critical delivery period of a major project. Having spent the last two weeks handing over to the seconded project manager, I can walk (or sail) away knowing that she will do a great job. If my learning curve in marine electronics has been steep, hers has been equally so with the database upgrade and she's risen to the challenge with determination, assurance and a very healthy dose of common sense.
I couldn't take this boat to sea and not use the opportunity to raise awareness for Children of Phoenix and its Scholarship Fund. The focus of the Royal Commission into Child Sexual Abuse over the past few weeks has highlighted just how valuable the work of the Foundation is. The vision of Professor Caroline Taylor (AM) in creating the charity 11 years ago in Ballarat is inspirational and has never been more relevant. If you want to get behind this great cause, use the donate button on the Foundation website; whether it's a once off contribution, a sponsorship per nautical mile we sail or an offer to provide funds for an individual scholarship, any contribution you make goes directly to help transform the lives of survivors. If you want to know more please message me here and I'll get in touch. We held a pre-departure fundraising dinner at RYCV on 22nd June and managed to raise about $550 after expenses – thanks to all those who came along and made it a great evening. We'll be hoping to organise something similar in Sydney – despite the obvious challenge of not knowing when we'll be there.
I'm really looking forward to a week in Opua before we leave, both for the opportunity to spend time with Richard's Mum again and also to unwind before we head out to sea. So Tuesday evening we'll board a plane for Auckland, spend a week connecting with family, soaking in the hot springs in Ngawhar and trying not to think about a million and one jobs that still could have been done on the boat. There will always be more that could be done, but there comes a point when you just have to accept the preparation you've done and go. We fly home again the following Tuesday and on Wednesday 10th June, weather permitting, we'll be bound for Queenscliff once again. This time, with the first good weather window, we'll be turning to starboard as we leave the harbour, finally aiming for Port Phillip Heads and out into Bass Strait for the adventure we've been looking forward to and working towards for so long.
Thursday 11th June 2015 – Farewell to Flo
It seems this story is to be bookended by sadness; we lost my father a week after I decided that my dreamed-of future would be real and now we've lost Richard's Mum, Flo, just as we were due to leave. The courage, humour and goodness of this woman were truly inspirational; she had touched so many lives in the communities in Bay of Islands, NZ. Flo took particular interest in helping those who needed it most and there are countless stories of people who are grateful for her encouragement. In her final days, she continued to laugh and sing, reminding us many times of the motto by which she lived her life; 'Be kind to each other'. Be at peace now Flo; we will miss you.
Saturday 13th June 2015 – We're off!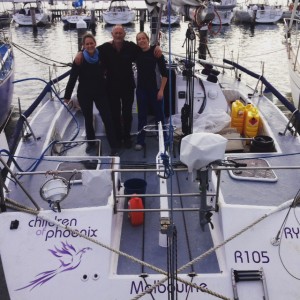 My new tomorrow begins today… A late night arrival from Auckland yesterday made even later by a flat battery on arrival at the Tullamarine long term crt park. A funny feeling of being in limbo, staying the night in an empty unit that we'd already moved out of 10 days ago. Finally on the boat this morning; after some stowing and tidying and farewells, the lines are cast off and we're underway at last. Ian and crew have left Brighton ahead of us on Kingurra, accompanying us down to Queenscliff for a farewell dinner.
The BOM forecast says we should be out early, so alarms are set for 4:30am amidst moans and groans but no mutiny. The idea of a pitch black departure makes me slightly uneasy but it will be nearly dawn by the time we get to the Heads. It's showing a 15-20knot headwind on Tuesday so we decide to change the itinerary and pull into Refuge Cove to sit it out for a day and wait for the wind to swing behind us for the run up the coast to Eden. David makes a last minute decision to join us and arranges to walk out of Refuge Cove then be picked up for a lift back to Melbourne. Tomorrow the adventure begins!
Sunday 14th June 2015 – An ignoble beginning

My sense of direction is legendary for all the wrong reasons. Coming out of the cut at Queenscliff I prove the reputation justified once again by mistaking the port channel marker for the starboard one and promptly running us aground. In my defence, they're not green and red pylons at the entrance; just little cones that are unlit and hard to see. With some vigorous rocking we manage to dislodge ourselves and Richard takes the helm so I can navigate. Lonsdale VTS clears us to proceed and we cross the bar at 6:30am. There's a gentle swell and we all enjoy our first Bass Strait sunrise as we glide eastwards on a comfortable beam reach, doing 7-8 knots under sail. Alternating between motor sailing and sailing when the breeze is up enough, aiming to time the arrival at Refuge Cove for daybreak tomorrow morning. Autohelm working beautifully – hopefully the initial glitch was the first and last (touch wood!).
Monday 15th June 2015 – Refuge Cove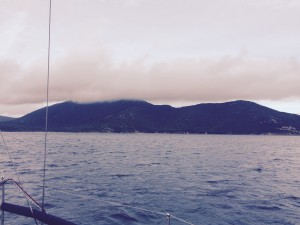 Yay for Telstra's offshore mobile coverage – it allowed Ian to give as some helpful onshore navigation tips. Based on the easterly winds, we decided to pull into Oberon Bay on the western side of Wilson's Prom rather than going around to Refuge Cove. Arriving at 4:00am, Richard was frustrated to find the windlass jamming, meaning it needed to be pulled apart to deploy the anchor manually. Once secured we slept soundly for a few hours before running our stowaway crew member ashore at dawn in the inflatable, so that he could walk out of the Prom and get a lift home. Some more tricky moments for Richard manoeuvring the dinghy between rocks with a challenging swell and breaking waves but David was successfully dropped ashore – he may have got a bit wet in the process. We then decided to head around to Refuge Cove after all to avoid the south-westerly swell. The wind was already up to 20knots as we headed out, so it was a bit of lumpy bumpy ride until we could tack across and get around the corner. Refuge came up so quickly and was so much smaller than we expected that we almost sailed past it – luckily Richard was honing his nav skills and called us in. We anchored at dusk with the same windlass issue and more frustration for Richard. We eventually got settled, heated up a meal and settled down for an early night.
Tuesday 16th June 2015 – Things that go bump in the night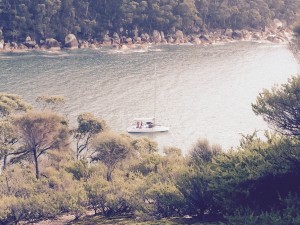 In our efforts to deal with the anchor last night we (I) neglected to check the tide. We had dropped the anchor in plenty of depth. But by the time we motored backwards towards the shore to make the anchor stick, we were in shallower water.  When the tide dropped by 1.5m during the night, we were awoken to feel the boat bouncing on its keel. I quickly donned sailing gear over pyjamas to go up and start the motor. The swell was rocking us so much that it was a pretty easy affair to wait for the boat to tilt then motor off. We pulled up on the anchor into deeper water and settled back into our bunks. Unfortunately pulling up on the anchor meant not enough chain was left deployed and we dragged, once again awaking to tell-tale bumps around 5:00am. We motored off once more and dropped the pick again – this time successfully and in deeper water with plenty of chain.
A lazy sleep-in followed, surfacing to put the kettle on around 8:30am. After breakfast we all went ashore in the dinghy to explore the trails through the bush and see if we could get some phone coveragein a more elevated location for a weather update. Ian's advice when we did get through was to have gone that morning, but by the time we trekked down to the boat and packed up ready for a 2-day trip, it would have been late afternoon before we left. That would have meant sailing 2 nights; I was keener to leave at dawn the next day and have 2 days sailing and only 1 night. The forecast for leaving at dawn wasn't as favourable but seemed ok; 25-30knots from the south east for a few hours in the evening, 20-25 for the rest of the trip, which should have been a fast reach aft of the beam with an apparent wind speed feeling significantly lower. I wouldn't take the boat out on the bay to race in winds that strong, but doing an ocean leg in one direction with 2 reefs in the main and just a small amount of headsail deployed should be comfortable enough. We talked it over and agreed that we would go with that window.
Wednesday 17th June 2015 – A day we'd rather forget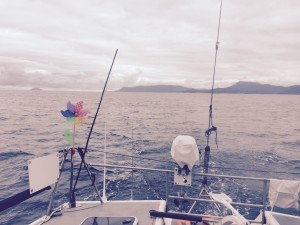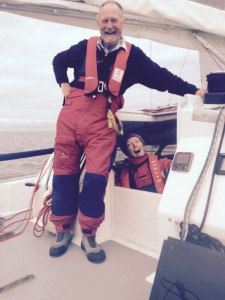 Despite waking every 5 minutes during the night worried we might be dragging anchor again, the boat stayed put and we rose just before dawn to feed up on a big breakfast of porridge and fruit before heading off. As we left Refuge Cove I got coverage again and a message from Ian advising that the 25-30knots were now forecast to last all night. We were all keen to get going, and having decided the direction meant the wind strength wouldn't be a problem, we elected to continue. As we headed out for a very pleasant sail past Seal Islands towards the beginning of the oil rig fields the colorful whirly-gig nick-named 'the fun generator' was going full speed and the crew were feeling chirpy. Belinda getting some time on the helm and quickly learning to steer a straighter course. At 15knots we put the first reef in the mainsail and furled the jib slightly. An hour before dusk, the second reef went in and the jib was furled a bit more; increasingly so as the wind built to 20, then 25, then 30knots. The swell was too big and the seas too messed up for the autohelm to work effectively; it would have to be Richard and myself hand steering all night. I sent him downstairs to rest while I took the first shift, hoping that I could do a long stint before calling him up and that the wind might even prove closer to the original forecast and abate after a few hours.
At about 7:00pm, the wind had built even further, a steady 30-35knots and gusting to 40. Just as I was thinking that the boat was handling it well, a loud bang was followed by a flogging headsail; I was worried the forestay had gone and steered a course downwind both to stop the flogging and protect the rig while Richard and Belinda quickly dressed to come upstairs. The furling line had broken; the headsail was fully deployed with no way of re-furling it. It would be impossible to sail any direction other than downwind with that much sail area in strong winds, which would have had us on the coast (rocky shoreline) within a few hours. There was no choice; the sail would have to come down. Sending two people forward to the bow in 40knots and big seas to pull down a sail that was flogging madly and stiff in the track is one of the hardest things I've ever had to ask of anyone in my life. It's the reason I purchased the furling headsail in the first place; to avoid needing people on the bow dropping sails in dangerous conditions. I'd purposely ordered the sail in heavy material, designed to be bullet proof. Normally a full-sized headsail would be used in light winds and made of light fabric, but I wanted this one to be usable in the ocean in any conditions. Good in theory, but the weight and stiffness of the sail combined with its vertical battens now made dropping it even harder. With the motor on full throttle trying to keep the boat head to wind into the waves, I thought of the tokens of St George that a colleague had given me to bring on the trip – her faith in his protection was to be her farewell wish as we set out on our adventure. The courage and strength of Belinda and Richard won out and they managed to get the sail down and secured and came back off the foredeck. They were drenched, cold and tired after riding a roller coaster on the bow with waves crashing over them for 5 minutes. The boat was well under control again so I sent them downstairs to do what they could to get warm and rest again. Conscious that if we lost our navigation instruments in these conditions we would be in a more serious situation, I left the motor running for a while to help drive through the seas and recharge the batteries.
Our troubles weren't over; half an hour later the motor clunked and stopped. In the dark I hadn't seen that a rope on deck had been washed free and was trailing in the water… until it wrapped itself around the propellor. There would be no more motor assist and we would be arriving at Eden in the dark, needing to find a mooring, drop an anchor or pull up to the jetty under sail. The boat speed was still good – 7 – 10knots, so I shelved the new problem to be dealt with later, hoping that the mainsail would remain in tact over night and not leave us with no sail and no motor. Rigging the storm sails in these conditions was not something I wanted to have to ask Richard and Belinda to do. As it was, they both pulled superhuman efforts; Belinda going 40 hours with virtually no sleep, watching the nav station like a hawk for oil rigs, shipping traffic and other boats and making sure we were staying on course with our manual steering as we tired and our concentration failed. Richard and I were doing 90 minute shifts each, curling into a ball downstairs in our off-shift as Belinda covered us with sea blankets and fed us muesli bars and nuts and water. Both dawn and Gabo Island never seemed to get any closer through a very, very long night.
Friday 19th June 2015 – Safe harbour, all is well
At some point during Thursday the wind finally began to abate although it was still gusting to 25knots. But our boat speed had slowed down considerably and we were struggling to make more than 3 – 4 knots headway into the current and swell. The wind was finally aft of the beam (only just), so we shook out the second reef and immediately picked up to the handy 7 – 10knots that Children of Phoenix does so easily once she comes away from the wind at all. I actually managed to have a pleasant two hours drying out in the afternoon sun, catching some waves and surfing down the back of them at 12knots, enjoying the feel of the boat. Once around Gabo, Eden was still a long way off and our aim of avoiding a second night sail wasn't to be realised. We sailed into Twofolds Bay around 2:00am on Friday morning and managed an uneventful docking under sail at the well-lit mooring jetty in Snug Cove. Belinda promptly thawed out a chicken green curry and at 4:00am with tummies full of hot food we all collapsed into our bunks, dry and warm at last.
Later that morning we found a diver from the slipway to cut the offending rope away from the propellor and he reported no sign of damage to the propellor. The furling line would have to be replaced – it had snapped in the middle and there wasn't enough length remaining for it to be usable. The head of the sail had also detached from the top furling drum – probably the shackle snapping as it unfurled. The halyard was still up the mast – someone would have to go up to retrieve it. I would deal with that in the afternoon, or maybe tomorrow; for today, we all just needed to sleep, eat and recover.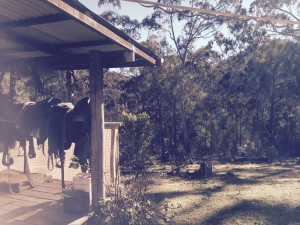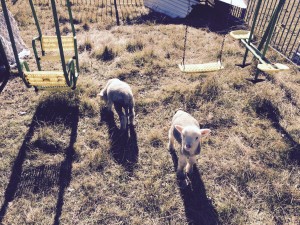 Many lessons were reinforced that should have already been well and truly learnt long before an experience that none of us ever want to repeat; be more selective in weather window selection, leave the headsail furled in strong conditions, if the motor is running make damn sure there are no lines in the water. But some positive new lessons as well; the boat handled the conditions well and each of us now has confidence in the others that under pressure, we all were able to stand up and do what was needed to bring us safely home. We will stay put in Eden until we're all fully recovered and the boat is dry and ready to go again. The next leg will probably be a short day hop, perhaps to Bermagui. We will be ultra-cautious about the forecast we choose to go in. It's important that the next experience is a positive one – if we have to wait a week or more then so be it. The forecast is for a northerly shift on Monday so it will be at least Wednesday before there's a favourable window. In the mean time, we'll visit Pete on his bush block, explore Eden and prepare the boat and ourselves for the next legs.
Tuesday 23rd June 2015
The boat is dried out and after a few days at Pericoe spirits are up and we're back on board. The forecast is for strong northerlies up the Eden coast until at least Thursday so we're here for a few days yet. We'll use the extra time to sort out the satellite phone and other electronics to make sure we can get weather reports when there's no phone coverage and do some other odd jobs on the boat. The new furling tape will arrive from Melbourne today or tomorrow, so hopefully we'll be good to go on Thursday or Friday if the forecast is good. A young Belgian backpacker thinks he's keen to join us; we'll try to get out for a sail on the bay here if it's protected enough over the next few days, to give him a taste of what he'd be in for before taking him out on the ocean. Is it sane that I'm itching to get going again?
Thursday 25th June 2015
We've had a week in Eden recuperating and giving the boat some TLC. I've managed to get a bit of work in, as well as 2 coaching sessions so am living up to the goal of proving I can work from the back of a boat to some degree. But we're all ready to go now; we want to get back on the horse. We've picked up two more crew; a keen young Belgian backpacker and our friend Pete – great to have another capable helmsman with us. Thursday's forecast confirms a southerly change; a good wind direction for leaving, although it meant we had a rocky, bumpy night tied up to the wharf. It felt like there was a pretty strong wind whistling through the rigging overnight and I wondered if it would be too much for us to leave in the morning. I was definitely not keen to send us out into a strong wind warning again. Many lessons learnt from the Bass Strait crossing though… and lots of advice, new information and logging on to the Marine Rescue NSW volunteer group so we're feeling much more prepared. The forecast and real time wind readings in the morning still show we'd only be getting about 15 knots, maximum gusting to 20 knots if we hug the coast. That will also keep us out of the strongest southerly currents. We agree it's time to go and eventually head out to glorious conditions.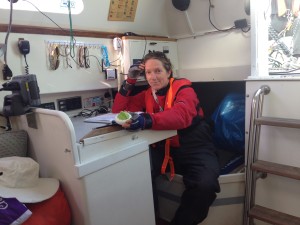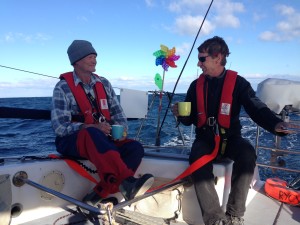 Belinda's back at the Nav station and loving the learning curve. She takes responsibility for the hourly sched calls as well as for making sure we stay on course. The Fun Generator has been repaired and Richard and Pete are relishing the time on deck. The cross swell and wind from directly behind us means we're back on hand steering to hold as closely as possible to our course, but it's nice to be sailing the boat in great conditions. We're probably averaging 8-9 knots, sometimes catching the waves and surfing down the back at 12 knots. It's so good that we talk about ditching the day trip plan and continuing on overnight, possibly all the way to Sydney without stopping. We start working shifts, alternately steering and resting, to get us set up for an overnight sail.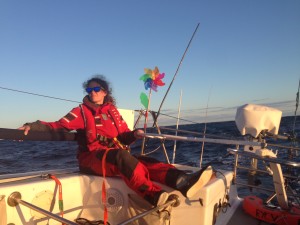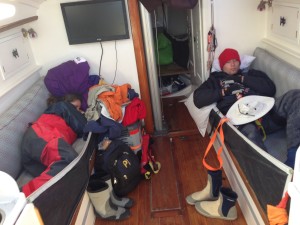 The volunteers at Marine Rescue Eden and Marine Rescue Bermagui track us all the way up the coast, taking our hourly sched messages and calling us in with advice and encouragement. We've set the YB tracker to issue updates hourly as well, so people at home can track us and not worry that we've sailed overland when the 12 hourly updates we had before fail to show us sailing around a point rather than over the top of it.
But by the time we're approaching Bermagui the swell has increased to 2 metres and it's now tough going to try and hold our course. It stops being fun, concentrating on keeping the boat stable in the swell; I'm still a nervous downwind sailor! When Richard suggests he'd rather pull in for the night and deal with the swell in the daylight, there's no disagreement. On the approach to Point Dickinson we are treated to a whale breaching in front of the boat – a stunning sight but one I'd rather see at a slightly greater distance. A bump from those magnificent creatures will hole your boat and sink it in a matter of minutes. He circles us and passes abeam well offshore, giving another spectacular leap as we sail past. We pull into the river at Bermagui and are greeted by MRNSW volunteers on the wharf ready to grab lines as we dock up.
I can't speak highly enough of this volunteer group – the comfort of having people on land tracking us, in constant communication; hourly scheds might be an overkill but it's great practice for Belinda and reassuring for all of us. At the wharf we catch up with another cruising couple who also arrived from Eden. They're headed for Jervis Bay tomorrow morning and we may well try to go in company for at least part of the day. We'll leave the decision for morning; one of the great treats of this trip, that despite the months of forward planning decisions are now made on a daily and hourly basis. For this evening we're enjoying wine, pasta and music on the boat. Tomorrow is another day; for the moment, we're back on the horse 🙂
Tuesday 30th June, 2015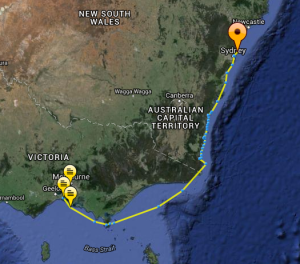 Reaching Sydney was a bit of a milestone – celebrated with delightfully hot showers at Royal Sydney Yacht Squadron. I was surprised by how small the Harbour seemed compared to both my memory of sailing on it as a teenager, and to my home waters of Port Phillip. The original plan was for a quick trip to Sydney, getting at least that far north as quickly as we could to leave Melbourne's winter behind. We were then going to spend about a week there before pushing on, partly so I could go into the office and partly to do odd jobs on the boat and allow more crew to meet us and jump on board. It ended up taking us 2 weeks plus the delay in NZ, so after a short 2-day stay we've decided it's time to keep going. Crew from Melbourne aren't able to make it, so rather than do more small hops we're setting out to go straight to Coffs Harbour – hopefully managing the 220nm in about 2 days which would see us arriving around midday Thursday before the strong southerly comes in.
This will be the first 2-night stint since the Bass Strait crossing; if we're still contemplating a 5-day ocean crossing to Noumea, we need to test ourselves with at least that distance. It's currently glassy seas and light winds as we motor past Pittwater. We were able to set the jib for about an hour with the apparent wind but even that is flogging now so has been refurled. Richard's bacon and egg sandwiches have gone down a treat for a late lunch and as the sun starts sinking towards the horizon my daily check-in with the crew has us all keen to keep going for tonight, so so far, so good.
The Yellow Brick Tracker is set to update every 4 hours and we're on 4-hourly sched calls to Marine Rescue NSW. Despite spending a few hours on the phone with Raymarine Tech Support the autopilot is still not getting data from the Seatalk NG network, so manually setting it to steer to an 'auto' heading that corresponds to our course. A better option that doing a factory reset and risking glitches that might mean we lose the chartplotter altogether…
It was a busy time on the boat in Sydney, but still gave me time to reflect on why we're doing this trip and how it's going so far. The 'road testing' of the sea-change lifestyle is pretty much what I was expecting; Richard and I are really comfortable on the boat, although a happy medium between getting hammered and motoring in becalmed seas would be nice. The personal challenge of organising the trip, navigating, weather routing and handling the boat is also about what I expected; there has certainly been a huge learning curve and I feel so much more equipped now than I did setting out from Queenscliff. Leaving Sydney quickly meant there was no time to organise a fundraiser for Children of Phoenix Scholarship Trust – so I'll be focussing on writing some media articles and trying to generate some awareness and funds that way. Thinking about the challenges faced and overcome by survivors of child sexual abuse and in particular the inspiring story of Professor Caroline Taylor certainly gave me motivation to dig in and do what had to be done to get us to port safely when things got tough. If we can generate any increased public awareness and enough funds to provide a scholarship to someone in need, it will have been a worthwhile activity.
If you'd like to donate please go to www.childrenofphoenix.org – and read about the work the Foundation does.
Wednesday 1st July, 2015
Despite our enthusiasm, Ray the trusty autopilot wasn't on board. About an hour past Pittwater the hydraulic arm gave up and a crew conference decided we were best to head back to Pittwater where there was a specialist Raymarine service centre. Dan from BME in Newport couldn't have been more helpful; organising a berth in his marina for the night and in an hour had both the hydraulic arm and the wiring issues fixed. If you ever need help with marine electronics, can't recommend him enough. Unfortunately it means we've missed the weather window we were hoping for and probably won't get to Coffs before the strong southerly front. We'll leave today and see how far we get by tomorrow afternoon; possibly/probably pulling in to either Port Stephens or Port Macquarie to sit out the front.
Thursday 2nd July, 2015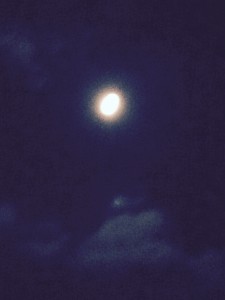 As expected, a southerly front is coming through which would have caught us before we reached Port Macquarie. A frustrating but sensible decision to pull in at Port Stephens to wait it out, but one which will avoid us being caught out in a gale warning.
A lovely overnight sail (motor) from Pittwater with a mild moment of panic as we passed Newcastle and the chart plotter screamed an AIS alert showing a pilot vessel doing 80knots about to ram us mid-ships. Turns out they deliver sea pilots by helicopter in Newcastle; panic moment was short-lived.
Looks like we'll be here until Saturday morning, so tomorrow will be a work day for me. For tonight, salmon pasta with Sauv Blanc and very happy to be tucked up safely in Nelson Bay.
Monday 6th July, 2015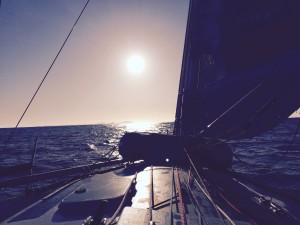 An early start and a bit of a treat; finally under sail in a 12 knot westerly with just a little bit of swell. Richard makes the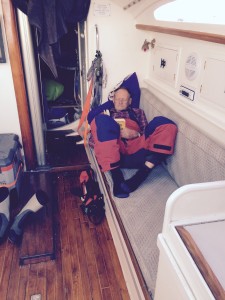 mostof the quiet time with the motor off. Belinda and Yves do a bit of morning whale spotting. For the moment they're a long way offshore. When I hear 'Are they getting closer?' I pop my head up to take a look and am surprised by a group of 5 humpbacks surfacing about 50 metres off the starboard quarter, on a converging path. We alter course 20° to port and when they keep following us closely, turn the motor on to make some noise.
A variation of a childhood nursery rhyme plays in my head;
Whale, whale, stay away
I really do not want to play.
I know my hull is sleek and blue
But it wasn't built as a mate for you!
We travel in company with them right on our stern until we pass Broughton Island. Then they hang back and head inshore. One of them treats us to a spectacular breach; I can't help but take it as a flipper wave to say 'Farewell'. Alas, we've lost the whales but also our wind. The motor stays on and eventually the sails come down again to stop them flogging. Back to motoring; at least the sea is pretty flat.
After another beautiful sunset at sea, Yves and I are on duty approaching Crowdy Head. After checking YB Tracker I discover it's been set to 'off' all day – apologies to those at home were were trying to follow us, and no; we haven't sailed over land again. The forecast hasn't changed; light, variable wind and decreasing swell all the way to Coffs. At this stage it looks like we could be there early tomorrow afternoon. Once there, we say goodbye and thanks to Yves, with the hope that he's enjoyed the trip. He's certainly been a keen learner. Jim is already in Coffs waiting for us. It will be good to have another helmsperson on board. Although I'm still daunted by the challenge of a 6-day ocean crossing, the lure of some consistent, good sailing winds is calling temptingly…
As we pass abeam of Crowdy Head I go to the nav station to do the sched call in to Marine Rescue NSW. Yves heads downstairs so there's no-one looking aft (I keep an eye forwards from the companion way for whales in our path). When Yves comes back on deck, we discover an alarming situation; bean-bag overboard! It must have slipped under the lower life-line and off the deck as the boat rolled in the swell. A quick torch search of the water behind us confirms that we've lost sight of it. At night, I'm not going to turn the boat around for a man (bean-bag) overboard drill. We'll just have to fight it out for who gets to use the remaining one on deck during shifts.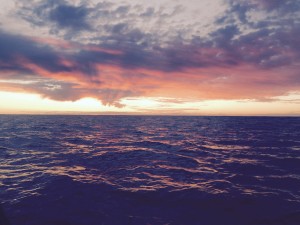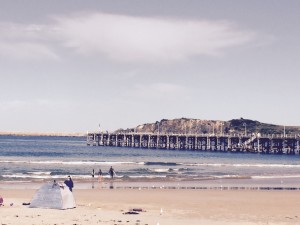 Two shifts later and Yves and I are on dawn duty. We're entertained by a pod of about 30 dolphins all around the boat. I pull out my iPhone to record some video – mostly too far away. Just as they come closer the batter dies! But Yves has a morning I doubt he'll forget in a hurry, sitting on the bow watching a dozen dolphins criss-crossing under his feet, so close he could have reached down and touched them. They stay with us for about 20 minutes, then head off out to sea. Another beautiful sunrise at sea, the back downstairs for a rest while Belinda and Richard take the shift which will get us all the way to Coffs. It's a beautiful, sunny day and after showers, drinks and lunch at the yacht club, siestas are in order all round as we begin to enjoy the sort of climate we came looking for…
The criteria for this adventure were always stay safe, test run a lifestyle change (cruising in warm climates while continuing to earn income) and stay safe. Our intended destination has always been Noumea; partly because it's a beautiful spot and partly to visit friends. Perhaps mainly because it gave us a concrete destination to aim for, with a (huge) stretch challenge of a 6-day ocean crossing each way.
Now that we're in Coffs, our departure point, it's crunch time. Are we up for this? Is the boat up for this? Do we want to do it? There are a few more things to consider now; do we have time to do this? Does Richard's passport have enough validity that he wouldn't be turned back when we arrive? If we get there, how would we get back (at this stage we would still need a 4th crew member for the return trip). The original plan had us spending a month to get to Noumea, a month cruising around the lagoon, and allowing a month to get home. With the extra few days in NZ and in particular the time spent in Eden and doing short day hops up the coast, we've lost 2 weeks. That would mean a 6-day crossing for 2 weeks in Noumea, then turn around and have just under 4 weeks to cross back to Australia and all the way down the coast. There'd be no guarantees we would be able to get back in 4 weeks – weather windows this time of year for heading south comfortably would be few and far between. We need to allow more time to get home than it has taken us to get here. A search of forecasts shows if we were to go, it would need to be tomorrow morning or not for at least 4 days after that, which would leave us about a week in Noumea before turning around to come home again. I honestly don't feel prepared enough for a departure tomorrow; I haven't studied weather patterns enough, I'm not sure enough of the HF radio, I haven't had time to play with downloading grib files from the sat phone.
I explore options; trying to give us choices that mean we could still reach New Caledonia. Weather patterns suggest the safest, most comfortable return crossing would be to arrive in Bundaberg (which happens to be where Richard's brother lives). A short, comfortable crossing but then another 300 nautical miles further to come south on the way to Melbourne. We talk about the potential to leave the boat somewhere in Bundaberg and fly home, giving us a month to stay in Noumea. That would mean spending summer flying up the coast and back for weekends, doing short day hops to gradually bring her home. It's decision time and as skipper, although I will listen to the crew, the ultimate call lies with me. It's a decision that has been on my mind since we left Melbourne; every day over our schedule has made it less and less likely. For others on board, the reality is only just dawning. It's comforting for me to know that there's a consensus that if we don't make it to New Caledonia no-one is going to mutiny.
My way of approaching this is the way I approach all decisions; figure out what really matters. In this case, it's stay safe, cruise somewhere warm and stay safe. Safe has many meanings; physical safety is just one of them. I've never attempted an ocean crossing, although I've done Bass Strait a few times and circumnavigating New Caledonia 4 years ago saw us at sea sailing for 5 days non-stop. Those experiences are enough to make me aware that an ocean crossing is an exhausting experience; one which I imagine is similar in many ways to a marathon (although I've never done one of those either). You are pushed to your limit with 3-hour shifts, you face into weather that you know will be challenging at best, dangerous and life-threatening at worst. You rely on others aboard to be able to do their bit; without them you won't make it. The mental and emotional challenge is just as great as the physical aspect. Like a marathon, an ocean crossing requires a recovery period. In this instance, I just don't think 1 or 2 weeks is enough of a recovery in between 5 weeks each way of coastal hopping and ocean crossing.While it would be disappointing to miss out on seeing our French friends, part of this adventure has been learning to make the right choices… this needs to be one of those times. Reluctantly, the decision is made; we'll head north and cruise the coastal waters of Queensland. New Caledonia will have to wait until we're not as time-driven; for when it's a true lifestyle change instead of a test run. So the next challenge is how quickly can I make that happen? I've got another 7 weeks to contemplate that before returning to the suburban corporate routine; lots to think about!
Tuesday 14th July, 2015
Hmmm… it seems I'm destined to get one lesson out of this trip that, while useful, is one I would have preferred to skip. Plan B was put into action a week ago; short day hops north to Queensland, at the most with some overnight sails. Investigations of the northern NSW coastline reveal that although there are a quantity of rivers and creeks, places deep enough for us to pull in are few and far between. Yamba would seem to be the first one, so we decide on a short day-hop to give Jim a feel for the boat. I wanted to get there in daylight and before low tide, so I pushed us along with some motor sailing to ensure we could maintain over 5 knots speed over ground. We timed it to perfection, arriving at 5pm. Iluka Bay seemed like a good spot to stop for the night; not far from the entrance so we could get going again the next morning, aiming for Mooloolaba. Iluka Bay has two entrances; the first looked too shallow but we were advised by the local Marine Rescue station that we should be fine. Should be, would be, not to be… just as the boat moved over the entrance bar into supposedly deep water, the keel hit the bottom and there it stayed. We sat and waited for three hours for the tide to finish going out then rise again, somewhat embarrassed as numerous commercial fishing and tour boats made their way past us back to their moorings at the end of the day, giving us a grin and a wave. Smug they may be; they don't have a ton of lead in a bulb 2.25 metres below their boats!
We passed the time having dinner and with food in our tummies things didn't seem so bad. With high tide we started to float and picked up a free mooring in the bay for the night. The dinghy was deployed in the morning to refill the diesel jerry cans and ferry Belinda ashore to restock the pantry. We decided that Tweed Heads would be another good short stop, rather than the extra 70 miles to Mooloolaba. Our replacement bean bags are waiting for us there, but we'll get there eventually to pick them up. This was the opposite problem; I didn't want to arrive before dawn or at low tide, so we spent the night trying to slow the boat down, reefing the main, furling the jib, no motor assist… unfortunately a racing boat that loves to plane doesn't oblige by going slowly when she gets a 20 knot wind on the beam, no matter how much sail you reduce. We arrived at Tweed River just after day break, a few hours too early. It was almost low tide – still outgoing with the current meeting a south easterly swell at the river entrance, making the sea stand up in 3 to 4 metre breaking waves over the bar. It looked hairy… and it was. Richard took the helm and focussed solely on keeping the boat in line for the entrance, not letting the stern pick up and swing in the swell. I called him through watching the nav station like a hawk; the bar isn't very wide so after a few minutes of hearts in throats we were through and into calmer waters inside the river. There are shallow bits all up the river though, so we sat and anchored in a deeper part to have breakfast, waiting for the tide to rise. Once again, food in tummies made the world seem a better place.
At half tide we decide to give it a go and headed down the arm to the Ivory Marina. Once again, in a spot the chart says should have plenty of depth we strike bottom with a bump that is becoming annoyingly familiar. I manage to reverse off, and we try a few different angles of approach, including taking the outside bend which logically should be less silted up. No luck; each approach we try ends in the same bump and sudden stop. The tide is now running in fairly strongly, and on our last bump it pushes the boat solidly against a sand bank. We're stuck again, waiting for full tide. Eventually Richard and Jim decide they need to relieve my stress levels, so they deploy the dinghy to run the anchor to deeper water and kedge the boat off. The little outboard struggles to keep the dinghy manoeuvrable in the strong tide and Belinda and I watch on as a Laurel and Hardy-type scene plays out with Richard steering and Jim feeding out the chain and warp. But the boys win the day with no comic moment – anchor successfully deployed, the boat easily slips off her perch and we navigate around the shallow bar and up the dredged pathway, hugging the starboard channel markers into the marina.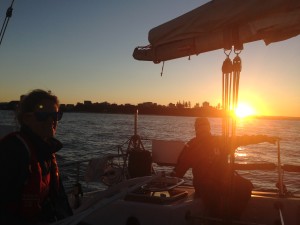 Our trip was never meant to be spent sitting at jetties in marinas – we had pictured ourselves anchored up in secluded tropical bays, fishing, snorkelling and relaxing. There's nothing endearing about the Ivory Marina itself; no lounge, poor bathroom facilities and the laundry equipment was apparently installed a few weeks ago by a yacht owner, not the marina. The staff are friendly and helpful but it's overpriced and not where we want to be.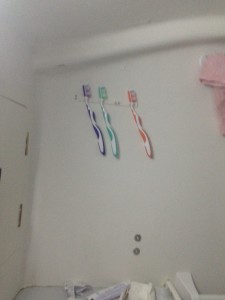 Sometimes you don't get what you want in life – and patience is a virtue. Between the weather and the tides, we're trapped here for 3 days. We can only get out at maximum high tide, and I won't go out unless the bar is flat. On a positive note, one of the things about cruising that attracts me the most is the sense of community; the 'Blue Nomads' are like a close-knit family and the willingness of total strangers to be friendly and helpful is one of the best examples of human nature's positive side you will ever come across. Meeting Pete, Cath, Steve and their friends turned the Tweed Heads stay into a taste of that cruising community. They'd just returned from a 5-week trip north and gave us plenty of local advice both about how to get out of Tweed River and how to navigate the internal waterways from Southport to Moreton Bay. The allure of internal cruising and anchoring at islands inside a bay wins out and we decide to head for Seaway Entrance then motor up to Peel Island as a starting point, before figuring out how much further north we want to try and go. Waiting for high tide means a late afternoon departure, but Seaway is only 16 miles north so it's a lovely evening sail up the Gold Coast in flat waters, despite being close-hauled rather than the reach the forecast promised. A steady 15-20 knot breeze and a reef in the main allows Children of Phoenix to find her optimum angle of heel and I'm relishing actually sailing her, hand steering with the motor off.  Downstairs, Belinda discovers a new type of inclinometer – I wonder if it will take off? The entrance to Southport Seaway is well-lit and easy to approach and it doesn't take us long to motor up the river a few miles to our anchoring spot for the night. 
I'm awakened just after midnight to a gale whistling through the rigging and spend the next 6 hours checking that we're not dragging anchor. The wind doesn't abate all day, sometimes reaching over 30 knots. To make sure we have enough depth, we've had to anchor fairly close to the channel, which means every time another boat goes past, we rock violently in its wake. Surely the tourist jet boat could have chosen another spot to do a donut, rather than 30 metres from our stern? Plans to motor through the shallowest channels at Jacobs Well are abandoned – I doubt we could hold our course against wind and tide sufficiently to avoid running aground in the dark. The anchor has held here for 24 hours, so it can hold for another 24. We'll sit it out and wait for the wind to abate tomorrow, then give it a try. It's highly likely we'll bump a few more times going through… but I'm sorry to say I'm getting somewhat used to it now. So long as we nudge and can motor off, I'm happy to give it a go – we can always turn around and come back downriver to take the outside path up the coast if needed.
One other benefit of the time at Tweed Heads was the opportunity to think through our options a bit more. It quickly became apparent that if we were going to bring the boat back to Melbourne, there'd be no cruising further north. It has taken us 5 weeks to get this far, and with only 5 weeks to go we would have to turn around now, mainly sailing into strong southerlies to get home. Not an enticing prospect to say the least. When investigating places in Moreton Bay to re-provision, the yacht clubs at Manly seem a likely option. Wynnum Manly Yacht Club has its 40th Annual Ladies Skippers race next Sunday, so that appeals for a bit of a lark, even though I had said we wouldn't be doing any racing on the trip away. An idea is also burgeoning that I could relinquish my berth in Melbourne to keep costs down, leave the boat here and use it as a holiday house to fly up to every few months to do some cruising for a weekend and over Christmas in particular. We can sail Richard's boat Ariel in the Classics in Melbourne or I can crew for various other people. Leaving the boat here would also mean it's in the right location if we ever want to attempt the crossing to Noumea down the track. If after 6 months I decide I'm missing the boat too much or not using it enough, I will look at bringing it home over the Christmas-New Year break. The crew are enthusiastic, so after a search of fees at available marinas, clubs and brokers, Plan C is formed. We just have to get through some narrow, shallow channels tonight so we can get started!
Wednesday July 15th, 2015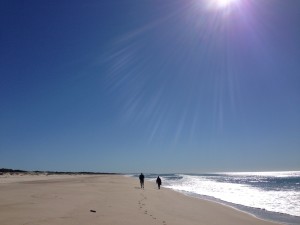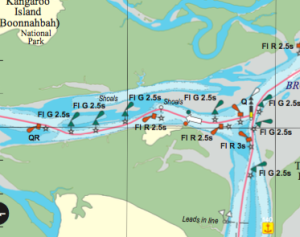 With huge thanks again to our Blue Nomad friends in Tweed Heads, I'm very happy to report successful navigation of the internal waterways last night.
Sea Wafer went past us on Monday afternoon to give it a try but at mid-tide didn't even get to the shallowest part before they started touching bottom. As they came back past us down river a friendly 'ahoy' was followed by their report that they would take the outside coastal passage instead to aim for Mooloolaba. As we sat on our anchor all day yesterday in what would have been lovely coastal sailing conditions, I couldn't help but wonder if we were making the wrong choice. The allure of navigating some internal waterways for a change won out, reasoning that if we couldn't get through we would still have Wednesday and Thursday to take the outside passage and get Jim somewhere he could catch a plane home. With high tide not until 9:00pm it was a long day waiting but the others made the most of it, taking the dinghy ashore to South Stradbroke Island for a shell-collecting expedition along the beach. The dinghy only takes three people, and I was happy to use the time to stay aboard, mind the boat and do some writing. Very happy to report that the novel I haven't touched in fifteen months acquired another chapter yesterday, marking the half-way point… and getting me back into motivation to add a little bit each day.
VMR (Volunteer Marine Rescue) Jacobs Well gave us some good 'unofficial' advice – to come around the north cardinal mark in daylight so we could 'eyeball' the narrow stretch ahead of us, then anchor up and wait for high tide. Once again, we are impressed with the service offered by these volunteers, both in NSW and QLD. With Belinda on nav on the iPad, Richard calling depth and Jim spotting moored, unlit boats ahead, I managed to guide us through passages that read 1.3 metres at low tide… with not a single bump. It was a really pleasant motor up the mangroves during the day then on the whole a really pleasant night-motor through the difficult stretches. We opted to keep going as far as Brown Bay at the southern end of Russell Island to ensure we'd got through all the shallow bits and wouldn't have to wait for another high tide the following evening. It was 11:00pm by the time we got there, motoring at times against a 2.5knot current with the outgoing tide.
We all agreed what a good decision it had been to wait the extra day rather than attempt the passage on Monday evening in 30 knot winds; both for the extra degree of difficulty that would have added but also the chill factor – we clearly haven't reached a tropical paradise yet. I have never been so incredibly grateful for a glass of sauv blanc, a cup of packet soup, a pair of possum socks and a hot water bottle! The anchor is holding firmly and there's very little wind – I'm first to bed and sleep like a baby for a very pleasant change. I'm also first up this morning (which makes a distinct change… in fact it could well be a first for the trip) and the sunrise views confirm that we've found a lovely spot. We'll go on through the remaining passages to Peel Island in the southern end of Moreton Bay today; there's even talk of breaking out the fishing lines and Richard's tackle box. My suggestion of fish with omelettes for dinner is met with a reminder that such a menu would actually require catching something…
Wednesday July 22nd, 2015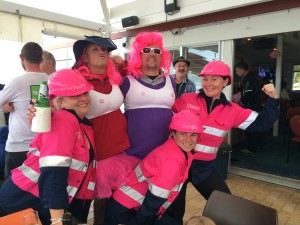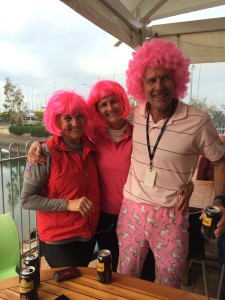 Plans have firmed up to leave Children of Phoenix here at WMYC when I return to Melbourne. A much more appealing base from which to use her for cruising… I can see the frequent flyer points accumulating now!  The crowd here have been very welcoming – a lovely, low-key club. The event organiser helped us find some local crew for the Ladies Skippers Race last Sunday and we had a great time. The crews here go all out for the 'Best Dressed' prize – we Melbournians really need to lift our game! A fantastic effort with about $6,500 raised for Breast Cancer Research – these people know how to support a good cause. We're looking forward to coming back and getting to know the club better, but after a very pleasant  6 days, it's time to move on.
We farewelled Jim last Friday with thanks for being a great travelling companion, albeit also with regrets that we weren't able to offer the trip to Noumea that he had expected. Belinda has also left us for greener pastures (or a wider beam, to be precise); heading to Port Douglas to jump on board a 12 metre catamaran sailing from there to Darwin. So after 6 weeks Richard and I have the boat to ourselves for the first time. A day at the Brisbane office was productive on Monday, then replacing the foam mattresses in the V Berth yesterday with some high density foam meant a good nights' sleep for the first time in a while. Today we're itching to get going and see some more of Moreton Bay before potentially heading north to Mooloolaba. The boat is clean, the water tanks are full, the fridge is stocked and Richard has purchased some bait for his fishing lines… but there's no wind and it's raining. We've lazed about reading and blogging long enough for it to be lunch time. With Belinda gone from the galley Richard has taken over – it's legendary toasted sandwiches, then convince ourselves it's stopped drizzling enough to blow the dinghy up and lash it to the foredeck and get going.
There's a east/northeasterly predicted for this afternoon, so we think it should be pleasant anchoring over on the western side of North Stradbroke Island… except that the forecast is for another 2 days of rain. Not exactly a glorious introduction to our cruising life as a couple!
Saturday 25th July, 2015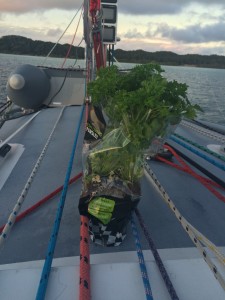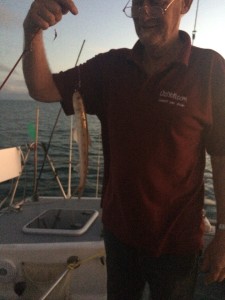 Our first night at Kounungai wasn't glorious at all… the predicted Easterly didn't arrive, so instead of being sheltered on the west coast of Moreton Island we were exposed to both the southerly wind and the south-westerly swell.. a rocky, noisy night! Conditions settled the next day, BoM updated the forecast to southerly so we thought about going back to the north side of Peel Island… and then the Easterly kicked in. Having decided to stay put, I did some work remotely for NAB, then bit the bullet and got my tax done (unpaid leave is starting to take it's toll). Richard got his fishing gear out and proudly displayed his first (and so far only) catch. I put the parsley to good use garnishing a pumpkin soup  then had an hour coaching session with some French teachers – it's great to be working with passionate people, in a space I'm passionate about.
Our second night was calm and uneventful. We felt luxurious on our new high-density foam mattress from Clark Rubber; the V-berth feels twice as wide now we're not both falling into the middle! After a good night's sleep we awakened to a lovely sunny morning, with some welcome swallows chittering happily on the lifelines. It warmed up enough to deploy the boom tent, go for a swim and try out the transom shower… the water pressure leaves something to be desired and some coral reefs would have been nice to snorkel over, but it was refreshing and on a positive note, an inspection of the anode on the sail drive confirmed it's looking fine.
Today is really the first day I've felt like we're living the lifestyle we set out to road test (sea trial would be the more appropriate description). It's just the two of us on the boat, we're not going anywhere or preparing the boat to go anywhere. We've both done the sorts of things we'd be doing; Richard busied himself making a leather sheath for the beautiful hand-crafted knife he picked up at the Forge Festival earlier in the year and I worked on some e-Readers and did some follow-up work for coaching clients. There's a potential buyer wanting to look at the boat tomorrow morning, so we're heading back to WMYC this afternoon – a short motor back across the bay. As we hauled anchor we were treated to a family of four turtles doing backstroke near the boat, waving their flippers at us. They're much more timid than dolphins; they won't get as close but they're a beautiful sight nonetheless, playing at a distance.
As we motor off I remark to Richard 'So this is what it could be like…' His reply reminds me to be mindful; enjoy the present moment. 'This is what it is like, honey… this is where we are…' How true… for today, our dream conversion is happening, and I'm enjoying every minute of it!
Monday 27th July, 2015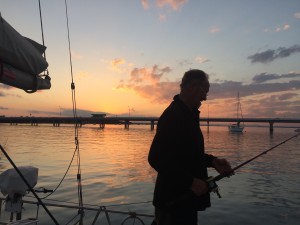 After meeting with a potential buyer for the boat on Saturday and doing some re-provisioning, Sunday offered us a sunny, light and variable day to motor up to Bribie Island in the northern end of Moreton Bay. We just got out of WMYC in time before low tide, seeing 0.3m under the keel going out of the channel. After that it was an easy 3 hour trip, Ray the autopilot behaving beautifully all the way. Bribie Island was an interesting discovery… I had been thinking 'Island'… undeveloped, secluded, picturesque… not! Think again… anchoring not far outside the channel, which was a thoroughfare for jet skis, fishing tinnies and other pleasure craft. Add to that a densely populated island, a bridge as busy as the Westgate almost overhead and a pub with music-blaring speakers on the point and you get the idea. When using Navionics to select anchoring locations, it pays to add the satellite overlay to the maps and check out what's going to be around you in your chosen destination! Nevertheless, it was a very pleasant night with the predicted strengthening southerly not arriving (Paige, what's BoM up to with their weather forecasting lately?).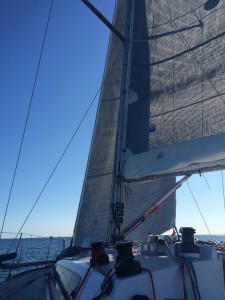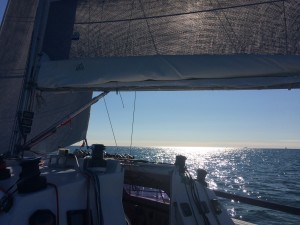 I managed to sleep easy all night, not checking our position once to see if we'd dragged anchor. Either I'm getting complacent or more trusting… not sure which. A good night's sleep meant I was awake early and first up to make tea (a VERY rare event). We saw a ketch leaving at 7:30 and decided it was time to get a move on ourselves; again, needing to beat the low tide to get through the shallow sections of Skirmish Passage around the tip of Bribie. In the end it was very uneventful and we left Moreton Bay behind for a couldn't-have-been-better cruise up the coast to Mooloolaba; initially 10-15 knots in flat seas on a fast beam reach. It was soooo nice to have the sails up and the motor off – perfect conditions for Children of Phoenix. We quickly caught up to the ketch before Caloundra Head, despite putting a reef in as the breeze picked up to 20 knots. Not wanting to get to Mooloolaba too soon after low tide, we furled the jib as well and had a comfortable armchair ride the rest of the way, still doing 6 knots speed over ground (SOG). Coming into the river was also non-eventful; we pulled in to the marina temporarily and finally picked up the replacement bean bag sent from Melbourne weeks ago. Now to find a shopping centre and some beans to fill it!
After French toast for lunch, we continued on around the bend in search of a likely anchoring spot. The state of some of the boats suggests the official '10 day maximum stay' rule may not be strictly applied… there are mussel farms here to rival any of the boats that don't move out of their pens at home. There's not a lot of swinging room, so it's a short chain and yes, tonight I'll be checking to make sure we don't drag. I had been quite nervous about our first coastal expedition with just the two of us on board, so it was great to get such perfect conditions and really enjoy sailing with the motor off. It really brought home how much it's about picking the right weather window (and having a bit of luck…). This evening, Richard's busy investigating destinations further north and while we contemplate next steps, I've been putting the finishing touches to another draft website – for those of you who are interested in checking out some other types of writing I do, have a look at www.kathrynmacfarlane.com. One of the goals I set myself was that by Christmas this year, I would have earnt my first $1 from writing… I'm pleased to say that's another item I can tick off – Apple currently owes me $2.80 for the sale of some French iBooks for children! Small steps, perhaps a small ambition, but one that has me smiling nonetheless 🙂  🙂  🙂
Sunday 2nd August, 2015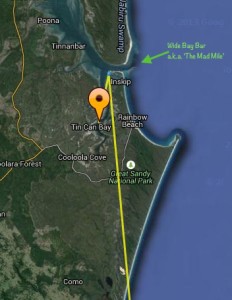 No, we didn't sail overland again!  I've given up letting the YB Tracker emit signals every few hours; it's set up to check emails every time it emits a signal, which uses up credits at the rate of knots… given it's now an information device more than a safety device, usage is being restricted in accordance with budget!
Despite the local name for the bar crossing into Tin Can Inlet ('The Mad Mile'!!!), we decided to try another coastal hop from Mooloolaba to the southern end of Frazer Island a few days ago. The friends we met in Tweed River had told us of their nerve-wracking crossing of a bar that is a mile long with breaking waves, and how difficult it was. The couple on the neighboring boat at Mooloolaba Marina also weren't encouraging – suggesting we should be leaving at night in order to arrive in the morning. But this time we really did our research, confirming from numerous sources that the time to cross was on an ingoing (flood) tide, preferably with a gentle Easterly wind going the same direction as the tide to ensure the waves wouldn't be standing up over the bar, causing them to break. Investigation confirmed from both BoM and Predict Wind that Thursday was our day – a 10-15knot southerly swinging easterly in the afternoon, with high tide at 20h00, so flood tide late afternoon. Provided we could average 7knots speed over ground up the coast, we'd be in by 17h00, before Coast Guard Tin Can Bay closed for the evening.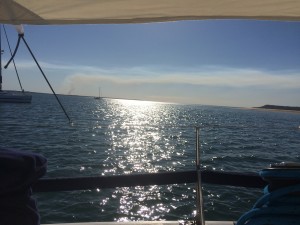 All good in theory… and for once in practice as well. We headed off at 07h30, using the autopilot to steer to a fixed wind angle as the wind was almost directly behind us. Steering to the designated waypoint would have been too deep for comfort. For the non-yoti readers, sailing with the wind directly behind you (at 180 degrees on a compass dial with 0 degrees being the direction you're heading) is the best way to end up crash gybing, as the wind shifts slightly to one side of the stern or the other and slams the mainsail across when you're neither wanting it nor expecting it. It's much safer to sail with the wind at a bit of an angle off one side or the other – in our case at around 155 degrees, which gave us more boat speed as well. Winds were mostly around 10 knots, so to maintain the required 7 knots speed over ground the motor was on all day, assisted by some current most of the way, finally going in our direction instead of against us! The crossing turned out to be fairly uneventful; waypoint coordinates supplied by CG Tin Can Bay allowed us to navigate successfully through the deeper channel across the bar. Although there were breaking waves each side of us, our passage was in fairly flat water and the wind even obliged in direction allowing us to leave the main up all the way across. The worst part was right at the entrance, where the water was so confused it was like a washing machine; similar to Port Phillip on its worst day. Again, with light winds and going in on a flood tide, there were no dramas. Once inside it was an easy job to drop the main and duck in behind some sand bars to anchor up for the night amongst some other cruisers.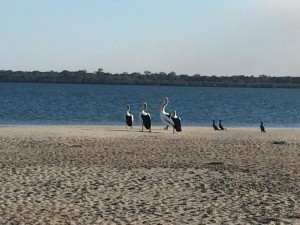 We were treated to a beautiful outlook waking up the next morning, which changed dramatically later in the day with the sandbars becoming exposed at low tide. Taking the dinghy ashore for a walk, I tried to make friends with the locals but they didn't want to talk – just turned around and waddled off, giving me a very cold shoulder indeed. Still no luck for Richard with his fishing, and after a second night we decided to go further up the river to explore Tin Can Inlet and re-provision. The river is bordered by some really picturesque mangroves and we even had a dolphin swimming alongside us briefly – not something you often see in rivers. Once back at anchor, it was a decent walk from the public jetty to the local IGA but these locals were more friendly – the store owner kindly delivering our shopping bags back to the rubber dinghy for us. The weather has also been kind – in fact, far too glorious to be thinking about blogging. Twenty-five degrees and sunny; too hot to stand on the deck in bare feet. With less than three weeks to go we're both really starting to unwind, and at the same time realising we need to absolutely make the most of the rest of our time sea-trialling this lifestyle. As the sun sets on another day in paradise, we bring out a wine glass each and agree it's definitely one we could get used to!
Thursday 13th August, 2015
The turning point of the trip has come, in more ways than one. As we start heading south again, it's been a good time to reflect on the last four weeks.
From Tin Can Bay we did another straight and shallow expedition; this time through the Great Sandy Straights up inside Frazer Island to Hervey Bay. Wanting to see some of the island, we took our time, anchoring off  Maaroom , then Southern Whitecliffs and then Northern Whitecliffs. 'Le bilan', as they say in French:
Maaroom – uncomfortable, unprotected anchorage…
Southern Whitecliffs – a beach that turns to quicksand at low tide – literally sinking to your waist with each step, the tide going out faster than you can tug your rubber dinghy out to the receding water. Eaten alive by sand flies, covered in bites that would itch madly for the next 10 days…
Northern Whitecliffs – lovely resort (Kingfisher Bay) but weird anchoring; your boat lies in the direction of the tides not the wind, so in a flood tide and southerly wind you're stern-to, with waves slapping under the stern for six hours, waiting for the tide to turn!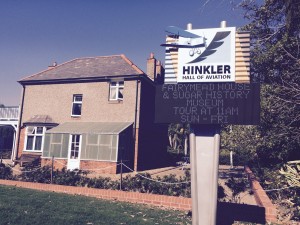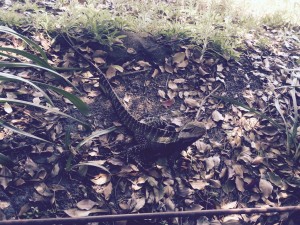 We were happy to get through to Hervey Bay and had a glorious sail up to Bundaberg to spend a weekend visiting Richard's brother Marty. One of the essential parts of the trip was keeping in touch with family, and it was great to be able to spend some time with him not long after losing Flo. It was more shorts and T-shirt weather, pretty much every day in a lovely marina tucked just inside the river. Marty shouted us to a lovely dinner at the local club, watching forlornly as the Wallabies downed the All Blacks. A visit to the Hinkler Hall of Aviation gave me an insight into a renowned Australian adventurer (whom I had previously never heard of…). We had coffee at the riverside, met a curious local and wandered through the Botanical Gardens (nearly getting clobbered by a falling palm frond).
After the loan of his car for the weekend, we enjoyed another BBQ meal together on Sunday evening at the Marina using the facilities opened there this year for cruisers. After dinner it was a bit of an emotional farewell for the two brothers, then Richard and I thought we'd do an overnight motor sail with a calm forecast to get to the bottom of Hervey Bay and the Sandy Straights again at high tide overnight, ready to head for Bundaberg the next morning. It wasn't to be; casting off and motoring down the river we found a fair chop at the entrance then out in the channel discovered the autopilot had gone on strike. Not keen for manual steering all night in what was turning out to be uncomfortable conditions, we turned around and headed back to the Marina, fixing the autopilot on the way but sticking to our decision for an early morning departure instead.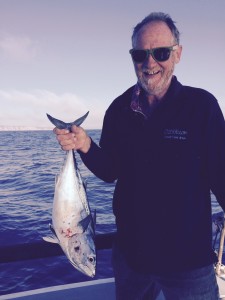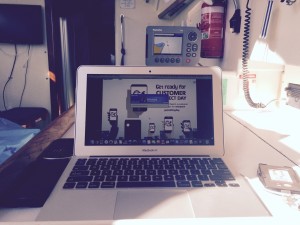 In the end we made it down Hervey Bay in good time, getting through Sandy Straights in the evening with tide assistance all the way and anchoring just inside Wide Bay Harbour again for the night. Richard decided to trawl a line as we came back through the straights and there was high excitement as it spun out behind the boat off Stuart Island. A large Mackerel justified the presence of the fishing lines for the previous 10 weeks, which Richard filleted and prepared to perfection for dinner the following night. Another dawn departure saw us across the 'Mad Mile' again with fairly easy conditions, although we did take one breaking wave over the bow and yours truly had a salt water shower standing in the companion way. When Coast Guard tells you to steer 50 metres west and 50 metres north of Waypoint B, make it 100 metres and you should be fine. We had everything from too much wind to nothing on the way to Mooloolaba, but made it into the Marina easily by 4:00pm. An attempted team meeting conference call along the way off Double Island Point was abandoned with Telstra's coverage being uncharacteristically poor in the area.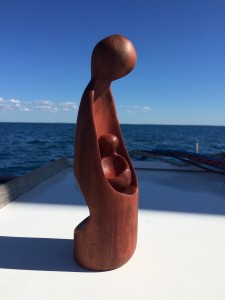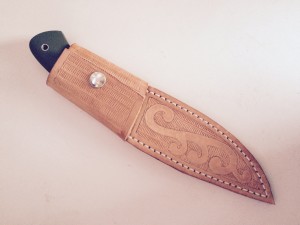 We've sat for a few days in Mooloolaba as winds howl through masts from various directions, waiting for favourable conditions to do the last leg back to Manly (QLD). As the end of our time away draws near, we've both been making the most of spare hours to pursue various activities we had planned; Richard has been trying his hand at making leather sheaths for a stunning, hand-crafted knife he picked up at the Forge Festival. I've managed to finish a wood carving, churn through some uni assignments, write some chapters on my novel and put in quite a few hours to support my team at work. We're both feeling really happy with our time away, and convinced more than ever that this is a lifestyle we want. We've both proven that we can tolerate (ok, enjoy, appreciate, … I'll stop before I get soppy) each other's company in such close confines and also that we have enough hobbies and interests to keep us occupied in the down time. I've also proven (to myself at least) that I can work efficiently whilst living on a boat – less so when actually sailing it, and working isn't the same as earning an income. But it's given me confidence that it's do-able. In other ways, we're no closer to a permanently becoming Blue Nomads until both our boats sell. Neither of us have any idea what the next six to twelve months will bring, other than it's likely that more options will open up. We're both feeling comfortable with the uncertainty, and in many ways excited and curious to see how it pans out.
20th September 2015 – The Conversion Continues…
We've been back a month today… in some ways it feels like so much longer. Yet people tell me constantly it feels like only yesterday for them that they were reading blog posts about us sunning ourselves in Queensland, sailing between Brisbane and Bundaberg. Just goes to show how things appear different depending on the perspective you're looking from…
In so many ways it would be so easy to be grateful for the 12 weeks, and settle back into suburban life. On the surface, there's so much that is comfortable about that… but ultimately, delving deeper, I have to acknowledge there's a lot that's not. The balance that was so harmonious for those last four weeks is starting to ebb away. The things that matter, that give me that balance, are starting to be replaced by routines of 'stuff' that seems essential. This is the first time since leaving the boat I've sat at a laptop to write, and yesterday was the first time we've been back on the water. A challenging row out to Richard's boat Ariel in a choppy northerly was worth the effort (easy for me to say – he was rowing!). After 6 months of neglect, her motor turned over beautifully on the first chug. I can only hope that the motor on Children of Phoenix will behave that well in a few weeks time. Ariel's got too much weed on the prop to motor in to the jetty, so we'll have to get her towed in when it's time to pull her out for a clean and some TLC. I'm looking forward to having her in shape to sail in the Classics series this summer.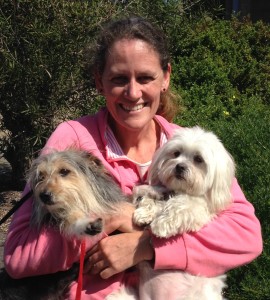 So it's back to planning, in so far as you can plan when you don't control all of the variables. We'll head up to Brisbane at the end of September for a few days to reconnect with the allure of a warmer climate and escape Melbourne for a long weekend. We're both continuing to explore finance options for a Blue Nomad lifestyle, with a sense of needing those options to become a bit more concrete. We're playing musical units with tenants moving in and out, knowing that where we really want to end up is in a floating unit, not a land-based one. It's really a case of keeping the end goal in mind; when faced with decisions, continuing to make choices which take us one step closer to getting there. A hard choice this week was re-housing my two furry shipmates; although they cope with the occasional sail in calm waters inside the bay on a nice day, I'd be exaggerating to say they enjoy it. I've seen other Blue Nomads with dogs on board, but Gracie in particular tends to get sea-sick and I know neither would cope well with life on board a boat full time. A beautiful family has offered them a new, loving home with the invitation to visit any time and the promise of regular photo updates. I shed a few tears as they drove off yesterday, but also know that it's best for them not to be part of the the next phase of the journey, and most importantly, that they will be well-loved.
1st January 2016 – Bring it on!
The last four months have seen us back up on Children of Phoenix each month for two lovely extended weekends, getting to know some good anchoring spots in Moreton Bay. The two week Christmas office shut down period has us back on the boat again, for a more extended period. Unfortunately strong winds in the area meant we spent the first five days in the Marina – not the ideal way to practice being a Blue Nomad! We finally got out on December 31st, with a really pleasant sail up to the Brisbane River early in the day, where we snapped up a prime anchoring position to watch the New Year's Eve fireworks. After watching the 'Kiddy Show' at 20h30, we valiantly stayed awake until about 22h30, then decided on a few hours rest before getting up again for the main display. Alarm set, snuggled up in the V-berth, asleep within 2 paragraphs of the latest dragon novel. At 23h50 when the alarm went off, I did contemplate sticking my head up through the hatch to watch, for about ten seconds…. I'm afraid to say the New Year was heralded in without us.
That doesn't mean we're not enthusiastic about the year to come. We are as committed as ever to our Blue Nomad transformation, and we get the sense that 2016 will be a year of change (again). Rather than wait for all the things that would need to fall into place for the ideal transformation to occur, we're making plans to move forwards with what we've got. That will involve another winter getaway on Children of Phoenix, further up the Queensland coast this time as we'll be starting from Brisbane. I'm not sure I could live permanently without a hot shower but camping on the boat for a month or two is fine. And who knows; the warmer the climate, the more attractive a cool deck shower becomes!
30th June, 2016 – Stepping off for the last time
The prediction of a year of changes is certainly proving true… Between us we've sold four properties, purchased, renovated and moved into another, rented out Richard's unit, organised my super into a self-managed fund and…. sold the boat! I'm very pleased to announce that Ryan and Sarah, an adventurous kiwi couple, are the new proud owners of the Elliott 10.5 previously known as Running Bare, then 2X Squared, then most recently Children of Phoenix. The couple will sail her back to Auckland, where they will do regular club and 2-handed racing. Sarah also has plans to do some women's regattas in NZ, so this lively racing yacht will once again be fronting up to starting lines with an enthusiastic mob on board. It's a fitting next home for a kiwi-designed boat which has never before left the shores of Oz – she'll be going to the home of Elliotts, and who knows, might even get to compete against some of her sisters.
As Ryan and Sarah have no connection with the charity, they're intending on changing the name, but haven't decided on a new one yet. If you want to follow their adventures and the future of Phoenix, they are in the process of constructing a blog atwww.kiwiyoti.com.
It was a nostalgic moment, stepping off my trusty companion of the last five years for the last time. She's certainly served her intended purpose and then some. I've done an apprenticeship as a boat owner, developed more confidence at the helm than I ever thought I would and have confirmed in my own mind that the Blue Nomad lifestyle is the one for me. On top of ticking all of those boxes, I've shared some amazing times with some amazing people on board. So to all of you as much as to Phoenix, thank you for the memories…
8th July 2016 – Time to shed an old skin and grow into a new one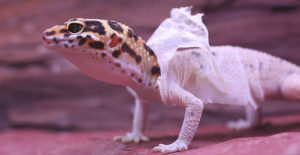 For the last I'm not sure how many years, I've been developing a skin condition, mainly on my finger tips. The skin dies and sheds down to deep layers on a cyclical basis, leaving raw skin which is so sensitive I can't hold a cup of hot tea or run my hands under hot water. During the 'dead' phase (which is most of the time), there are only two or three fingertips which will register on my iPhone screen, making texting quite a coordination challenge depending on which finger tips are 'alive'. The first diagnosis was contact dermatitis. Interesting but not useful as we couldn't figure out what I was coming into contact with that was causing it. I did wonder at one point if extensive use of acetone to remove adhesive lettering from the hull of Children of Phoenix when changing the name might have had something to do with it. Then the diagnosis changed to psoriasis and treatment for that certainly has helped the condition… everywhere except on my fingertips, where it's made no difference whatsoever. The latest diagnosis is that it's a genetic condition which causes me to shed skin multiple times more rapidly than the average homo sapien. Skin shedding is not an abnormal thing. All animals do it – at different paces. Human cells renew at different rates. For skin cells apparently it varies but is often about a 30 day cycle. It happens on such a continuous cycle that most people don't notice it. Apparently my finger tips try to renew on almost a daily basis, all at once. Which is more reptilien than human. Am I becoming a lizard?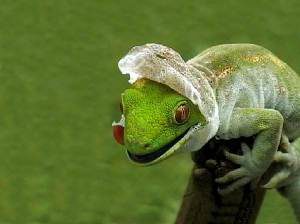 Today it's not just my finger tips that I'm shedding. This afternoon I'll walk out the door of my corporate office job as an organisational change manager with a major bank. It's a job I've enjoyed, with a team who are fantastic to work with in a working environment focussed as strongly on Employee Value Proposition as they are on their customers. It's a job that gave me the freedom of Lifestyle Leave for our trip up the coast last year and it is without question the most forward-thinking organisation I've ever worked for when it comes to flexible working arrangements. It was such a great environment that I opted to drop from contracting rates to a permanent salary. But it's time for a change. Lizards don't just shed bits of skin on a continual basis like (most) humans. They periodically have to shed their entire skin, otherwise they can't grow properly and parts of their bodies can start to rot. If I look back over the last thirty something years, I feel more and more like a lizard. I have stepped out of an old skin into an entirely new one on a regular basis. In some ways I could be described as a change junkie, constantly in need of new things to be happening. That would imply that the changes occur on the basis of rash
decisions; change for the sake of change. That may have been true to an extent in the past, although I prefer to think that I've been adapting to changing circumstances in a highly agile manner (that way I can tell myself I'm an evolved human being from a Darwinian theory perspective). Either way, this latest transformation certainly isn't a rash one. Becoming a Blue Nomad has been a lifetime in the dreaming, eight years in the hoping and five years in the making. It's not a rash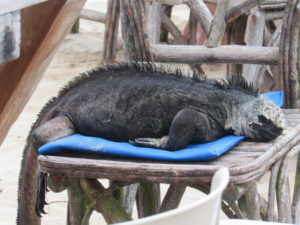 decision; it's a calculated risk that has been planned and carefully engineered based on a clear acknowledgement of priorities. Today might be feeling like taking a step over the edge of a very steep cliff, but actually it's just another step forwards on a carefully defined path. One that brings us very close to making our dream for tomorrow the reality of a new today.
As I hand my security pass in today, no doubt I'll be feeling somewhat nervous and apprehensive about the future that we're about to embark on. But I'll also be feeling excited and content with the new skin I'm slipping into. I might even let myself forget about being an evolved human being and just find a warm rock to lie on for a day or two, basking in some sunshine like a Galapagos Island prehistoric iguana…
11th August, 2016 – We've done it!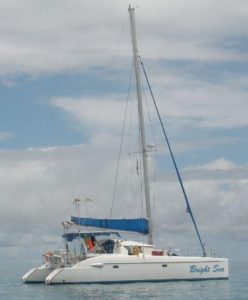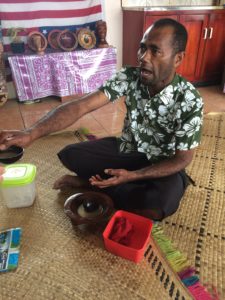 We're officially Blue Nomads! (Or will be on Saturday). We were about to head to Spain to check out a boat there, but I thought I'd do one more, in-depth Google search. Rather than looking at the main boat sales websites, I went deeper,  to the 4th page of the search, and found a boat, exactly the model we wanted, available for sale in Fiji. Much more convenient on so many fronts than getting to and starting in Europe. The Australian mobile number was out of service and the owner didn't respond to emails. So I phoned the local marinas, who all knew him and gave me some forwarding numbers. The first number was a Fiji landline, also out of service, but I got hold of him on the next number and told him he was a hard man to get hold of for someone who was trying to sell a boat. He laughed and said he'd changed his mind after putting the ad up last year and wasn't going to sell the boat after all, but if we were interested we were welcome to come over and have a look. We arrived on Saturday and had five frustrating days of non-stop rain. The boat looked good but the weather was lousy, so had to wait until today to go for a test sail and do a closer inspection. In the mean time we explored local towns of Nadi and Lautoka, including a welcome ceremony from a local craft store holder and some coconut cups of cava. Finally it has fined up and it's a glorious day here today; sunny, 27 degrees and a gentle 5 – 10 knot breeze in flat water for the test sail. All went well, it took about 5 minutes (seconds) to convert me from a monohull to a catamaran sailor (it was so nice moving around a boat that stays flat!), the boat sailed and steered beautifully, the essential equipment all works and a closer inspection after the sail indicated the owner has taken good care of her. So now the deed is done! We take possession on Saturday and will try to get as much cruising time in during our remaining fortnight here before we head back to Melbourne for my son's wedding and some workshops I am booked to facilitate in September. Then back to Fiji again and either stay for another month or two, or maybe head off for New Caledonia. The owner is leaving a fishing rod on board so Richard is happy and he's also leaving a surf board; not sure what we'll do with that but I'm sure my sons will enjoy if they visit.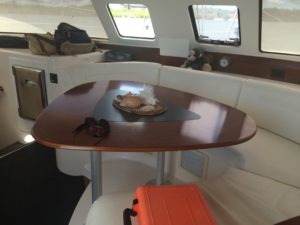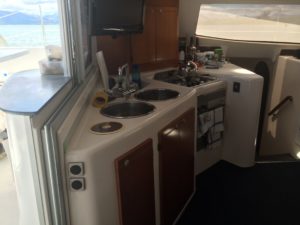 Bright Sea is a Fountaine Pajot Lavezzi 40 Owner's Version, 2003. It feels spacious but small enough that we will be confident handling her on our own. The starboard hull is a dedicated owners suite, with large double aft berth, day couch mid-ships and a large bathroom in the forward peak. The port hull has a smaller bathroom mid-ships and a double berth aft and forward. It's a trusted model that has done many, many blue water nautical miles and of which there have been a few hundred manufactured in the sixteen years since production began.
So now we're sitting looking at each other, somewhat bemused that all our plans are suddenly a reality. Not sure when it will begin to feel real; probably on our first night at anchor. In the mean time there's a bottle of Moet chilling ready for a celebration tonight!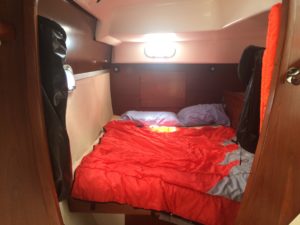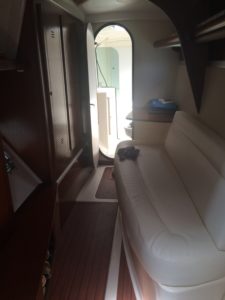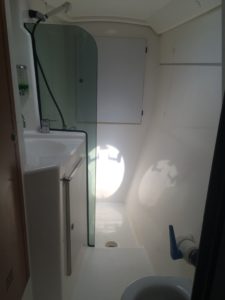 Friday 19th August – On Board at Last!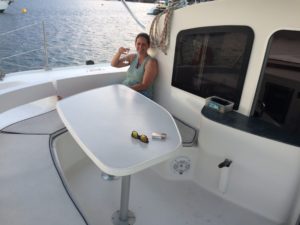 After a lengthy wait for the owner to finish offloading his personal gear last Saturday, we finally got on board around 5pm… just in time for sundowners! It could have been a frustrating day, but then a) we're on Fiji time and b) what's one more day when we've waited this long? Besides, not an unreasonable ask from the owner to have 36 hours to vacate his home of 6 years.
We stayed on the mooring in Denarau for the first night, extremely satisfied and content but also wondering what we would start finding the next morning. The first thing was that the mooring wasn't booked, there weren't any others available and no berths either. So that gave us the nudge we needed to get out of the harbour. We got off the mooring and left the boat at a commercial charter jetty while I went to Nadi to stock up on supplies and Richard refilled gas bottles and did the washing. The taxi driver became my personal shopper, carrying bags, helping find elusive products on supermarket shelves (I found golden syrup! It was with the coffee tins in the beauty aisle…???) and haggling at the market for me. $0.60AUD for a bag of tomatoes, or a bag of potatoes, or a bag of aubergines. Meat, chocolate and cheese are a different story. $9.50AUD for a block of Cadbury's. Aaaarrrggghhh!!! I'll have to forego the chocolate!!!!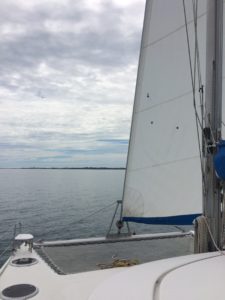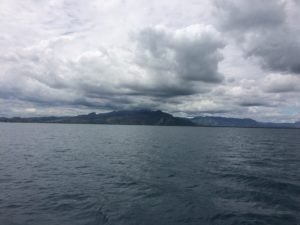 After a sterling effort by Richard docking a cat for the first time in breezy conditions at a fuel jetty with a shore-hand who had absolutely no sense of urgency to grab a stern line before the wind blew us off the dock, we were successfully fuelled up for both the boat and the outboard. Then it was off out the channel, around the reef and time to anchor ready for wine o'clock. The first thing we noticed was how stable the boat is compared to a mono; so very comfortable. Already very happy with the turncoat decision to go to the 'dark side'. We were less happy the next morning when we discovered that running nothing but the fridge overnight had the batteries down to 9.4V; impossible to start the motors to re-charge. So we waited a few hours for the sun to kick in on the panel, nervously checking the increasing charge on the voltmeter display with frequent regularity, willing it to go up. It only took a couple of hours for the display to be reading 12.1V and the motors turned over happily enough. We had intended to head out to Malolo Island and then Mana, but decided we would head to Vuda Marina to have the electrical systems checked out. We got the boat under sail for the first time and again were really pleased with the comfortable motion. We've been here five days now, getting systems working and learning about the boat. Monarch birds are now regular breakfast visitors.
So far we have figured out how to get hot water, get the bilge pumps working and chill down the freezer. The defunct washer/dryer has been offloaded in favour of cupboard space (hand washing it is then!), the alternator regulator on the port engine is now working, we've found a solar controller for the panel, plugs for the kitchen sink, and wine for the grog cupboard. Still no chocolate 🙁  We spent a lovely evening yesterday with cruising couple Kevin and Erika, on their way home to Mooloolaba on board their Bahia 46 from the Carribean. It was great to get some Fountaine Pajot wisdom from experienced owners. It hadn't rained here for 6 months before we arrived, and it virtually hasn't stopped since; we've found some umbrellas too! We're waiting for it to clear up to send Richard up the mast and investigate why the anchoring and motoring lights aren't working, then still hoping to get out and off to Malolo or Mana islands for a quick visit before leaving the boat at Denarau while we fly home. Or is that 'fly back to Melbourne'? It already feels like home here on the boat…