114 days ago we bought our dream home.
114 days ago we bought the boat that would become our home.
114 days ago we bought a second hand boat that needed some work.
114 days ago we bought a second hand boat that needed a lot of work.
114 days ago we bought a money pit.
114 days ago we began the journey of our dreams. There have been ups and downs since then, but in the scheme of things nothing unexpected and lots of golden moments along the way.
After a week at Vuda Marina fitting some much-needed house batteries immediately after purchasing Bright Sea in Fiji, the beginning of the journey was an adventure shared with friends; celebratory drinks on board at Mana Island with Ray and his family, to whom I owe so much. A very fitting beginning. We then had a few days exploring Malolo island before leaving the boat in Port Denarau to return to Melbourne. So… a week to purchase, a week upgrading and a little less than a week exploring and enjoying.
The next trip back to the boat saw us returning to Vuda Marina to have more work done and attempt (fairly unsuccessfully) to negotiate a cruising permit extension with the Fijian authorities. Needing to get the boat out of Fiji to avoid import duty, we then did the passage along the north coast and across to Savusavu with the intention of clearing out to go to Futuna and back. Only to discover more engine issues on arriving in Savusavu, resulting in more cruising permit extension negotiations. This time diplomacy won out and we were able to return to Port Denarau without clearing Fiji territorial waters. Overall, a month of maintenance and negotiations, with some forced but enjoyable exploring thrown in.
After another trip to Melbourne to pack up our apartment and rent it out, we returned to the boat as our permanent home in early November, officially with no other fixed address. From that point followed five days of hasty preparations, a twelve day ocean passage (that's another story) followed by sixteen days of cleaning, re-provisioning and having more work done on the boat in Bay of Islands marina. On Thursday we finally cast off from the berth ready to head out to the Islands for which this area of New Zealand is named, only to have the gear cable fail five minutes later in amongst a plethora of moored boats, on an ebb tide and in a rising wind. The anchor was hastily dropped and the rest of the afternoon was spent pulling the gear lever housing apart, tracing the cable and checking the engine bay; all to no avail. We spent Thursday night at anchor in amongst the moorings, with Richard wondering exactly what sort of retirement plan he'd signed up for. For my part, I spent the night wondering how we would get onto the mooring we'd booked (which was only 100 metres away) by Saturday, so that we could catch our scheduled flights back to Melbourne on Sunday.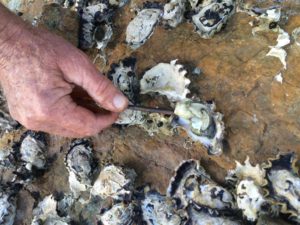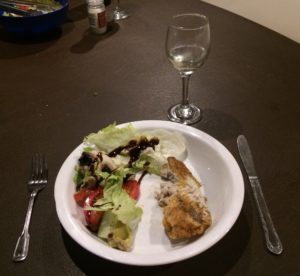 On Friday morning Doctor Dickie was at it again with renewed determination. Some gaffa tape, a few cable ties and a huge amount of sheer will power and determination (on his part) later, we were finally underway. A quick trip into Russell to try and catch up with relatives on their motor launch became very quick indeed when it was apparent no-one was home. So then it was full steam ahead, unfurling the genoa as we rounded Tapeka Point for a (very) leisurely sail to Orupukapuka Bay to check out potential locations for a birthday bash next year. The location lived up to Richard's promises, but we clearly were not the only ones to think so. Rather than anchor in crowded company, we returned to Omakiwi Cove to anchor alongside 'Lettin' Go', a catamaran we'd motored past in Russell and fellow Vice Commodores of the Shag Islet Cruising Yacht Club. They were already ashore when we arrived, so we followed suit and Richard gorged himself on two dozen rock oysters while I made some phone calls. We dropped by Lettin' Go on the way back to our boat and met Ann and Cran, which resulted in an impromptu sundowners for the ladies and a fishing excursion to the reef in the dinghies for the gents (I do think Ann and I got the better end of the bargain there).  Richard returned with a lovely snapper for dinner and as he fired up the Baby Q with the sun setting in the background, we toasted the more glorious side of the journey.
We enjoyed a relaxed
Saturday morning today with yummy French toast for breakfast, followed by some more exploring ashore to look at potential camping sites for a birthday bash next year. Another trip over to Orupukapuka with a 10-minute walk through farm paddocks over to Otehei Bay to check out more potential birthday bash sites, lunch on the boat and a glorious sail back to Opua this afternoon in 10-15 knots. It's a still evening, the sun is setting and we're enjoying a relaxing evening before we catch the bus in the morning to go back to Melbourne for a fortnight… in order for Richard to do some more boat maintenance. The moral of the story… Forget about whether the glass is half full or half empty or indeed how full it is at all; just enjoy the wine!