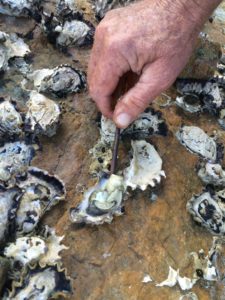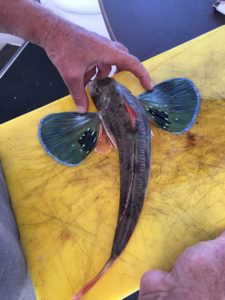 One of the delightful parts of our New Zealand sojourn which I'm disappointed I can't enjoy is the ready availability of rock oysters, almost everywhere we go. Richard has been delighting in evening trips to shore at low tide to help himself to entree; I've tried tasting them (again) but still can't get my head (or my taste buds) around the slippery slimy uckkk sliding down my throat. On the other hand, our strike rate with fishing has been improving since brother-in-law Don donated a rod for me and I've been casting my line alongside Richard. Not that my strike rate is better (or anywhere near) his; just that two rods are better than one.
The use of such huge chunks of bait and no sinker was initially an enigma to me; not at all the way I remembered fishing for flathead in Port Phillip Bay as a child. Richard insisted small bait catches small fish, and guru-fishing expert Don concurred, so I abandoned my pre-conceived notions and went back to putting a third of a pilchard on the hooks, although I still felt that the number of times it got stolen made the economics of fishing questionable. But lo and behold, 5 minutes after taking Don's advice, I hauled in a very pretty Butterfly Gurnard, which was a delight cooked up on the BabyQ and made a welcome change from Snapper. This was followed the following evening with a Snapper each; mine even bigger than Richard's!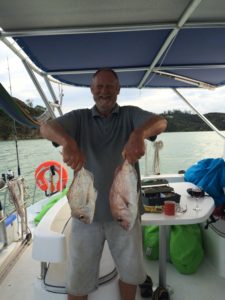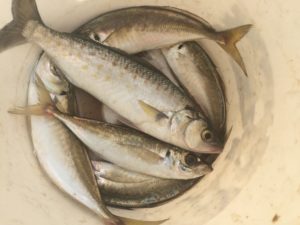 The expense of bait was still a bit of a bother, as it was still getting stolen far too often for our liking.  We'd also used up all of our bait on the two Snapper, and were nowhere near a store to get any more. Richard had the idea of rigging up a bait trap that he'd heard about or researched somewhere, so an old water container was butchered, sand and a tin of sardines mixed in and two minute noodles sprinkled in for good measure. The results were disappointing; not a single bait fish was trapped. No great drama; we were still eating our way through the Snapper. The next evening, I made my usual exit at 10:30pm after a day of attempting with some success to finalise my enrolment at Monash and play with key word searches for my Literature Review. Half an hour later Richard still hadn't come to bed and hearing him moving around on deck I wondered what he was up to. It very soon became apparent; shining the dolphin torch into the water, a plethora of bait fish were visible swimming around the stern of the boat. The remainder of the packet of two minute noodles was crumbled into the water and a feeding frenzy ensued. With no bait left to entice them with, a tuft of frayed, fluffy nylon cord was tied around a hook (presumably in an attempt to simulate some kind of fluffy white sea-worm). It worked a treat… just as I was nodding off to sleep, I was woken by whoops of delight and what sounded like a tap-dancing fish flip-flopping on the deck as the fisherman extraordinaire hauled it in. The first was followed in quick succession by five more with much ongoing whooping and laughing. I contemplated getting up to join in the fun, but staying tucked up in bed was far too attractive. I felt somewhat vindicated the next morning when I was awake early and witnessed a delightful sunrise while Richard slumbered on after his late night escapade.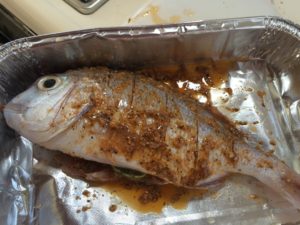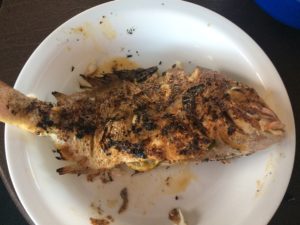 It seemed that just after sunset was the best time of the day, so the following evening I decided to try my luck with the new bait, partly as a means of avoiding going to bed too early. There were still many attempts at bait-stealing, but the new, home-caught bait seemed to be harder to steal. Finally I was rewarded with another legal Snapper… and it had only taken 1 piece of bait to catch!
It's just as well neither of us are allergic to seafood; an oyster-hunting trip ashore also unearthed a multitude of juicy cockles which were delicious sautéd in butter, ginger and garlic on toast for lunch. After all Richard's diligent filleting, we decided to try a whole-fish barbecue for dinner. Mobile wifi proved valuable not only for work and study purposes; many online recipes were trawled through, finally settling for an improvised mixture of a couple of different ones based on the ingredients, herbs and spices we had on board. The result was delicious; definitely an improvisation that will be repeated. Arriving in Monganui the next day, for the first time in a long time the shopping list didn't include bait!