When I decided I wanted to become a Blue Nomad, a large part of the attraction was converting to a lifestyle that didn't involve the daily 9 to 5 (or 8 to 6, or longer) office-bound routine. I've never thought of myself as being a nature lover as such. I am most at peace being on the water, sure; but camping and bush walking (although I've enjoyed both) don't hold the same allure. Clearly there must be some part of me though, that rebels against being confined indoors. I was quite happy to continue being gainfully occupied; I just didn't want to do it in an office block, or a classroom for that matter. In fact any sort of building, full stop. It wasn't just being enclosed for such a large portion of the day; it was the whole routine that went with it; the squeezing of body clock rhythms into corporate rhythms regardless of what the body wants and needs, the commute, the lack of time to enjoy other things that were important. So you would think that now that we're permanent live-aboards, I would be relishing the freedom from the constraints the old lifestyle imposed. But it's amazing how it's your own habits that can continue to trap you if you don't leave them behind.
One point of continued contention after purchasing Bright Sea was the lack of success in having a hot shower available. This had been one of my non-negotiables for a live-aboard boat; I have done without a bath for years now and no longer crave them but not being able to have a hot shower (i.e. being forced to have a cold shower) is not something that was part of the dream. It was pleasant enough in the tropical climate of Fiji but once we arrived in New Zealand, the colder temperatures were inversely proportional to my nagging to Richard to 'get the hot water sorted'. Always trying to keep me happy, he did indeed get it sorted, and we now have hot water within 20 minutes of running the port motor. I also reflected that part of this lifestyle choice is to be more environmentally friendly, so we purchased a camping solar shower bladder and on days we're not doing any motoring I leave that to heat up on the deck. Which means I can have a hot shower between lunch time and early evening (before the bladder has time to cool down) or after running the motor (we haven't quite figured out how long the water stays hot for; not as long as we hoped for but at least for the day/overnight). So not whenever I want, but close to it; good enough, surely?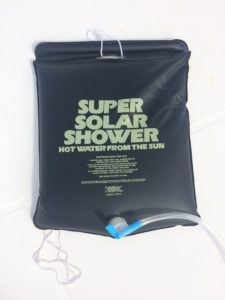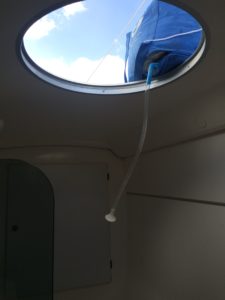 Think again; call it a whim, or just plain stubborn pig-headedness, but part of me still wasn't satisfied. Because unless Richard got up and turned the motor on early in the morning (and really, why would I expect him to?), I couldn't have a hot shower straight away when I got up. I'd always had my shower either at the beginning of the day or at the end, so it was as if 50% of my choice had been removed. Even though in reality, it was only a very small window of a twenty-four hour day, about 1% if I was really honest about it. And what was so critical about having a shower first thing anyway? Wasn't that part of a routine I was specifically trying to extract myself from? What's wrong with having a shower at 3pm in the afternoon if that's when the solar bladder is warm and you can save on diesel and noise pollution? Having recognised that my continued grumpiness was being caused by an ingrained habit rather than an unfulfilled genuine need, I suddenly found it really didn't matter any more. I'm now on the lookout for tell-tale signs of other noxious ingrained habits and ways of thinking, but in the meantime I'm appreciating to an even greater extent the opportunity to create the lifestyle of our choice. And when that choice takes you to places like Whangamumu and Whangaroa Harbours, all the while able to stay gainfully occupied, there's an awful lot to enjoy. The office views are superb,  even on an overcast day.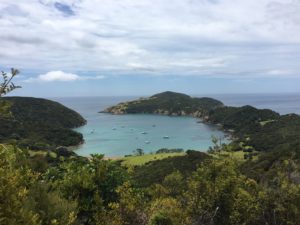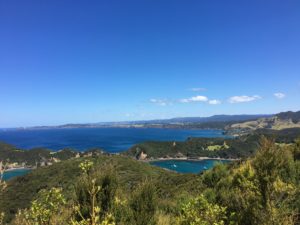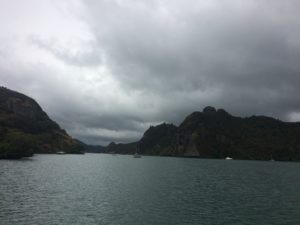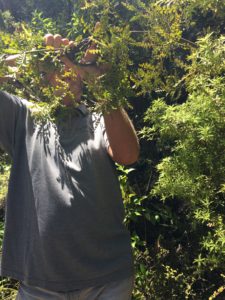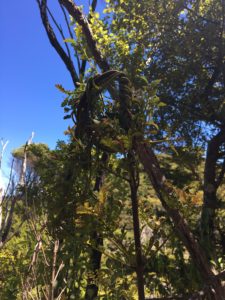 Nature walks with Richard are like living an Attenborough documentary; in Whangamumu I learnt to recognise Rimu, Lancewood, Kauri, Akeake and Tanakaha; Richard's favourite for bending into walking stick shapes. It becomes quite addictive, finding good trees to bend as you walk. He has a couple of beauties at home that he had bent and trained in his favourite spots over a number of years. I'm hoping we get the opportunity to return to our crop many times over the coming years to watch them grow.
  The people you meet are fascinating, each with their own unique story. In Whangaroa we came across three local maori ladies taking the afternoon off work to go fishing. One was an education consultant in literacies for maori language and culture, so we had lots in common. Another was an artist, and the third was heavily involved in the Treaty Tribunal, reviewing the Treaty of Whaitangi and its application (or lack of). The fishing hadn't been successful but it was thirsty work on a hot day, so we invited them aboard for a cup of tea and then gave them a ride back to the pub at the Whangaroa marina. On the way as we passed various landmarks, they taught me some of the maori stories related to the creation of the Harbour. I was interested to learn that they feel the existence of these stories in their culture proves that their people were here when the land was formed, rather than arriving much later in the pacific migration by canoe. It felt like a huge privilege to have these ladies share their culture and their stories with me, welcoming me to their Harbour not just as a guest but as a sister.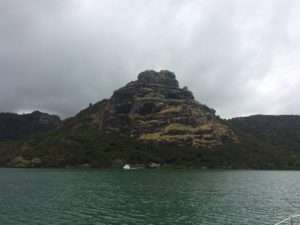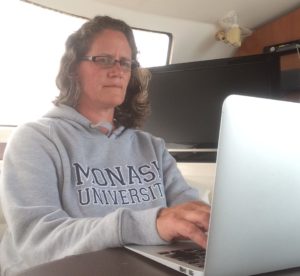 It's not all socialising and exploring though; my PhD enrolment has been finalised so I'm now officially a full time student. With the Christmas holidays coming to an end, project webinars and coaching sessions with teachers will get back into full swing. It's not that the number of working hours has reduced; it's the flexibility to do them when and where it suits us that is so glorious. From a financial perspective, the incomings may have reduced but then the outgoings have also been slashed.
In so many ways, many of them so much more important than monetary, life has never been so rich!