From time to time, articles are published about the sailing adventures of Children of Phoenix, OziYoti or other topics that are relevant to this site. There'll be a feature article each month, as well as links to other articles written about me and/or by me… if you discover that any of the links are broken, please let me know so I can remove them; I don't control the sites on which they're available.
---
Creating a culture of the token bloke – Parts 1 & 2,  SailWorld Australia, September 2014
http://www.sail-world.com/Australia/Creating-a-culture-of-the-Token-Bloke—Part-one/127087
http://www.sail-world.com/index.cfm?Nid=127149&refre=y&ntid=0&rid=1
---
Children of Phoenix Fundraiser at Sun Theatre, Ballarat Road, Yarraville
Thursday 30th October, arrival 6:15pm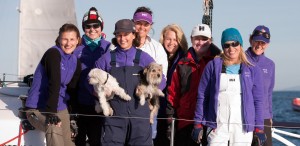 Every week for the past two years, a team of women have taken to the waters of Port Phillip in their purple crew kit, pursuing their passion with growing confidence and skills while raising awareness for a cause that many would rather not discuss. Skipper and boat owner Kathy Macfarlane (Manager, Enterprise Change Monitoring at NAB) talks about the Children of Phoenix foundation (of which she is a voluntary board member) and the valuable work it does…
I first discovered Children of Phoenix and founder Professor Caroline Taylor at a fundraising teddy bears picnic at the Novotel Resort in Creswick in 2009. Children of Phoenix foundation provides educational scholarships to survivors of child sexual assault to assist in rebuilding their lives and fulfilling their dreams. The foundation was only a few years old, and a small group of volunteers were devoting their Saturday to running the event. Some money was raised, but one of the key purposes and outcomes was to raise community awareness. Although I was living in Creswick, commuting to Melbourne daily for work, and already on the board of two other not for profit organisations, I couldn't not get involved, so strongly did the vision of Children of Phoenix resonate with my values of enabling life-changes for individuals through access to education. In 2011 I took a break from voluntary commitments, moved back to Melbourne and focussed on a change in career.
Outside of work, in 2012 I bought a 10.5 metre racing yacht and was coaching a team of mixed ability crew to compete in the women's regattas at the top end of the bay. Although this was fulfilling the part of me that remained passionate about enabling personal development, increasingly I found myself wanting to do more. In 2013 the boat was renamed Children of Phoenix, signage was applied to the hull, crew uniforms were sourced and the girls began their quest of sailing in support of survivors, raising awareness both on and off the water. I rejoined the Board early in 2014.
The Royal Commission into Institutional Responses to Child Sexual Abuse is helping to break the social silence which continues to surround this issue. If talking or thinking about child sexual abuse makes you uncomfortable, you're not alone; but imagine how you'd feel if it was happening to you? Social taboos reinforce emotions of guilt and shame for victims, a key factor in non-disclosure which allows the abuse to continue undetected. The research literature is full of uncomfortable statistics*:
In Australia in 2002-2003, there were 4,000 substantiated notifications regarding child sexual assault to Australian government authorities; one child every two hours
Up to 80% of disclosed abuse occurs within the victim's home
Up to 50% of perpetrators are members of the victim's family
About half of the victims of child sexual abuse never report the abuse to another person and many do not disclose until they reach adulthood
28% disclose sexual assault to the authorities
A total of 17% of disclosures of sexual assault result in a conviction
1 in 3 Australians would not believe children if they disclosed they were being abused
In 98% of all child abuse cases reported to officials, children's statements were found to be true
Some of these survivors, encouraged by the Royal Commission's process, are now beginning to come forward only to find they are ineligible for the funding and assistance allocated for victims of abuse occurring within institutions. Children of Phoenix is fielding increasing numbers of enquiries from survivors seeking assistance and advocacy, which we are not funded to provide. The impact of child sexual assault (no matter what the context) continues for many years, affecting the ability to participate effectively in school, socially and at work. Education not only improves self-confidence and life chances, it also enables survivors to sculpt and create new landscapes, to have knowledge for greater, more informed choices. The number of scholarships the foundation is able to offer each year is limited by funds available; largely derived from fundraising efforts as government contributions have been minimal to date. Corporate sponsorship provides a stable form of funding but in the current financial climate is difficult to obtain. A morning tea fundraiser run in a number of regional and corporate institutions in Ballarat raised over $3000 during Child Protection Week in September – a great effort. Our next event is a film fundraising evening in Yarraville – we'd love to top the effort of the Ballarat team! To do that we need to sell 182 film tickets and 600 raffle tickets, with merchandise sales on the night (wrist bands, phoenix pendants, bears etc) a bonus.
Get a group of friends together and come join us for a film night with a difference; it's guaranteed to make you feel good – a great movie for a great cause.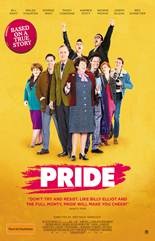 It's the summer of 1984, Margaret Thatcher is in power and the National Union of Mineworkers is on strike. At the Gay Pride March in London, a group of gay and lesbian activists decide to raise money to support the striking miners. However, the Union seems embarrassed to receive their support. They decide to ignore the Union and go direct to the miners. And so begins the extraordinary story of two seemingly alien communities who form a surprising and ultimately triumphant partnership.
When: Thursday 30th October 2014
Where: Sun Theatre, 8 Ballarat Street, Yarraville
Film:    Premiere of the film 'Pride'
Cost:    $30 per person, including movie ticket, wine on arrival, finger food, and door prizes. Merchandise and raffle tickets available separately.
Book your tickets through www.childrenofphoenix.org – go to 'upcoming events' on the home page and use the donate button at the bottom of the page to purchase tickets.
For any questions contact Kathy Macfarlane on 0433 762 798 or at oziyoti@gmail.com.
*Ronken, C & Johnston, H (2012). Child Sexual Assault: Facts and Statistics, Arundel [QLD], Bravehearts Incorporated. Available from https://www.bravehearts.org.au/ files/Facts%20and%20Stats_updated141212.pdf