It's been 1,130 days since I started this blog; just over three years since I made the decision that I wanted to bring forward my retirement plans of becoming a Blue Nomad. Before that day, I never in my wildest dreams envisaged being able to make the transition before I retired (if ever). I certainly never thought I'd be celebrating my 50th birthday on a floating home in Bay of Islands, New Zealand. Just to be clear – it's the Blue Nomad part that has happened; not the retirement part. I'm still working, loving the combination of consulting in Languages education and studying full time for my PhD. Richard's notion of 'retirement' has been revised somewhat as well; life on board is nothing if not busy for both of us.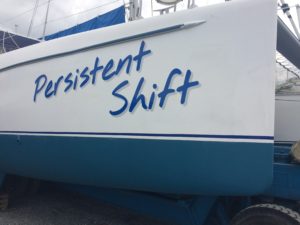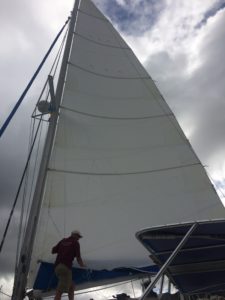 As our time in New Zealand for this summer draws to a close and we prepare the boat for our next passage to Tonga and beyond, we both feel that we've already had a lifetime's worth of enjoyment from the past six months. It's been a busy time since arriving here, and we're not ready to depart yet. But after a haul-out in Whangarei, fresh antifoul and new sails we're certainly faster than we were coming from Fiji, which should help. With a change to Australian registration the burgee is now flying proudly from the backstay. We decided to make a clean new start and change the name as well; the name I had chosen for my Coaching business seemed equally as appropriate for the lifestyle change we've made, so we've gone with Persistent Shift. A traditional re-naming ceremony was held to appease the weather and sea Gods, for which we had the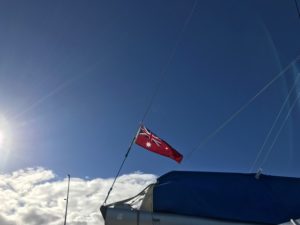 assistance of our new-found cruising friends from Plan Sea and Pied-à-Mer. Champagne was duly poured with appropriate invocations from each corner of the boat, to each of the four compass points, and if there was more left over that was consumed than went into the river, I'm hoping we will be forgiven. We've also been gradually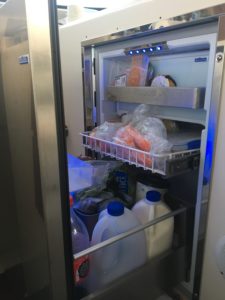 completing the repairs and upgrades to equipment and both the wind instrument and the generator are finally functional. After a rash decision on my part to order a new drawer fridge, my stomach was doing flip-flops as Richard chopped up the old one in order to pull it out. There was no
going back; I watched on, hoping (understatement) that the new one would fit and that I hadn't made a (very) costly mistake. Not only does it fit, is has blue LED lights (just like my rangehood at home) and he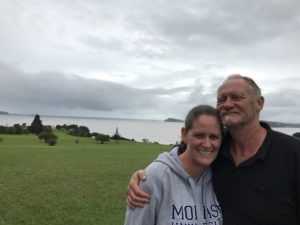 had it installed and working in time for my birthday! Next is the water maker, while Richard finishes the new hard-top bimini so we can add more solar panels and a rain catching system.
Back in the Bay of Islands after a quick visit to Melbourne in March, it was full steam ahead to get ready for my birthday bash. And what a wonderful way to celebrate a half-century birthday it was! I feel so incredibly blessed; not only to have achieved the milestone but more importantly to have been able to share it with family and friends as well as the wonderful man who has believed in our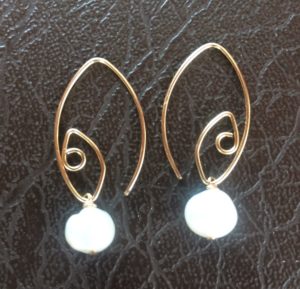 dream, helped make it happen and is now enjoying it with me. I had been worried about booking a camping site in April and in the week leading up to the event, it seemed those fears were justified with New Zealand feeling the effects of both Cyclone Debbie and Cyclone Cook. Thankfully in Opua there was more rain than wind, most of which had disappeared by the weekend. We spent a fantastic few days at Urapukapuka Island, with the Australians showing their fortitude (?) by swimming each day and the paddle board getting good use. A trip to the hot mineral pools at Ngawha when we came back to Opua on Sunday afternoon helped us all warm up – smelling of sulphur was deemed an acceptable price to pay for the lovely relaxation.
Then this morning on my official birthday I was treated to breakfast in bed and more lovely presents, before farewelling our last guests as they returned to Melbourne. As the sun sets beautifully yet again, the boat seems very quiet after having 11 people on board for a few days. The weekend was a whirlwind of fabulous fun and the memories of love and laughter will last forever.