Lots of people are out there making their dreams a reality every day. All of these people are ordinary people like you and me, although what they're doing is extraordinary. They have a passion and they're doing something about it – and kicking goals. Their stories can help inspire us, or at the very least give us clues about not reinventing the wheel!
We asked some of them to share their stories…
---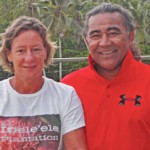 Have you ever heard the saying 'If you're looking for inspiration, you don't have to go too far from home?' Or is it just me making that up and thinking somebody else said it? Either way, in my case it's a saying that fits. My family has been rich with inspirational individuals for generations. This month, for our first feature, I'd like to introduce you to my sister Joan and my brother-in-law Paul. They've created something quite amazing in Samoa, quite literally carving it out of the jungle…
If you're looking for an idyllic place to unwind and relax for a holiday or maybe even a honeymoon, this is a fantastic destination!
Ifiele'ele Plantation, Fasitoo Uta, Samoa
OZIYOTI: You've got an amazing story to share. Can you tell us a little bit about what the vision was that you were trying to create?
Joan: Was there a vision?  I suppose there was in some sense but it wasn't really fleshed out.  We did have a dream about establishing a long term permanent base for ourselves and didn't want to do that where we would be part of the 'rat-race' i.e. Australia or NZ with 9 to 5 jobs.  We wanted a nice house, nice environment, and to be able to put some things in or on the ground that we would always be ours, that we wouldn't leave after 2 or 3 years.
OZIYOTI: What was the motivation behind your dream? Why was it important to you?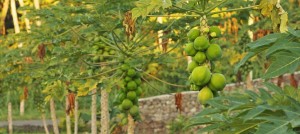 Joan: We had been living and working in PNG and other parts of the world in jobs that we enjoyed but with no sense of permanency or sense of achieving anything for ourselves. We were subject to the whim of employers, and being in AusAID-funded jobs, also subject to changes in government policies.  There was no security beyond the end of the current contract and no surety that we would even both have work in the same location.
We were looking for a peaceful, tranquil environment where we could appreciate nature and enjoy an outdoors lifestyle.  We wanted to establish a home base that would be comfortable for us to live in and some sort of income-generating activity that would provide enough income to support what we thought would be our fairly basic lifestyle. We would be our own bosses and more in control of our daily lives.
It could have been lots of different places that we chose to live/ establish our 'dream', but Samoa ticked a lot of boxes and seemed to make sense.  Paul has Samoan ancestry and ties to Samoa. His mother had always wanted a member of the family to return to the 'motherland' to take up where she had left off – protect and maintain the claim to the family land that she had spent many years of her life upholding.  As Pacific countries go, Samoa also had stable government and a peaceful social environment.  The tradtional social structure and values were reputed to be still very much intact and gaining a better understanding of this was a point of interest.
OZIYOTI: Where are you at now? What have you achieved so far?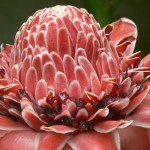 Joan: The 'dream' has evolved since we started.  At first we were looking to buy freehold land, but when that deal fell through we decided to build on Paul's family land.  We also decided to incorporate a house for Paul's mother into the house we would build.  In the planning stages we spent a year or more designing the house trying to get something with visual and functional appeal that was environmentally friendly and used sustainable energy. We have now completed the house/s, a tennis court, swimming pool (almost) and begun to establish a plantation of Tahitian Lime trees.  We have also embarked on a B&B/ home-stay type of enterprise for tourists.
We have learnt a lot more about Samoa than we knew when we arrived.
OZIYOTI: What were the hardest parts about getting there? What obstacles have you had to deal with?
Joan: One of the hardest things was taking the first step.  The time never quite seemed right.  We didn't think we had enough savings to support ourselves through the initial stages of the project when we didn't expect to have much income.  We were still quite entrenched in our work-a-day lives in PNG.
When we arrived the land was an overgrown jungle that had not been cultivated for over 30 years.  There was no water or electricity and just a rough dirt access road.  We had to find somewhere to live for at least the first few months that wasn't going to eat up all our finances.  We did find a place to live with a local family in the village.  We expected to be with them for 2 to 3 months but it turned into 8 months which gave us a great insight into life for a typical village family but was vastly different to what we were used to and became trying at times.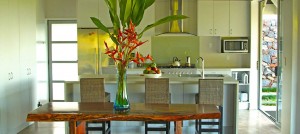 Luckily Paul was a builder with all the smarts to build our house but he couldn't do it by himself.  We had to find people who could assist with the building but didn't want to hire a building company.  Since our site was 40 min from Apia the pool of skilled tradesmen was pretty much non-existent.  On top of that we didn't speak Samoan and non of those who wanted to work for us had any real command of English.
In addition, although we'd had holiday visits to Samoa before, we had not lived here so had a lot to learn about the country and in the immediate short term, what was available in the way of building supplies  and qualified tradespeople; who to trust, who to believe, the family history etc. Along the way, everything didn't necessarily go right the first time.  There were numerous examples of 'if at first you don't succeed, find another way to do it and do it again'.  But we learnt and got a lot smarter about what works and what doesn't work as we went along.
Paul: As Joan has written above, we had only visited Samoa previously, my first visit in 1993 was to attend to my Father's funeral. Probably the main reasons for me to come to Samoa was to follow Joan, fulfil a wish of mine to provide a more than suitable house for my Mother. I guess the romantic notion of a dream is a wee bit lost on me. In the initial stages what kept me in the game, was the challenge of building a house/homestead in Samoa.
OZIYOTI: What gives you the most satisfaction? What has made it all worthwhile?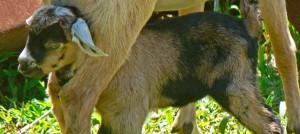 Joan: We love where we are – the peace and quiet, the spaciousness, the vista and feeling like we are more in control of our own destiny.  We love that its a simple life and our rewards are vey much the result of our own efforts.  We like walking into the garden and picking something to cook for dinner.  We love our little menagerie of dogs, goats and a duck.  We love watching the flowers grow and the whole project take shape.
Paul: I am now converted, it is great to watch and live in the environment that we have contributed to, created? Yes, in some way, added value to our surroundings, hopefully. Satisfying? most definitely.
OZIYOTI: What do you still want to achieve? What comes next?
Joan: We do look forward to the day when we have 'completed' the 'development' phase of creating what we have in mind and have moved into more of a 'maintenance' phase.  We imagine we will have a bit more time for enjoyable recreational activities by that time.
But we already have a few ideas for add-ons even after we have finished the Plantation and found a market for our produce.  These seem to be ideas for making more of what we already have –  such as a juice bar on the waterfront in the local village where we serve fresh healthy smoothies using fruit from the plantation and provide employment for a few more locals and maybe goat's cheese.  That would be a first for Samoa!!
I think we also have some fairly vague sort of notion about 'doing something good' for Samoa on a larger scale.  We don't know what that might be at this stage or if we ever will, but in the meantime we just try to do good within in our current small circle of influence.
Paul: Sustainability, both for our environment and us. Development of some sort of business that would be in keeping with our ethos and would pay a lot of money.
OZIYOTI: What advice would you give to aspiring Dream Converters?
Joan: At some point, if you are really serious about making your dream a reality, you just have to bite the bullet and take the leap even if it doesn't feel like everything is in place or you are not quite ready to do it.
Paul: Focus. Most helpful if you are with someone who shares the dream. I can't see us ever achieving what we have done so far, if we didn't love eachother (sounds corny). I feel Joan will never let me down. It's a great feeling for me. She is an example with her work ethic. Advice…..find someone. A good supply of Sauvignon Blanc would help.
OZIYOTI: Is there anything else you'd like to add?
Joan: Good luck!