Social media has taken over… the Facebook updates have been fairly frequent during the last six months but the blog has taken a back seat. We're more than half way through 2017 now, and more than half way through our passage-making for the year so it's a good time to stop and reflect a bit more slowly than the fast-paced, instant sharing of information allows. In fact, taking things slowly could be the new goal… Richard and I sat on the trampoline at sunset yesterday as we approached Nanuku Passage, reflecting that it's been not quite four years since we met. In that time, between us we've sold three boats, bought another, sold three properties, purchased another, moved house umpteen times between five different abodes, changed jobs, embarked on a PhD, done 5,000 nautical ocean miles, farewelled my father, farewelled his mother, visited some beautiful places and met many more beautiful people. Pondering all that, he asked (a little plaintively) if we might slow down a bit for the next four years…
After my 50th Birthday Bash in NZ, there was a flurry of activity to get ready in the space of a few weeks for this year's cruising. The much-promised hard top Bimini took shape in a garage to which Richard managed to score access near Opua Marina. It took a team effort to get it from there to the boat and into place on the old frame, but the end result was well worth it once the solar panels were installed and we no longer find ourselves short of power. Meanwhile I was busy falling in love with a borrowed Sailrite sewing machine (I want one!) making up a windscreen to protect us during passages and rain squalls.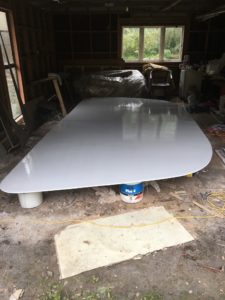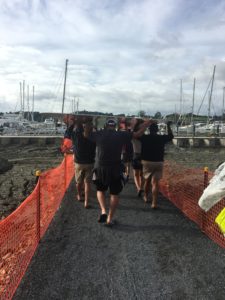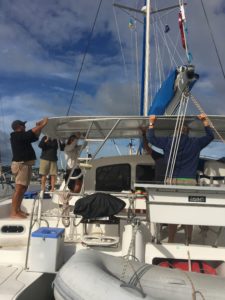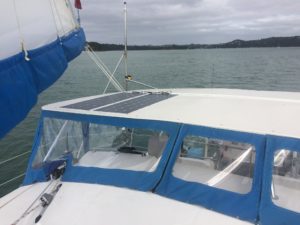 With Australian registration finally completed, I could apply for an MMSI number from AMSA and get the AIS unit working. It will be good to have access to more information about ships we come across on the ocean. Even better that we can be seen by them…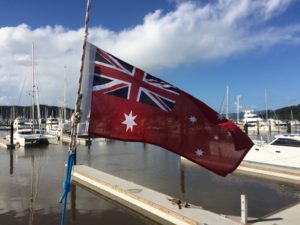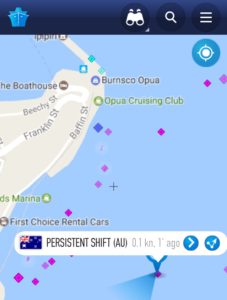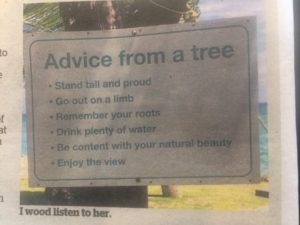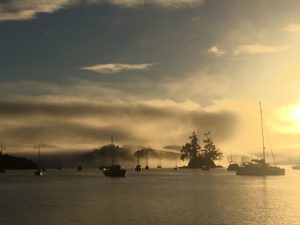 Opua is a beautiful spot, so easy to fall in love with. Bay of Islands is a fantastic nautical playground with lots of corners we still haven't explored. The cruisers' notice board in the Marina Laundry is a constant source of sharing valuable information and as much of a social hub as the cafe next door. Misty mornings anchored on the river are simply majestic. We could easily live here on the boat, but once the weather turns colder the prospect of winter is less appealing. With winter fast approaching, the Pacific was calling.
We embarked on our passage-making for this year with some trepidation after the torrid passage down from Fiji to New Zealand last year. Good friend Jim Hutchinson was to be our crew this time round and we were very pleased indeed to have him aboard. The first two days' sailing were delightful; a good introduction to catamarans for Jim. The new sails and clean hulls certainly made a difference. Then the wind and swell picked up and up and up and went forward, and further forward, and further forward. Plans to progress straight to Tonga quickly became a plan to head to Minerva Reef which quickly became a plan to turn around and head back to Raoul Island to sit out the fierce northerly and take care of the air lock in the port motor cooling system. Two days there confirmed the reports we'd heard that it's a place to visit… if you're desperate. As soon as the wind turned west we were off again, this time with a (mostly) pleasant passage the rest of the way to Tonga.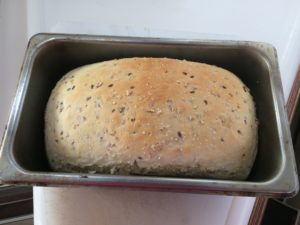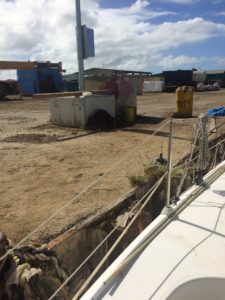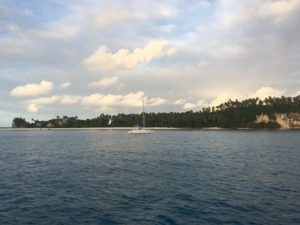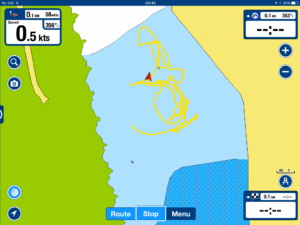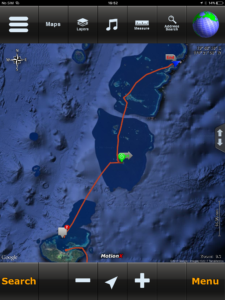 Clearing customs in the Pacific is not a quick process, but once completed we quickly moved on from Nukalofa to Hapa'i group, where we anxiously sat out another strong front in Pangai Harbour, surrounded by coral reefs on a crushed coral sea-bed which provided poor holding.
Much dragging and re-anchoring ensued, especially on the night of the strongest winds (30kn) and torrential rain when we played musical anchorages with Let's Go, a catamaran from Belgium. A quick trip for an afternoon to beautiful sandy beaches at Uoleva Island had us wishing we'd sat the storm out there rather than in the harbour; then it was up anchor at 4:00am and off to Vava'u. This was to be the most pleasant of passages so far and had us somewhat reassured about our ability to continue. After the trials and tribulations to which we'd subjected Jim thus far, we decided Vava'u was too heavenly a cruising ground to miss out on exploring. So plans to leave quickly for Samoa were shelved and Jim's wife joined us for a week's RnR before they flew home together to Melbourne.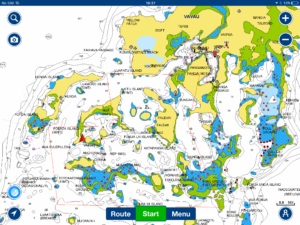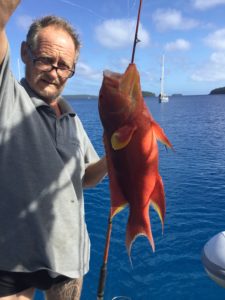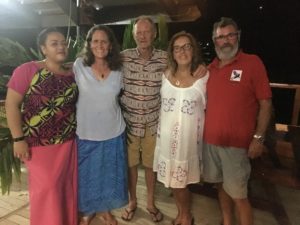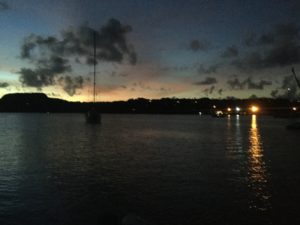 For Richard and I, it was strange and a little daunting to be on our own on the boat again after six weeks, facing passage-making involving more than one night for the first time on our own as a couple with no crew. We ummm'd and aaahh'd over continuing as planned to Samoa or going straight to Fiji but eventually we let the weather decide and took the first good window; to Samoa. This time we were more judicious in our choice, based on a much better understanding now of the boat's performance under different conditions. It was a pleasant, uneventful trip, arriving in Apia Harbour after dark having spent only 2 nights at sea. All in all, a good introduction to passage-making as a couple.
It was only as we approached Samoa that I realised how much it meant to me; in part the achievement it represented for both of us but especially the bucket list item of returning by boat to visit my sister Joan and brother-in-law Paul. Last time we were here was over three years ago, just after Dad had passed away. Richard and I had jokingly said we'd be back in a boat, so Paul had better work on putting a lighthouse on their front lawn overlooking the Pacific to guide us in. This was one bucket list item that needed to be done; having time with them both was one of the more precious moments in life. A time I'm so glad we didn't miss by taking the 'easy' option and going straight from Tonga to Fiji. And then of course there are the other reasons to visit; the stunning location of their home at Ifiele'ele Plantation, the experience of a traditional Umu, learning to weave coconut leaf plates and sampling the delicious jams they make from their organic produce. I'm sure this range could take the world by storm if they ever choose to expand outside of the night market organised by the local chapter of Women in Business!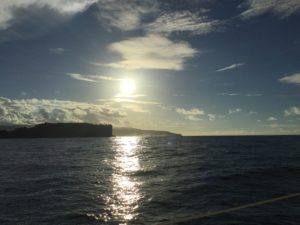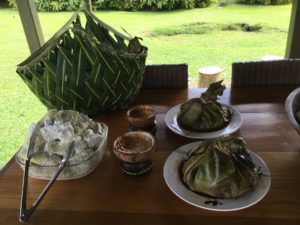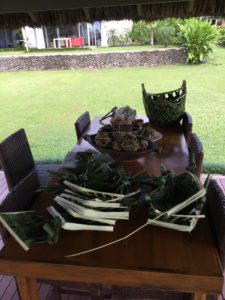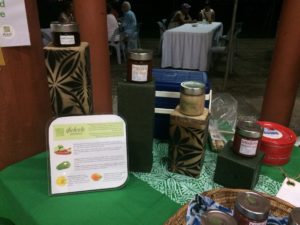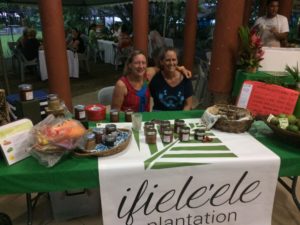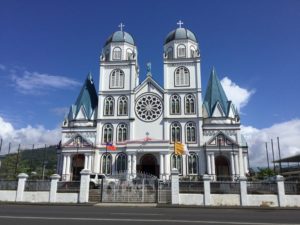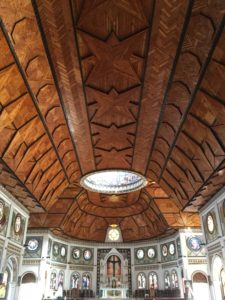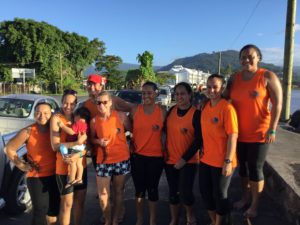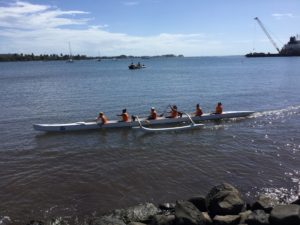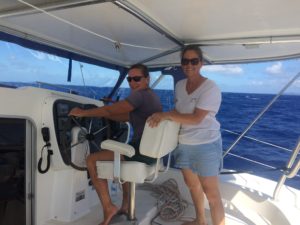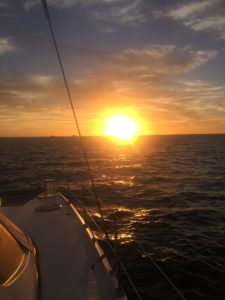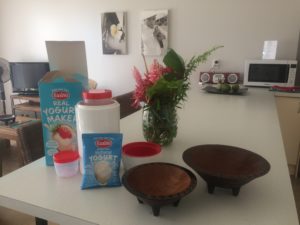 Waiting in Mulifanua Harbour for a replacement control cable had us staying longer than originally intended, but that just meant more time with Joan and Paul. Eventually a less than perfect window to Fiji opened, with a strong first thirty-six hours. Not ideal for our next passage as a couple, expected to be more than double anything we'd done so far. But it seemed to us that the forecast had been over-estimating conditions around Samoa by 10knots + all week, so we thought there was a good chance it wouldn't be that bad. In the end, after much consultation with our trusty on-shore navigator (thanks again Ian), we decided there were enough options if things went pear-shaped to go for it. We departed Samoa with a pocketful of treasured memories and some useful souvenirs; a yoghurt maker (never go without on a passage again), and two traditional Kava bowls which will be used as fruit bowls on board. Despite being purchased in Samoa these are actually carved in the Fijian style, which was fine by us as we'd been wanting one to commemorate where we bought the boat anyway. So these will have double significance, marking both that and our time here in Samoa. And of course we also managed to snaffle a jar of banana jam!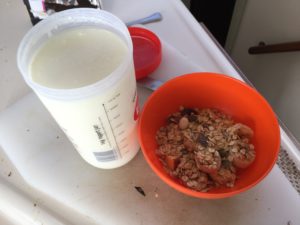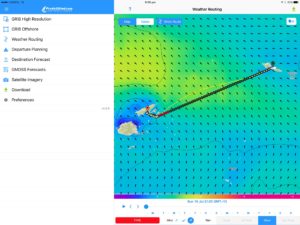 As soon as we poked our nose around Upolu Island we realised the forecast was indeed accurate further away from the land's influence; in fact rather than the 27 knots predicted we had 30knots and over 4 metre swell. But also as predicted, it was aft of the beam (slightly behind us), so manageable. We sailed the first half of the passage with the main stowed and the jib furled to handkerchief size and were still averaging 7 knots. It wasn't comfortable and the first night saw very little sleep for either of us, but it was certainly do-able. As expected, conditions eased after that and we actually ended up with two days of mostly postcard sailing. Lessons learned along the way:
Believe the forecast
Yoghurt doesn't have to sit still to set overnight; even in 2.5m swell it will be good by morning
Using moist bread dough in an oven with no temperature control doesn't work; cooking for longer just makes a brick that is best used as an anchor
Trust in yourself; make informed decisions, have a plan and wait for the sunshine which is just around the corner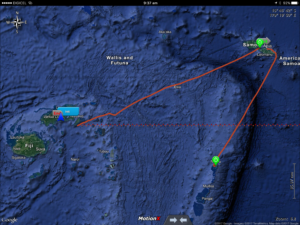 Sailing alongside Taveuni Island at 4:00am in the morning on our last day, I was a touch disconcerted to find Navionics had lost our GPS position. Both iPads were showing the same thing; apparently the boat was sitting in the middle of Viti Levu (the main island of Fiji), facing north and going nowhere. Very strange, as Taveuni was definitely still showing to starboard on the radar and the satellite phone was still showing strong signal with our location where I knew us to be. I made some hasty calculations for when we would need to turn and at what angle just in case Navionics didn't come good; I wasn't too concerned as I could use the radar to confirm our position and also plot the lat/long from the Sat phone onto Navionics if necessary. At the same time, the wind died, swung through 360 degrees then settled onto the opposite gybe. It felt very much that I'd sailed into some type of twilight zone; Richard says I've been reading too much fantasy. A more mundane explanation became apparent when the boat came back 'online' after twenty minutes; we'd crossed the East-West Hemisphere line and confused the heck out of the Navionics app.
It did make me glad we'd come through Nanuku Passage rather than attempting the narrower Viani Pass in the dark, on the other side of Taveuni and littered with coral beds.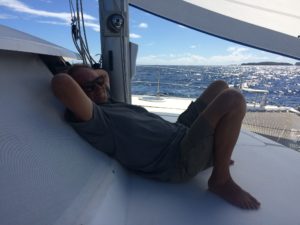 It would have been considerably more nerve-wracking to be there with any uncertainty about the boat's location for twenty minutes.
After that little moment of excitement, this morning has been motor sailing in flat water across the Koro Sea, punctuated only by some whale-spotting, our first this year. So now as we approach Savusavu Bay and find ourselves back in Fiji where we started this journey last year, it really does feel as though there is not one but many milestones to celebrate. This passage has certainly given us the confidence to keep going and we're looking forward to cruising with friends here before going on to New Caledonia where more bucket list items and unfinished business await. Will we slow down for the next four years? Only time will tell…