A whole year's gone by
In the blink of an eye
Bringing so much joy and success
We always knew
How much we'd go through
But it's been worth every bit of expense.
More than fears that we'd perish
We've had moments to cherish,
Memories we'll call cheap at the price
Life is for living,
For sharing and giving;
We'd do it again in a trice.
We dared to dream,
To plan and to scheme,
Confident that we'd find a way.
With our beautiful home
The high seas we now roam,
Grateful for every new day.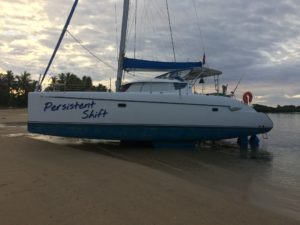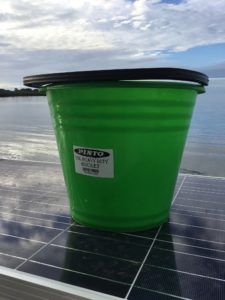 I can't believe we let our first boat anniversary go by without so much as a glass of bubbles on board to celebrate. Too busy getting ready for the passage to Vanuatu; including beaching the boat to deal with a disconcerting 5mm of play which I noticed had developed in the port propeller. A quick dash to the nearby town and back during the brief time allowed by the low tide and Richard successfully had the missing flange machined and back on the boat before the water rose; the mysterious singing prop problem now solved. We did have time to buy the boat a new bucket as an anniversary present before we left Fiji but not to update the blog or even a quick Facebook message. Then wifi has been pretty much non-existent until now.
The staff at Vuda Marina were once again our Fiji Angels, making our stay there seem like home away from home and ensuring the Fijian administrative maze became an easy puzzle to solve. Their traditional farewell as we left the dock to head out took me back in time; I was able to reflect with some satisfaction that I was approaching this trip with a great deal more experience and somewhat less trepidation than our first passage in the boat to New Zealand last November. One sad note; our Shag Islet Cruising Yacht Club burgee has given its last flutter… time for a new one.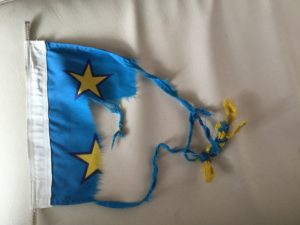 We managed to pick up an able crew member in Fiji for the 5-day passage to New Caledonia, giving us the luxury of 3 hours on – 6 hours off for shifts. Nevertheless, we opted to break up the passage to New Caledonia by stopping in Vanuatu. We received permission to enter Vanuatu at the southern island of Aneityum (not an official port of entry), then proceed to Port Resolution for the 'must see' active volcano visit at Mount Yasur before going around to Lenakel on the east coast to officially clear in and out. We waited for a strong-ish sourtherly to go through before leaving Vuda… which meant we would be arriving in a south westerly (not ideal when you're trying to go in a south westerly direction), but it was meant to be 0-5kn and flat seas, so we thought we could manage to motor into that. The first 2 days of the passage were pretty good; wind a bit further forward than we would have liked but manageable.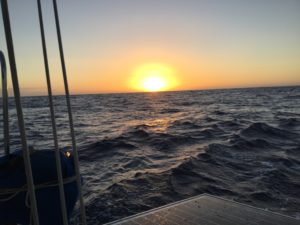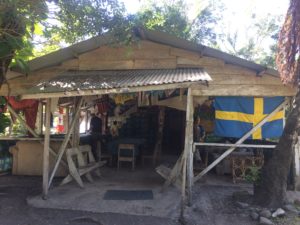 Sunrise at sea always gives me a sense of renewal like no other time and place. 
Unfortunately by the time we approached Vanuatu, the 0-5kn became a 15-20kn south-westerly; impossible to make Aneityum with a headwind of that strength. Our only option (not an unpleasant one) was going straight to Port Resolution, the only protected anchorage on the north-east coast of Tanna. It was great to be welcomed by good friends Jenny and Richard on SV 'Plan Sea' as we arrived; they've been constant cruising buddies since we bought our boat in Fiji last year, sailing much the same circuit as us. The Port Resolution Yacht Club is definitely rustic and all the more endearing for it; the sofas in the open-air lounge are a dangerous trap; once you sink into them you never get up again.
The next day, after a quick fix of the annoying airlock which had yet again developed in cooling water intake system of the port motor, we 'unofficially' did the tour of the volcano that evening. Standing on the rim of a crater spewing molten lava at regular intervals was certainly a once-in-a-lifetime experience, although I think my lungs and sinuses are still trying to expel volcano ash a week later. But the most endearing part of Vanuatu was the people and their culture; a lightening 4-day visit was only enough to get a glimpse of it and convince us that next year's cruising plans need to allow for a lot more time there.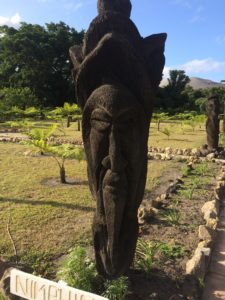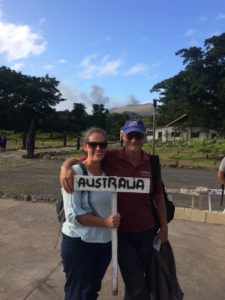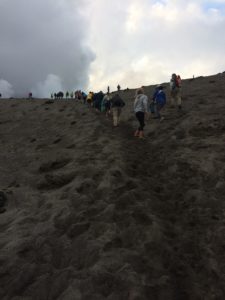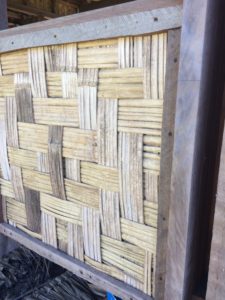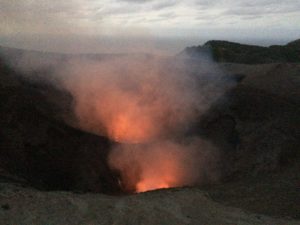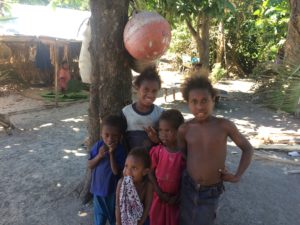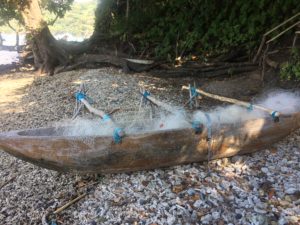 After Port Resolution it was around to Lenakel on the East coast to clear out; it was easy to see why people describe the harbour as 'uncomfortable' with the ocean swell rolling straight in. Difficult to get good holding for the anchor; the bottom is littered with coral heads instead of the volcanic sand we had found at Port Resolution. When the inter-island ferry arrived and we had to vacate the tiny harbour that afternoon and again the next morning to allow it turning room to dock we did wonder why this would be the official Port of Entry instead of establishing one in Port Resolution. A check of the weather forecast brought our departure plans forward from Friday to Thursday; once again a south-westerly loomed and we didn't want to hit it as we approached New Caledonia. Unfortunately leaving early also meant arriving early; in this case we made such good time that we would have arrived at the Goro Pass to meet an outgoing tide. A good excuse to stop at Ile Mare, in the south of the Loyalties, for 8 hours to time our arrival so that we gained the assistance of the incoming tide instead. Able crewman Bryn went ashore to explore while Richard and I stayed aboard, relaxed and got ready for the final overnight leg to Noumea. This time the forecast overestimated rather than underestimated the wind strength, resulting in a 21-hour motor sail from Mare to Noumea.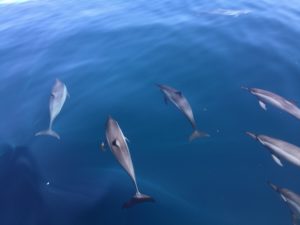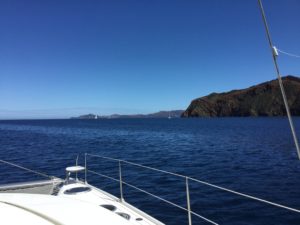 Approaching 'La Grande Terre' the next morning, we were greeted by a pod of numerous small dolphins playing between the bows; I never tire of seeing these friendly, inquisitive sea mammals and their obvious enjoyment of sheer fun and games. With land in sight, I realised that this was definitely one of my two major bucket list items for the cruising year; seeing Joan and Paul in Samoa had been one and making it back here to see friends Jean-Paul and Annick was another. There has been a strong sense of unfinished business for me whenever I thought of Noumea. I had met Jean-Paul five years ago when he generously provided his Beneteau 36.7 to a group of unknown Australians wanting to do the Groupama Race; a circumnavigation of New Caledonia described as the world's longest windward-leeward (600nm in total). During the windward leg, sailing down the west coast for 3 days into 25 knots and choppy seas and watching a pristine, flat water lagoon 5 nm to port, I promised myself I would return here one day to cruise rather than race, taking the time to enjoy and appreciate the world heritage beauty that New Caledonia has to offer. Jean-Paul and Annick became life-long friends with their generosity and exuberance for life; coming back to see them was as much (more) of a reason as the lagoon.
We're looking forward to five weeks at a more relaxed pace now; no passages before November when we will complete the circuit and return to New Zealand for cyclone season. In the meantime, there's Baie de Prony, Ile de Pins and so many other enticing places to explore. All in all, a great place for Richard to see in his birthday next week and the start of another year of adventure.